2016 Berg & Berg Shirts Reviewed
I got my first Berg & Berg shirt, a white OCBD, a bit over a year ago. This shirt has become a true staple in my wardrobe, often getting its shift in my shirt rotation twice a week. You can see some examples of that shirt behind this and this link. After the initial release, the Norwegian company has launched multiple new designs and a few new collar styles as well. Based on my extremely good experiences with my first shirt, I was eager to check out a couple of the later versions as well. So, here is a review of two additional Berg & Berg shirts: a light blue and white Bengal stripe shirt and a white twill semi spread collar shirt.
Unlike in most of my reviews, I've washed and worn the shirts before taking the pictures. Therefore, you'll see the items in a more natural state in the pictures.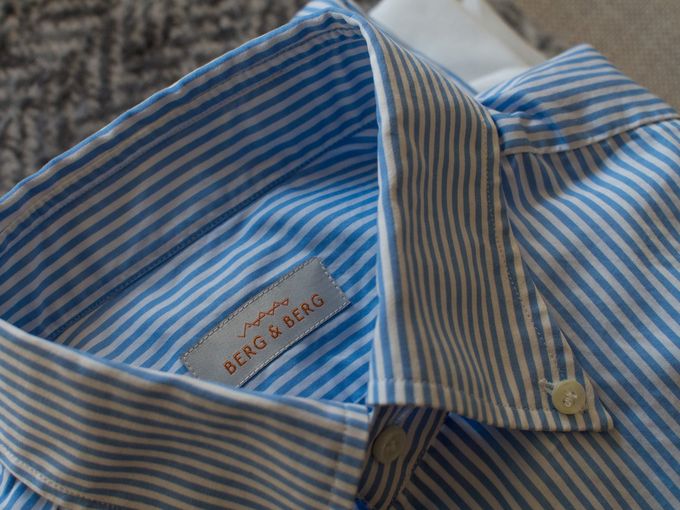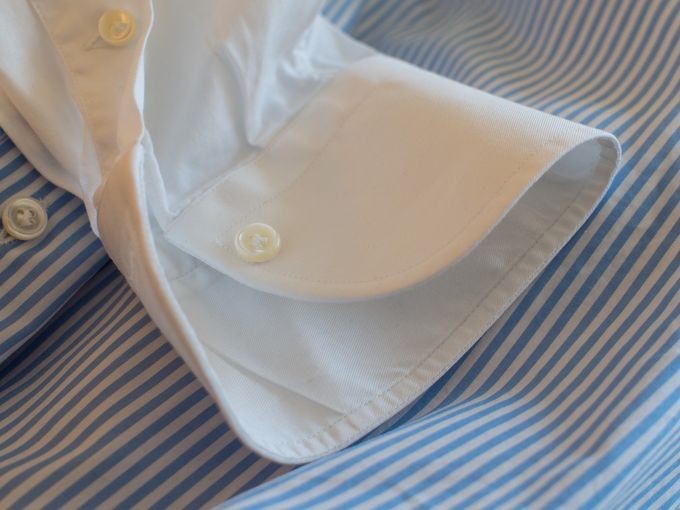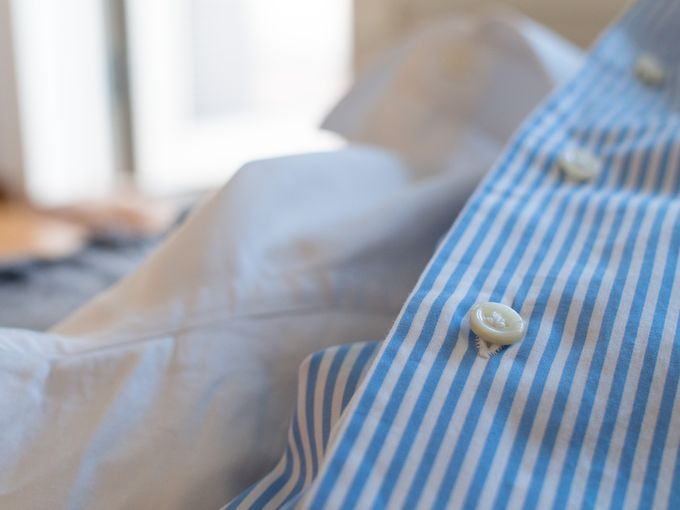 Both of the pieces are beautifully finished, as you would expect in this price range. The buttons are not super thick, more like medium thick and shaped in a way that goes well with the overal look of the shirts. Fabrics are both soft generally what you would expect from both type of shirts. The white twill shirt is especially soft and pleasant for a twill fabric, double thumbs up for that.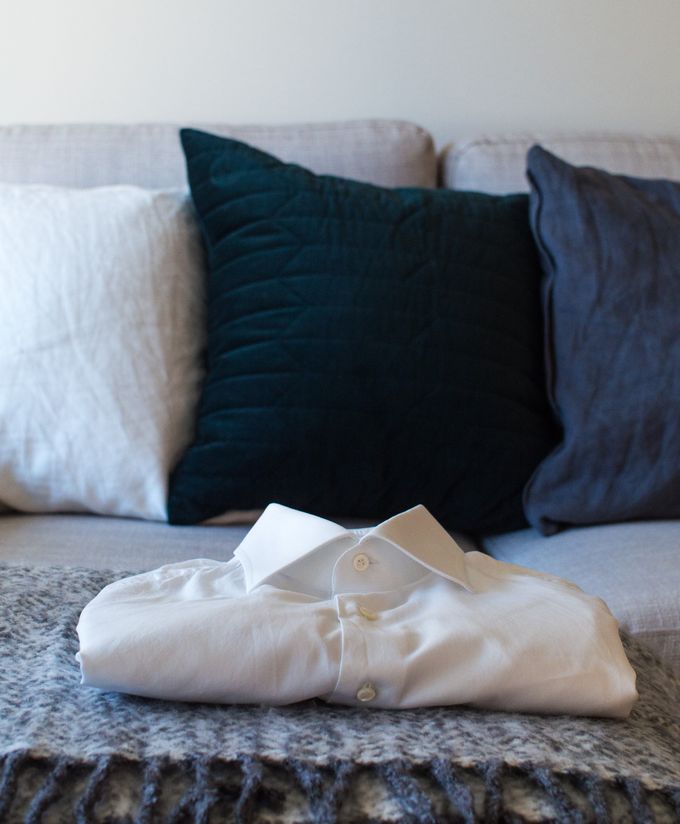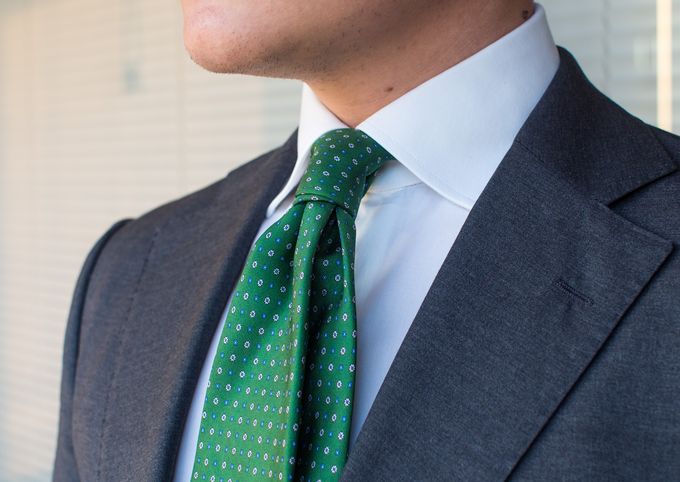 The white twill shirt has a very normal semi spread collar type that I would call a neutral choice. The collar is notably sturdy and fused and lined I think more heavily than many other shirts. The collar shape and the collar roll achieved by this construction seem both very pretty-looking and consistent. This type of collar works great in a business setting, but also for more formal occasions if the fabric is fine enough (and this one is). Due to the normal collar tab height and the also rather normal collar point length, I'd say it also works without a tie. The same can't be said from most of my white shirts, as most of them tend to have slightly higher collar tab and longer collar points, something that makes the shirt look very off when worn without a tie.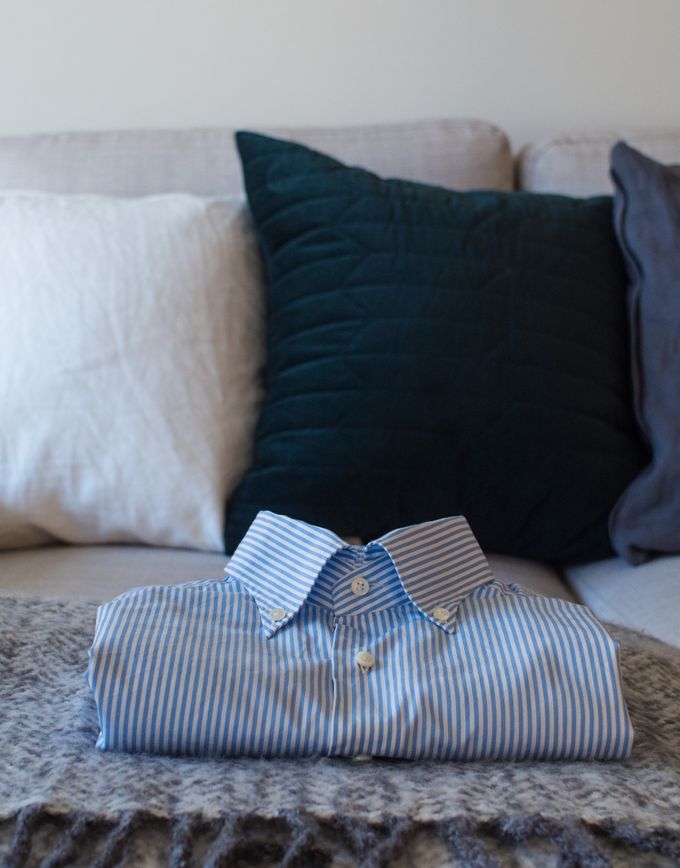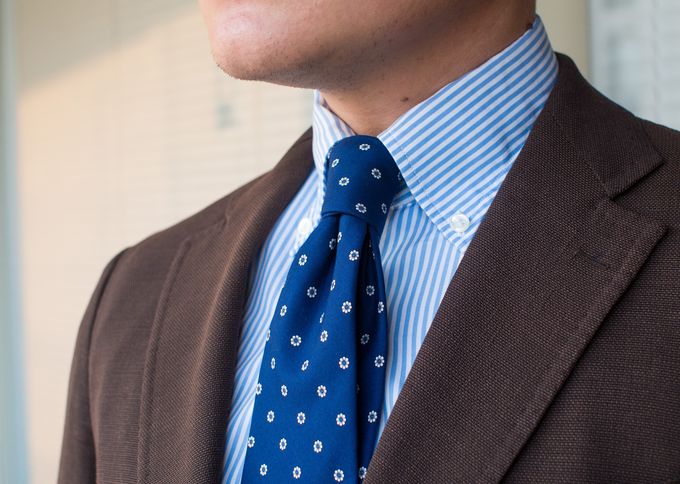 The first thing that has to be said if that the Bengal stripe shirt has a really really beautiful fabric. The collar is a very neutral and normal classic button-down collar that is perhaps best when worn with casual ties such as knit ties or even without a tie. It has a nice soft roll to it as well. In short, this is really an ideal around the year semi casual shirt if the fit works for you.
And then we come to the only negative point I personally have for the shirts. The fit. Even though the previous shirt fits me well, I find the measurements on these shirts a bit tight for my fat self. This is not really criticism, as I am a terrible model for RTW clothing. My chest measurement is around 52 even though I am more like a 48 proportion wise. The fit on these admittedly beautiful shirts is very "normal" in my opinion. Not super slim, but also no classic. The way I see it, it's pretty much the optimal fit for men who are quite slim and want a comfortable shirt without a lot of extra baggyness around your chest or gut area.
The verdict then: Two beautiful shirts that in  my opinion have a fair price tag to the quality they offer. If you're a regular slim guy, I would definitely recommend them without reservations. Personally, I'll stick to my previous season model and keep wearing it on a weekly basis.
Lastly, as mentioned before, I'll be disclosing any items I've been provided for posts from now on. These shirts were such products and were given to me for review purposes, free of charge.