Bespoke Sartoria Peluso Sport Coat in Wasabi Green Color
The bespoke wasabi green summer sport coat
It took a while for the spring to warm up here in Finland, but I was finally able to properly wear my new bespoke jacket from Pino Peluso the other day. And what a jacket it is. The lapel roll and the cut in general, combined with all the amazing details make it definitely my favorite jacket and in my opinion, also my best-fitting jacket.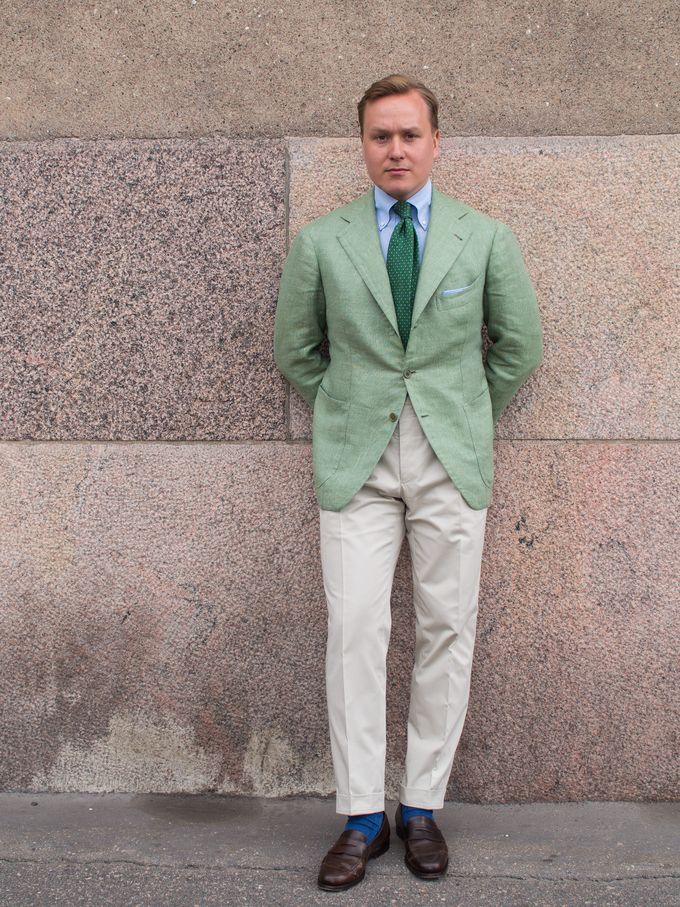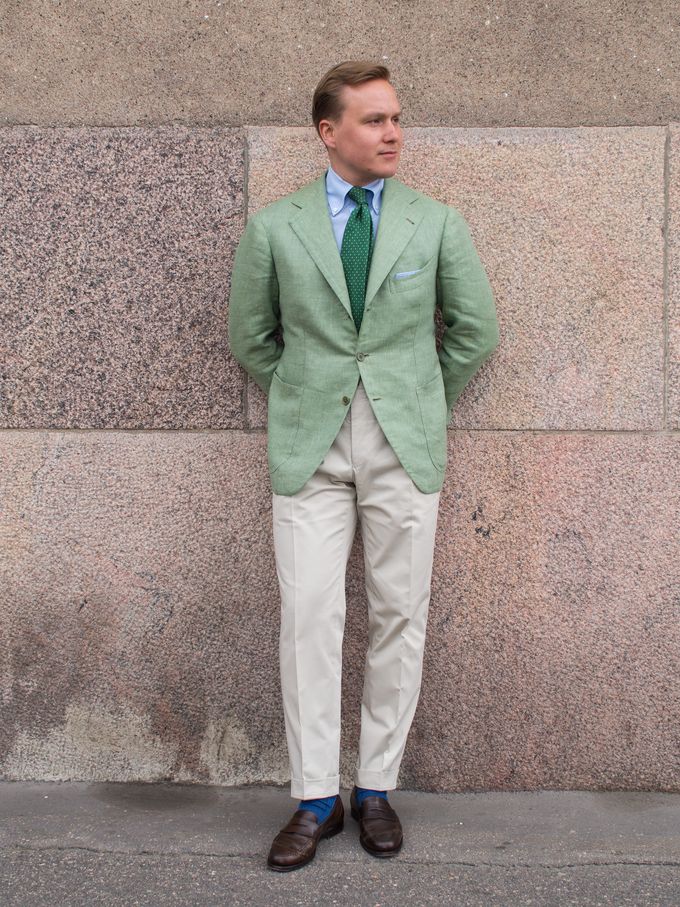 Remote bespoke commission
The process started earlier this February as I wanted to have a sport coat in the traditional Neapolitan fashion, something very classic to wear during the upcoming summer. Having become friends with Pino, I also wanted to give him a bigger freedom to create a garment that he would feel represents his house style. So while I wanted to have some certain features on my first suit, I would let the tailor do his thing more in this case. On his recommendation we agreed on a three two roll jacket with patch pockets and in true Neapolitan style only one sleeve button.
As most of my communication with Mr Peluso, this whole process was also conducted via WhatsApp. As Pino already had my measurements and the model created when making my suit, we aimed to go through with this process without fittings and more as a remote bespoke commission.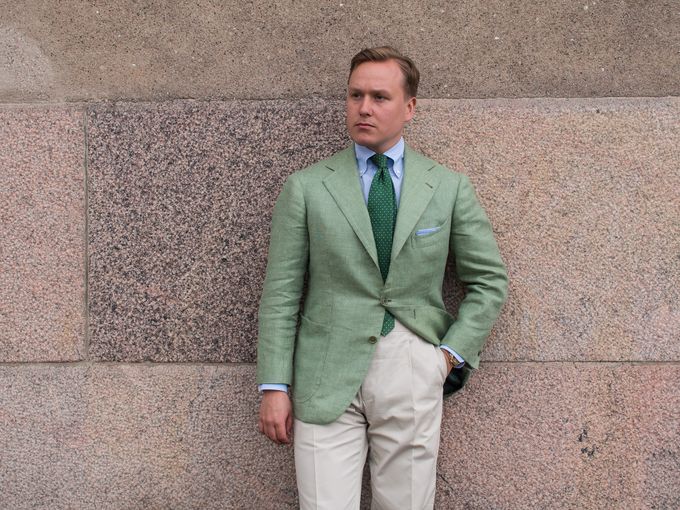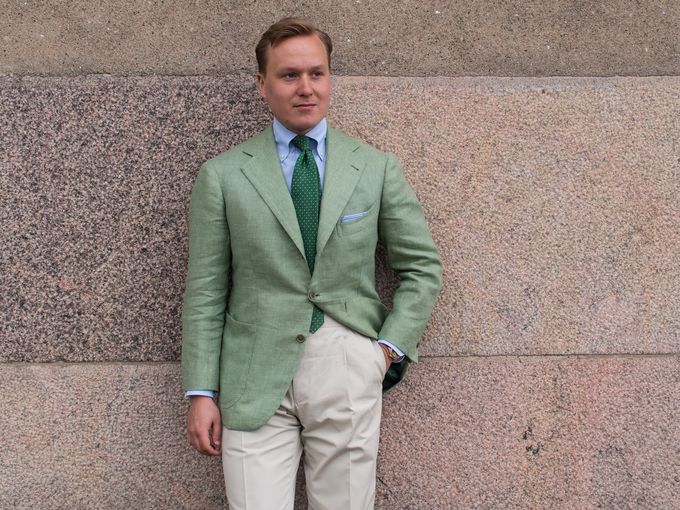 Choosing the sport coat fabric
So, how do you choose a fabric via WhatsApp? From experience I can now say that it can actually be a rather fun process, but probably not ideal for the tailor as he has to see quite a lot of effort to get you all the pictures you need. As always though, Pino was super helpful and got me all the pictures of the fabrics I wanted and needed. If you follow my Instagram, you may have seen some of those photos I decided to share back then. At this point I also have to comment that it's obviously necessary to have a tailor who speaks English to even think about this sort of bespoke projects. Luckily that's not a problem with Peluso, as you can get all the necessary things across easily and I would say his rather amazing jokes are actually somewhat amplified by his Neapolitan English.
From all the available fabrics I ended up in this fantastic green linen silk blend. I am actually unaware of which mill it is from, but I actually think it kind of adds to the charm of the item. Unlike with bigger tailoring houses where the process is more structured and in many ways more similar to a made-to-measure experience, the process with Pino (and I assume with other similar old school maestros with smaller production) feels so much more personal and traditional.
And on the subject of why I went with such an unconventional color, as some readers have commented on Instagram, I would say that I was definitely not looking for a light green fabric. However, after finding this exact shade with this texture, it felt like the obvious choice for a timeless sport coat with a nice vintage feel to it. It was also very different to anything I owned and in my eyes would combine beautifully with a wide range of trousers and accessories.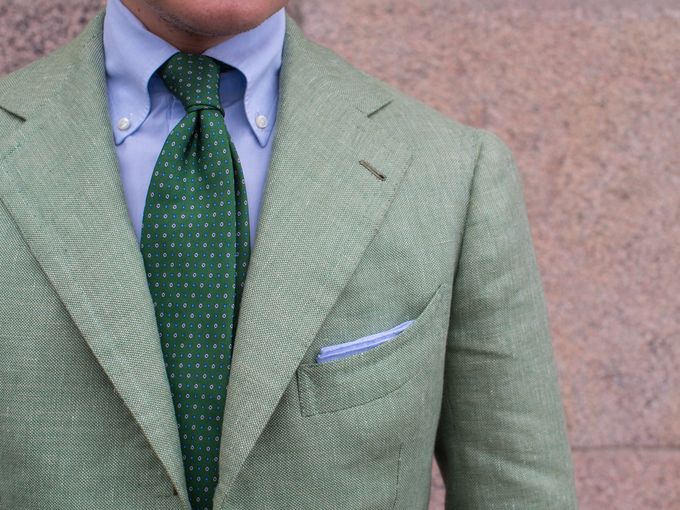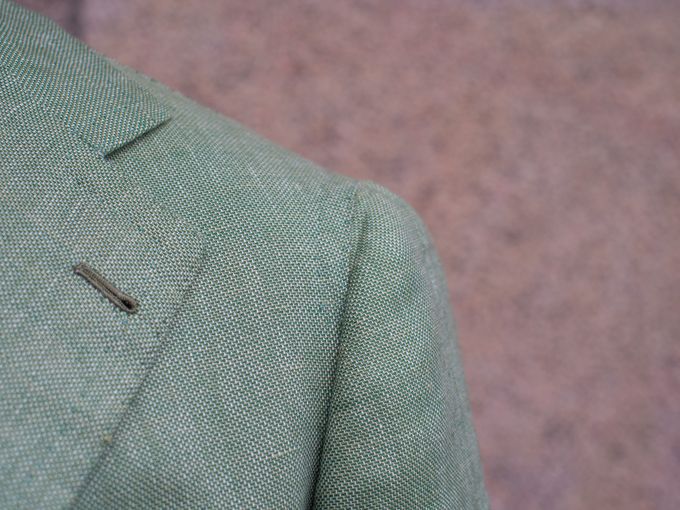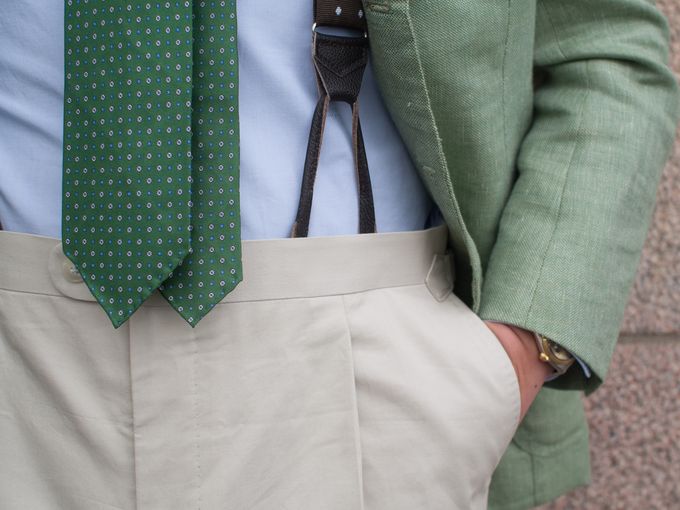 Fitting in Naples and receiving the sport coat
Despite originally thinking we would complete the sport coat without fittings, I then got an opportunity to visit Naples and we agreed to have a fitting then, just in case. Without going too much into the Naples trip details here, the fitting was actually a pretty quick one. The jacket was already in the sort of second fitting phase and when I tried it on it was actually almost perfect. Apart from adding some extra room for my left shoulder we didn't do any other corrections, something that also shows how well a tailor can create you a garment without any fittings if they have your pattern ready.
A few weeks after my trip I finally received the sport coat in Finland. Having just worn it in Naples in near ready condition, I naturally knew what to expect, but it was still quite fantastic to receive the final product with all its finished details. Some things that I especially noted in the finished piece was that gorgeous Sartoria Peluso lapel and the insane amount of shape that is built into the chest area. Leaving the jacket on a table, the chest basically remains in a 30 degree dome without any support. I also absolutely love the way the handmade shape and thicker fabric makes the lapel look so three dimensional. It's as far from a flat lapel as it can be, and looking at the pictures it almost looks like it's floating on the chest piece.
Many amazing features then, and I hope at least a few of them come across from the pictures.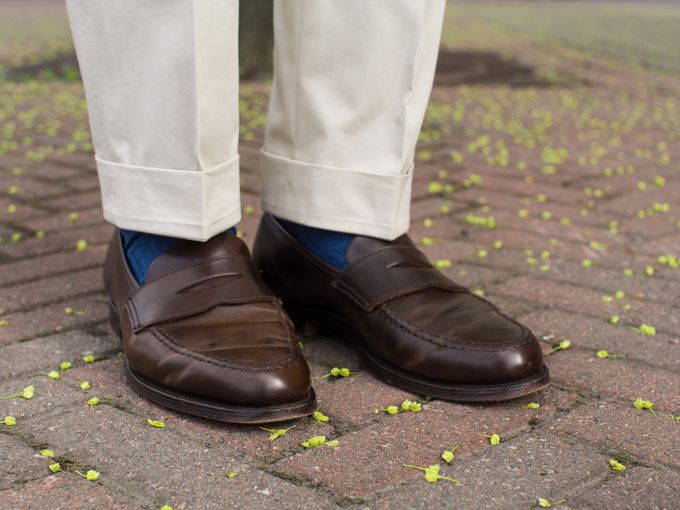 Final words
So, I'm obviously a very happy man with this jacket. It came out just about perfect and I think it will serve me well for a long long time. The wasabi green (cheers to my good friend Arian for making up that name by the way) is a different but great color that is both fresh and versatile. In my opinion, this jacket pairs best with dark burgundy, espresso brown and perhaps forest green. As seen in these pictures, it also looks quite handsome when combined with a mid green tie and carefully selected style elements.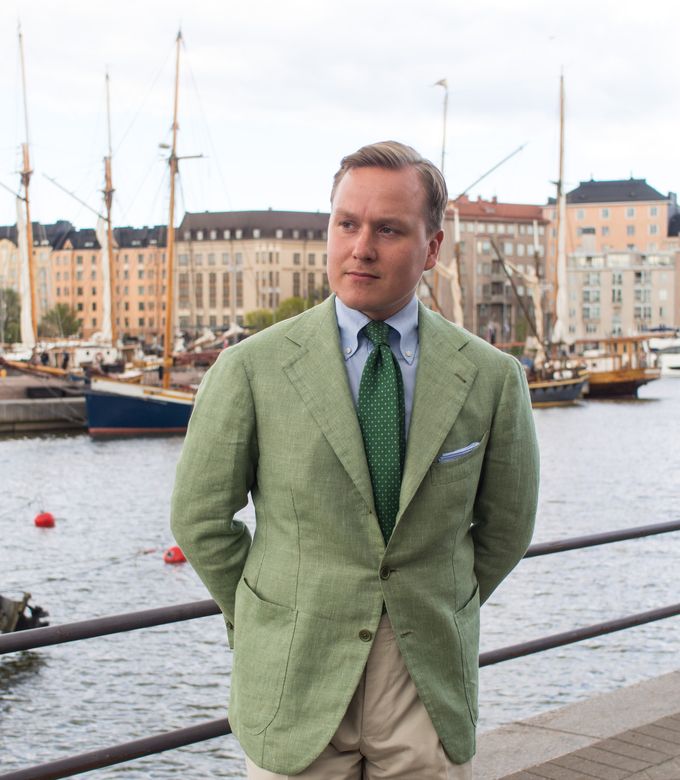 Items included in this summer look
The worn items include my Sartoria Peluso sport coat, Vaatturiliike Sauma mtm shirt and handmade mtm trousers, Berg & Berg 6 fold tie and linen pocket square, Bresciani linen socks and Crockett & Jones Harvard Cordovan loafers.
Also a full disclaimer, this particular jacket was a gift from Pino for some help I provided him earlier, as mentioned in my Naples trip article.