Classic Summer Outfit For All Men
As my life has progressed I've had less and less opportunities to wear my sport coats. In many ways this is unfortunate, as there's really no better way to dress for a nice summer day than wearing an unstructured lightweight jacket and a set of well-tailored chinos. Luckily I've been on holiday for the past weeks, and apart from few meetings I've had to attend, this is pretty much what I've been wearing.
A dark blue jacket with patch pockets combined with well-tailored light tan or khaki chinos is the combination that is always going to be a hit and easily pulled off by anyone. This is also a common sight outside the menswear scene, but to really hit the mark it's good to think about the fine details for a moment. For every good sport coat look like this, you can easily find thirty bad ones. And how is it done then? The single most important factor, as always, is fit. The jacket should preferably be quite soft in its lines and nothing (incl. the shirt and the trousers) should be too slim or tight. This will further enhance the relaxed yet elegant side of your sport coat look, something I feel is really the essence of the succesful summer day outfit. And once you've got the fit right, go easy on the accessories and other elements such as your shoes and you'll have your epic classic summer look that will charm the ladies or even get you through a wedding.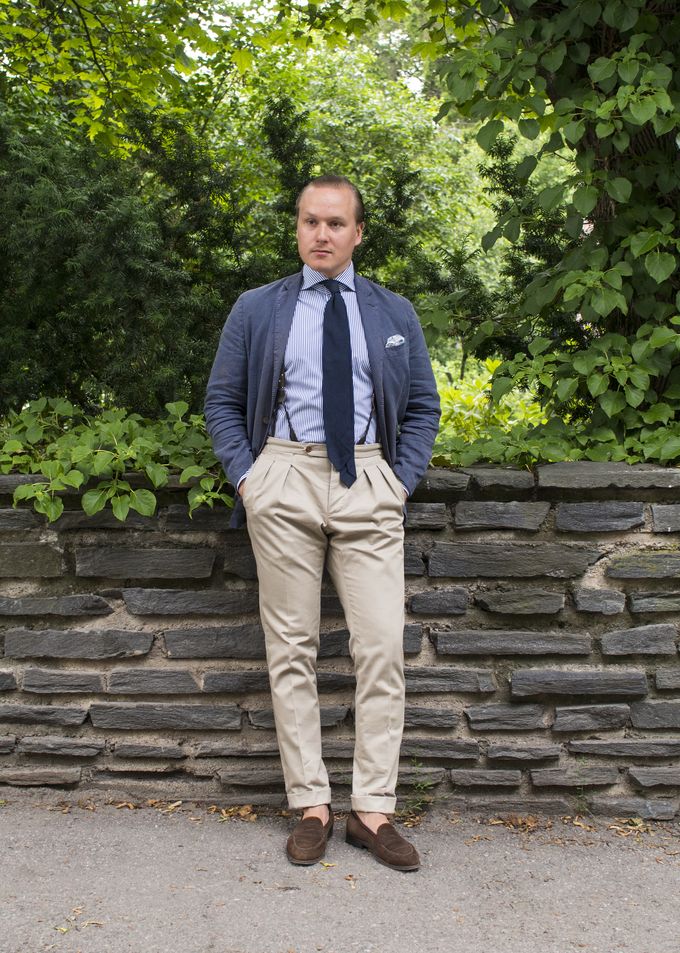 The items worn here include a pure linen jacket from SuitSupply, mto shirt from Luxire, handrolled grenadine tie from Shibumi Berlin, cotton pocket square from Drake's London, braces from SuitSupply, hight waist mto trousers from Luxire and loafers from Septieme Largeur. "Moustache" by me (yeah.. at least I tried though).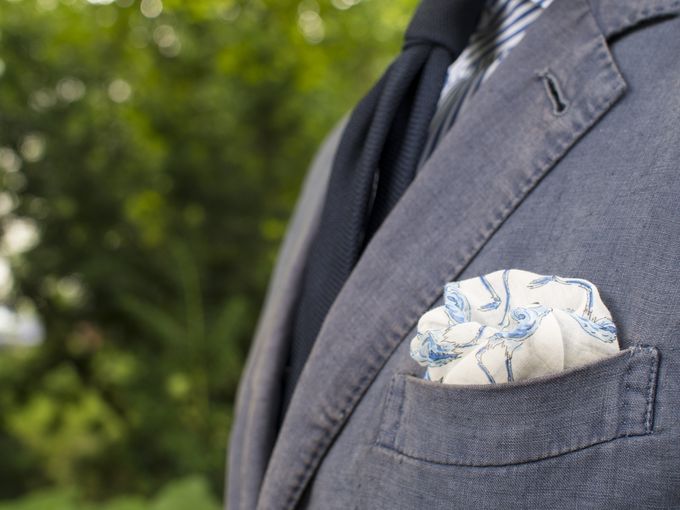 Shiny accessories aren't really what you want to wear during summer (or ever), as lightweight materials and matte colors tend to fit the season a million times better. The sadly discontinued cotton lawn material from Drake's is one of my favorites for summer pocket squares.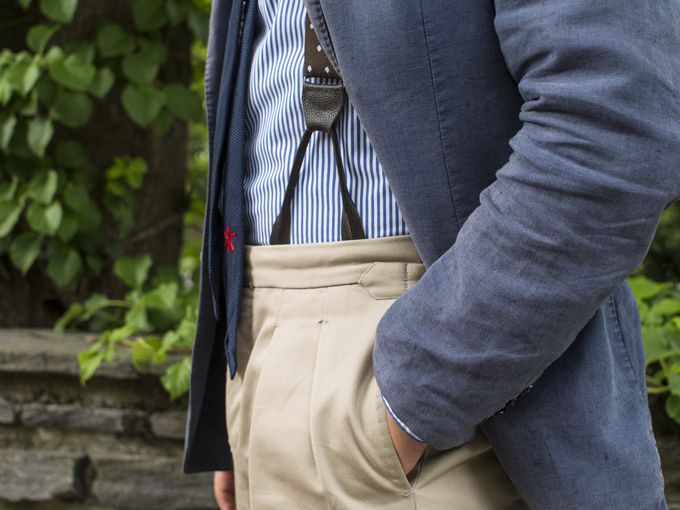 This one is one of my favorites shots in a long time. The delicious light tan cotton in the trousers simply looks amazing when put against blue colors, and the white in the shirt just helps other colors to pop up. The icing on the cake is the beautiful handstitched flower on the back of the Shibumi Berlin grenadine tie.
Also, one thing about picking a shirt to a navy/blue jacket + tan trousers combination. A white shirt in my opinion may feel a bit formal, and personally I prefer some sort of light blue shirt or a blue/white striped or checked shirt.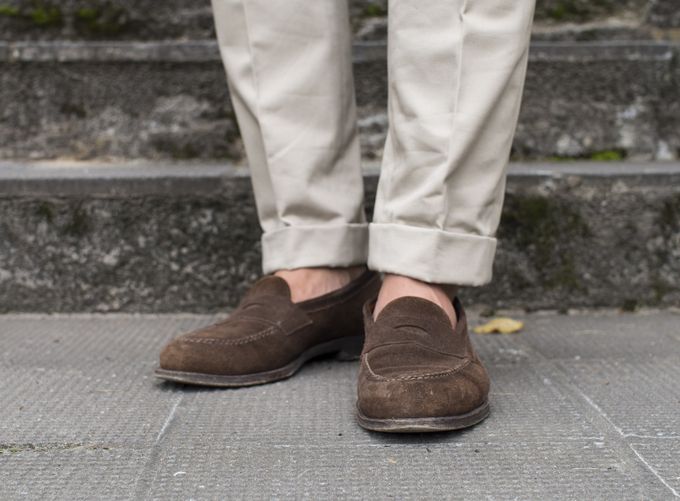 A pair of penny suede loafers is something everyone needs, and I'd guess my pair of Septiemes have probably walked over 250km in the last three years. The 9095 last is amazing when it comes to versatile looks and comfort, could not recommend it enough. The sad part is that Septieme Largeur no longer makes this model in its old form.