How To Dress Formal Without A Suit
Pretty much as formal as I go when it comes to work outfits nowadays, this one features some basics you can think of when going into a situation where a suit is a bit of an overkill and a casual sport coat look just doesn't really cut it.
First, you want to wear a jacket with proper length and a formal ish fabric. Wool (heavier, maybe flannel during winter, lightweight during summer) is almost always the best way to go. Also, when wearing a sport coat, it's a good idea to ditch those very stiff and structured jackets and go with a soft-shouldered option like the totally unstructured Luigi Bianchi Mantova jacket here. 
Second, you're going to want to wear a formal shirt, but not one with very stiff collars. Go for your normal business shirt but remove the collar stiffeners and think about subtle patterns. A regular white shirt with no texture and iron stiff collars probably won't look like it belongs when worn with a sport coat. I've gone for a sky blue spread collar shirt with an interesting and somewhat rough texture in this case.
Third, you might want to avoid very shiny (I would avoid them all the time to be honest) and textureless accessories. Very saturated colors are usually a bad idea. Also, you are probably going to want to leave knit ties to the most casual outfits. So, go for a regular tie with an interesting texture and somewhat muted colors. Think of unlined matte silk grenadine tie or a raw silk tie to replace a normal regimental tie during summer or perhaps a wool tie to replace a plain tie silk tie during winter (like the cashmere tie in this look). For a pocket square a white cotton or linen one is often the best choice (went for a matte silk pocket square myself in this look).
Then, the trousers. I usually like wearing cotton trousers, but to turn up the formal up a notch, I go for wool trousers. Very lightweight wool is a good option during summer, flannel perhaps the best option during fall and winter. For shoes you can basically wear anything from the formal end, different kind of oxfords and formal boots such as sleek Chelsea boots. Due to having a rather sleek profile I tend to wear my split toe derby pair from Loding in looks like this.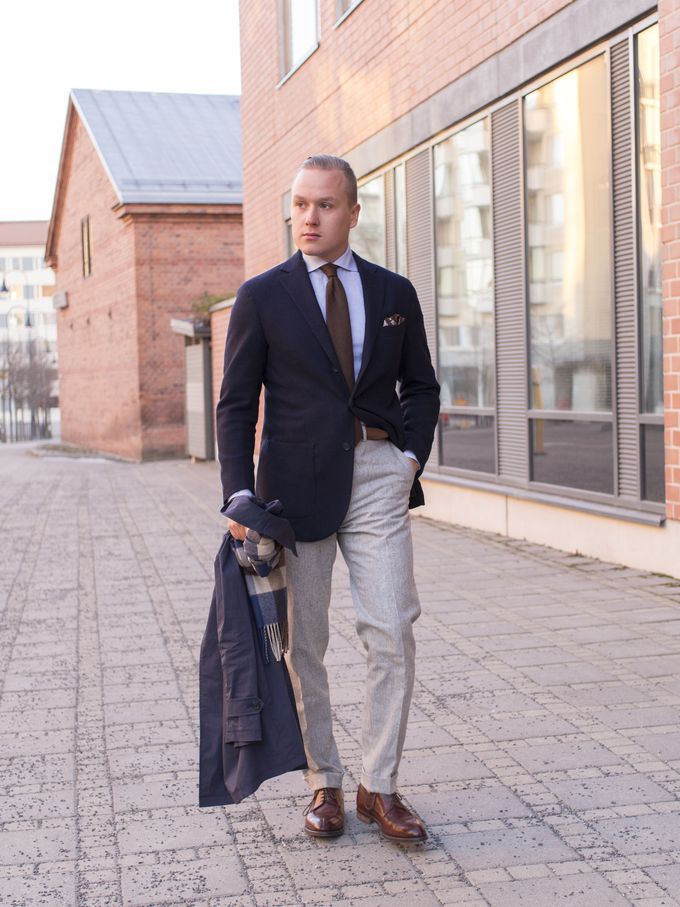 The unstructured wool flannel jacket is from Luigi Bianchi Mantova, shirt from SuitSupply, seven fold brown cashmere herringbone tie from Brioni, pocket square from Richard Talbott, suede belt from Alden, light grey wool flannel trousers from SuitSupply, socks from Berg & Berg, split toe derby shoes from Loding, scarf from Berg & Berg and raincoat from Sealup.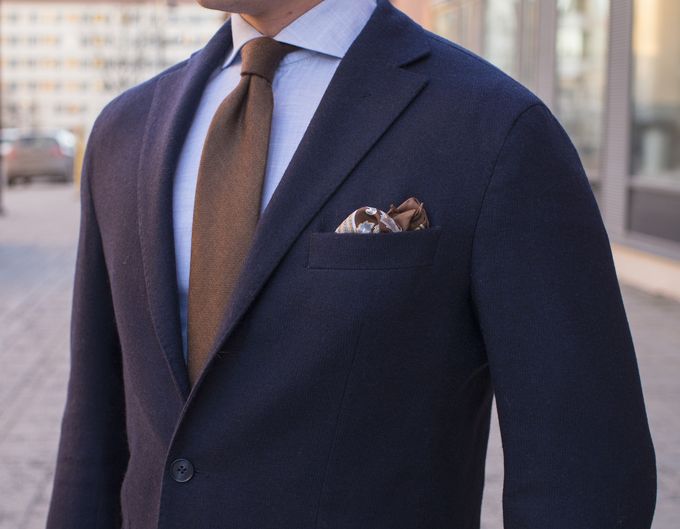 A gorgeous seven-fold cashmere tie I haven't been using nearly as much as it deserves. Found from Barneys on Madison Avenue for just 50 bucks.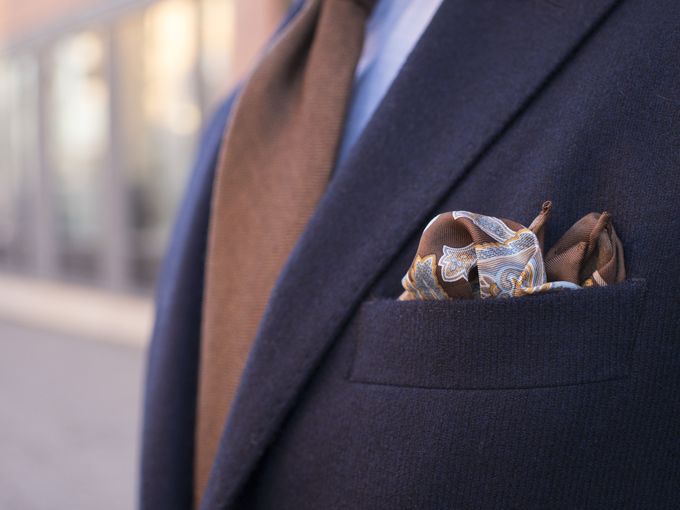 A printed brown sky blue gold pocket square from Richard Talbott fits right in with the other colors.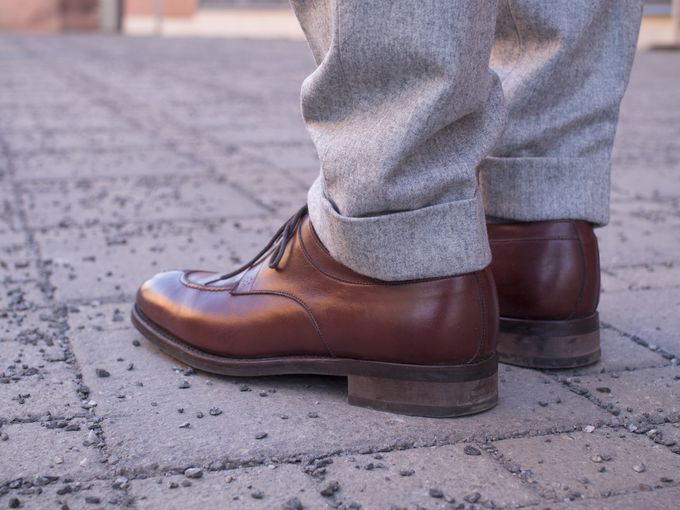 My Loding split toe derby pair out for the first time this winter.
Unfortunately this time of the year it's so dark it's somewhat difficult to take these pictures while working 50 hours a week. Daylight is only really there for a few hours during a day. Anyway, during the upcoming winter I'll still aim to post at least one per week and try to complement it with different kind of other content such this and this. Also, I've been going on about those denim care and denim alteration related articles for quite some time - now I've finally been able to take the required pictures and can gladly say these will be out next week.