Item of the Week: Trashness Shirt
I've been quite busy with sports and work lately, but the next few weeks will have some very interesting item posts coming up, and naturally at least a couple of outfit posts a week. On top of that, remember to follow my Instagram for some daily outfit shots.
Anyway, this week's item presents my two shirts from Trashness. Earlier this year the guys running the Trashness Store and the blog attached to it asked if they could send me a couple of samples and hear my thoughts about their products. I was curious to see what kind of shirts they are offering for just 39 USD including worldwide shipping (which I'm sure we can all agree is pretty damn cheap) and said why not.
The first shirt I received was made out of light blue oxford cotton. This shirt can be seen here, for example. Upon receiving and trying on the shirt the two main things I noticed was the frankly rather amazingly perfect slim but not tight fit and the rather heavy-feeling oxford cotton fabric. By that time it was still summer and the weather was quite if not very warm, so the shirt felt a bit too warm. Fit wise it was pretty much my best-fitting shirt, can't complain one bit. It is definitely closer to a more European slim fit than any other menswear brand that I've come across offers, and you can forget the usual problem of the shirt being too wide around your gut (..and I'm pretty normal and definitely not too skinny).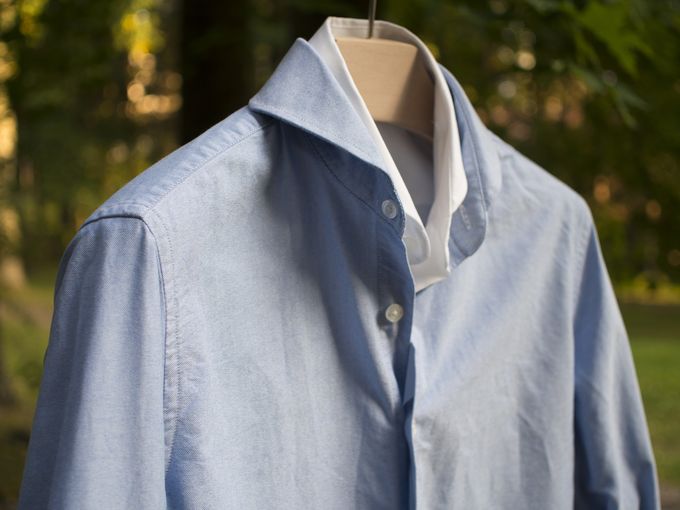 About the fabric then. Like I said, it felt a bit hot inside the shirt when it was very warm, but now that the fall has arrived and the temperatures seem to be falling even further, this has become my favorite casual shirt. The original stiffness of the fabric is gone after about 10 washes, and looks especially great left un ironed. I've had a couple of friends who have also bought this shirt, and they've been quite happy with it, especially fit wise. If you prefer a wide spread collar over a button-down one like me, this one is a real keeper for casual outfits in the colder seasons.
Then the white one. Fit wise it's the same story, but I think I noticed a little bit shrinkage on this one (not much was to be seen on the light blue oxford cotton one). The fabric on this one has a little bit shine to it and therefore in my opinion is a tad more fashion than menswear. I have a little bit of a problem with the softness of the fabric, it feels somewhat rough on the skin. So, in this case I would say I'm somewhat vary of the fabric used and due to the (although very minimal) shine I would say it's best used under a navy blazer and without a tie on a night out.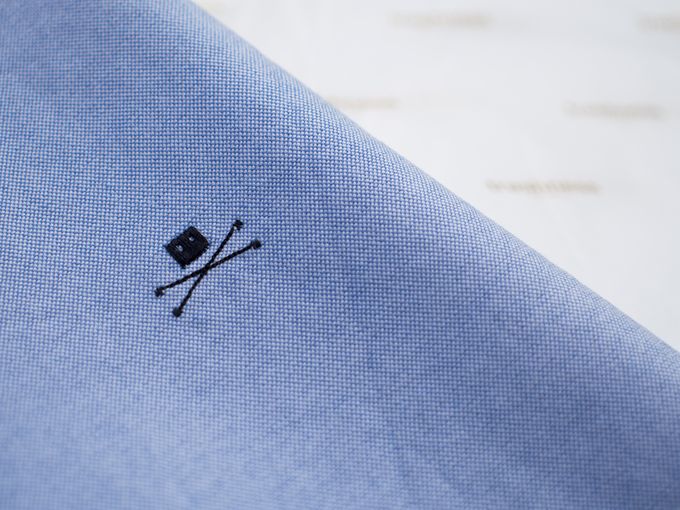 As nice detail both shirts have the Trashness logo embroidered to the side on the high of your stomach. A nice touch in my opinion, as it is not visible 99% of the time and also comes without the stigma of the big brand logos.