L.B.M. 1911 Navy Wool Coat
I knew I was going to need to patch up my winter coat collection for this winter and decided to take action already during early summer. My aim was to get a brown or beige coat as well as a navy one. The intent was also to get as versatile pieces as possible, and after some searching I ended up with a coat from Lardini and this particular navy one from Lubiam's LBM 1911.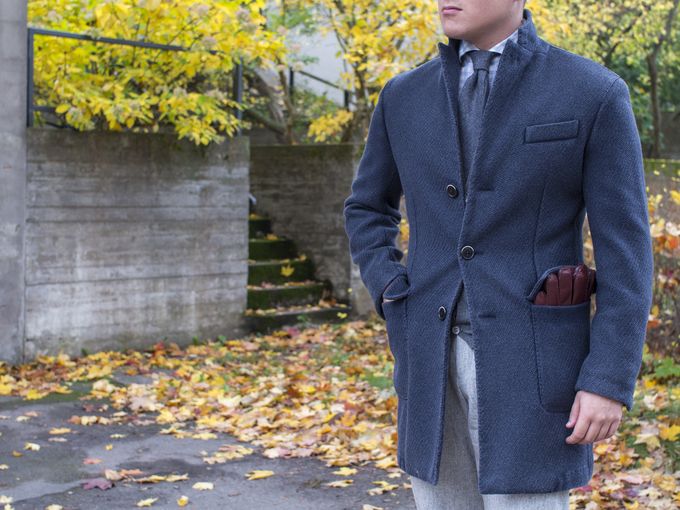 Now, while my Lardini is a more formal coat with a light color, easily combined with all my formal suits that are mostly of dark colors, the LBM 1911 shown here is a little bit more casual choice for those fall and winter days. The fabric is a sort of Italian hopsack weave wool fabric (someone told me the name of this type once, feel free to name it if you know it) and has just the coolest texture ever. The fabric is also a little bit stretchy which helps it give the coat wonderfully soft shoulder line (there's also no padding). The navy color is also just perfect for this piece - it works well with many non-navy, often more casual, winter suits as well as with sport coat combinations that mostly use light-colored trousers.
This fit of the coat is quite slim and just fits me with a jacket underneath in size 48. The sleeve length was pretty much perfect for what I prefer with coats and overall the proportions are just right for someone at around 175 centimeters tall.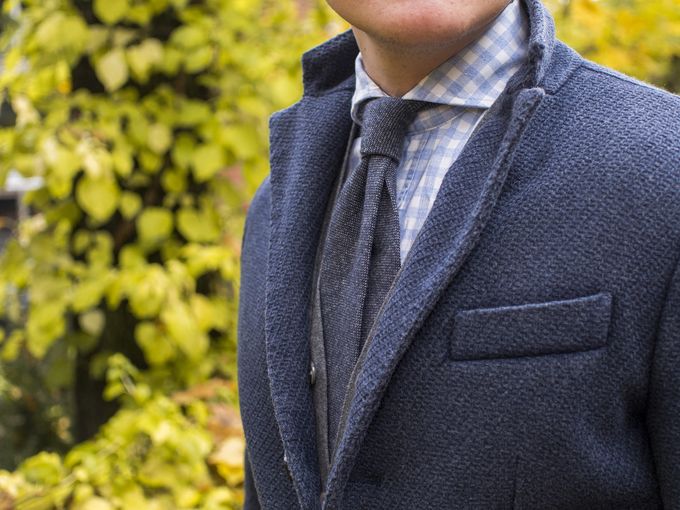 After months of active use of this piece I would name a couple of negatives, both of which are not really that game-breaking. First, the chest pocket isn't functional. A small thing really, but I would've expected a maker like this finish all the details properly. Second, a fabric like this just isn't quite dense enough to keep off strong wind. Now, this is more a thing I bring up due to the Nordic conditions I live in. I can't see anyone complaining this to be a problem in warmer conditions, but when the temperature drops to around -15 Celcius and it's really windy (I live on an island off the coast of Helsinki by the way and it's properly windy quite often) I expect I'll be changing to a warmer coat.
All in all, I've been very happy with this coat and I think it's going to see a lot of use for years to come. Pretty much 5/5 for a fall or mild winter day.