Linjer - New Leather Options and an Extended Campaign
So, at the beginning of the month I wrote about Linjer's starting IndieGoGo group funding campaign where you could get yourself a gorgeous tan or black briefcase made of vegetable-tanned full-grain leather. Not surprisingly, the initial target of 50.000 USD was reached within a few days and the gathered amount of money steadily kept rising. Today Linjer's already at 119k USD and due to the great success IndieGoGo has actually allowed Linjer to extend their campaign. What's even better however, is that due to breaching their group funding targets Linjer is now also offering their Soft Briefcase in dark brown (mocha) and navy leather.
The full-grain vegetable-tanned dark brown briefcase is a true beauty, and I'm actually now going to get this one instead of the tan one. It's simply a little bit more versatile in my work environment as it can more easily be combined to my outfits around the year. The tan briefcase is a little bit light-colored to be used when there's snow, although I can see it working with the right kind of outfit as well. At the end of the day, I can't stress enough how much I like this design, so now being able to get it in dark brown is pretty cool.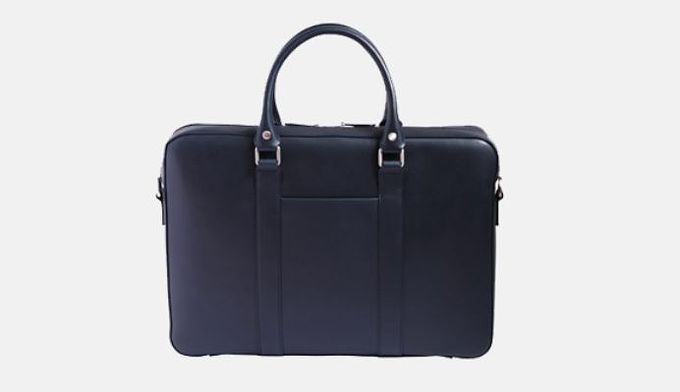 The full-grain vegetable tanned briefcase in navy was unlocked at 90k USD, and it has already created some buzz around the Internet. Some might think a navy briefcase is an odd choice, but it is actually a rather versatile and cool briefcase to have. A navy briefcase like this can easily be used with both black and brown leather, something no brown nor black briefcases can do. A navy briefcase made out of top grade full-grain vegetable-tanned leather like the one Linjer uses will also create a truly magnificent patina over time.
Those of you who haven't read my first article on Linjer, I suggest you do it here. To summarize it quickly, the company is a new start up that is bringing some top quality briefcases to the market for a very reasonable price. Their Soft Briefcase is, in my opinion, the best-looking briefcase in its class. Elegant, modern yet timeless and just look at that design - couldn't be any better in my opinion.