As promised, today's post will review how my three pairs of Meermin shoes have handled the daily challenges and how well they've aged. It's no secret I've been quite happy with all these shoes, but this time I will go a little bit deeper sharing my thoughts, and as always, a set of high quality pictures is included.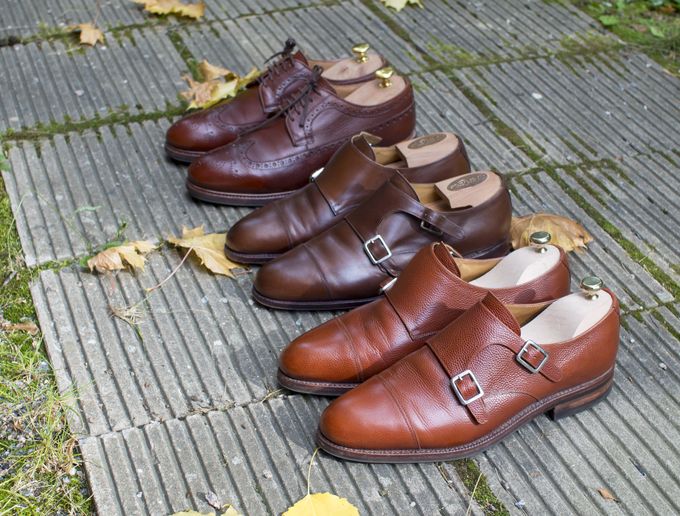 So, all three pairs pictured from about the same angle with the latest pair first. No special polishing or so done, just my usual Saphir Creme Surfine treatment and all shoes have been shot from the same angle. The purpose of this post is not to display the shoes from the most flattering angle possible, but to display the condition of the shoes as well as possible.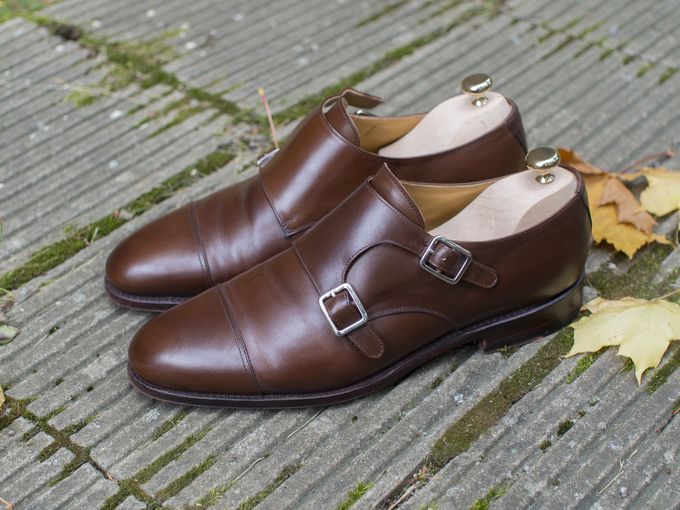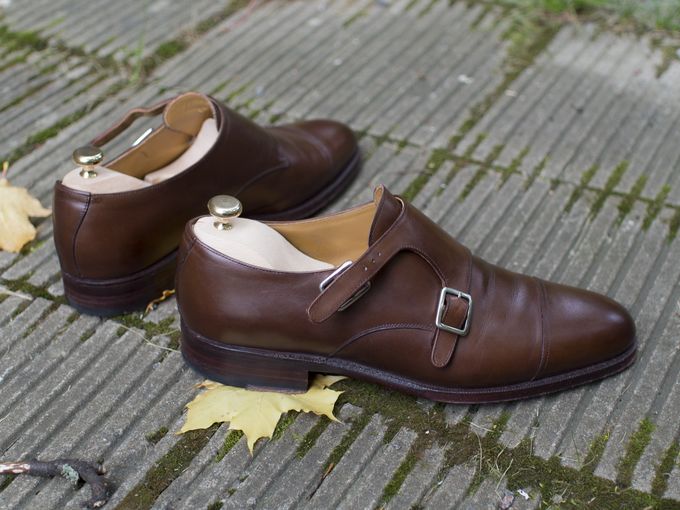 First up is the brown calf double monk shoe that I received early this spring. A beautiful shoe, and I very much like this color. I've been treating it with slightly darker Saphir Creme and occasionally with a more red shade of brown polish, mainly to add some depth to the brown and I must say think it has worked quite well too.
The shoe has been formed in Meermin's Hiro last, one of my personal favorites. It has a nice sleek profile without being overly aggressive, making it a very good choice to a shoe like this. The Hiro is very much true to size and I'm wearing my usual size UK7 in this pair.
The quality of the leather of this pair is perhaps the least impressive of these three. That said, it is still pretty damn good for a shoe at this price point. So, when I say least impressive what I mean is it isn't quite on par with the 400+ Eur high end brands, but is without a doubt very good for 160 Euros that it costs. And, I mean, the photos speak for themselves.
I've been wearing these a couple of times a week over the summer, so they've seen perhaps 40-50 days of use.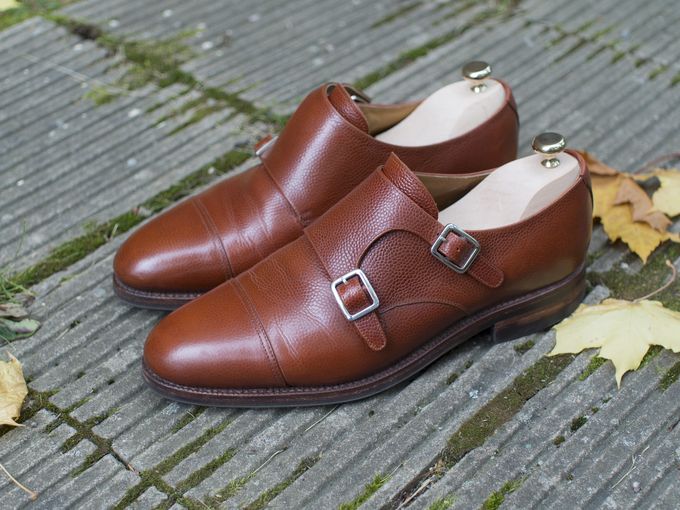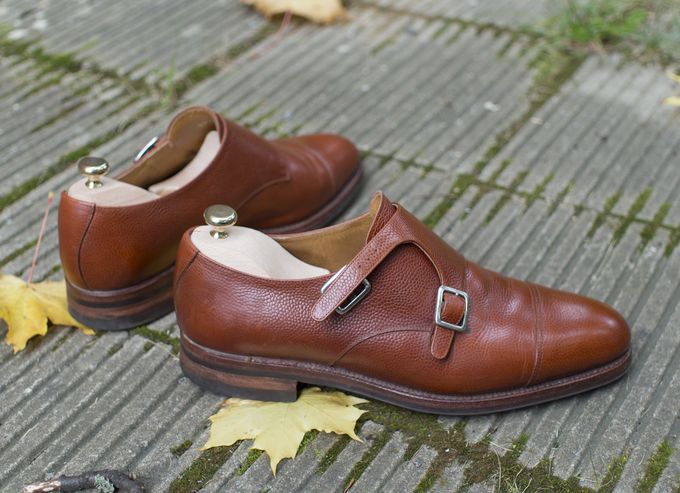 Second up, my other double monk pair, this one made from a wonderful Scotch grain leather (no longer available it seems, but these are similar). Also made on the Hiro last and featuring a Dainite type sole these were one of my go to pairs last winter and have now started seeing a lot of use once more. This kind of a rich tan(ish) color, heavier sole and the grain texture make it a great shoe for the fall especially.
So, also made on the Hiro last, I wear my normal size, and don't really have much to say about the fit. It's what I would call "normal" in the way that it isn't overly long, short, narrow or wide. The shape, again, is great, especially for a double monk shoe.
The leather is quite thick, and quite soft. There is some creasing, but the texture does a pretty good at hiding it. I think most of the stretching was created in the first ten uses, but after that the leather has softened up quite a lot. Oh, and the marks on the outer side of my right shoe are from driving my car.
These shoes have seen some heavy use and have been worn at least twice as much as the previous pair. Also, as this pair is the kind of a pair of is, this hasn't been in the easiest environments. They've seen a lot of rain, snow, slush and worst of all, salt.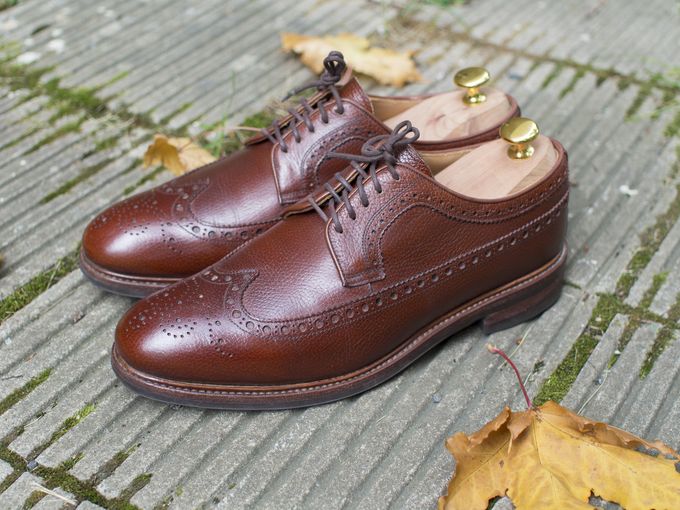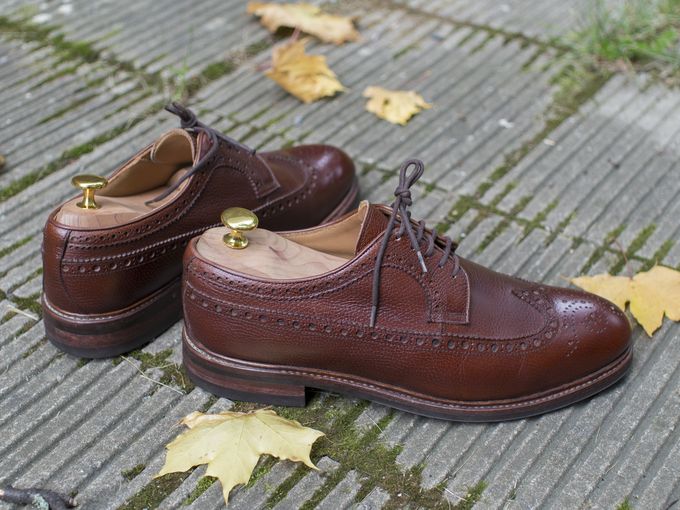 Then last but not least, my longwing pair (not available anymore I'm afraid). These have been made on the Rui last which fits pretty much true to size. It is slightly wider at the end when compared to Hiro, for example, and is what I would call a very comfortable last.
This pair has truly astonished me with the quality of its leather. It is quite thick (this is a good thing by the way) and very very soft. It is the oldest of the pairs and has seen perhaps a 100 days of use, if not more. There is basically no creasing at all and the pair has survived the touch of the elements amazingly well.
The thing that bothered me about this pair in the beginning was the fact that the piece of leather underneath the eyelet tabs and the "wing" piece is not a single piece but made out of three pieces. You can see the seam under the eyelet tab. However, as time has passed I haven't really minded that anymore.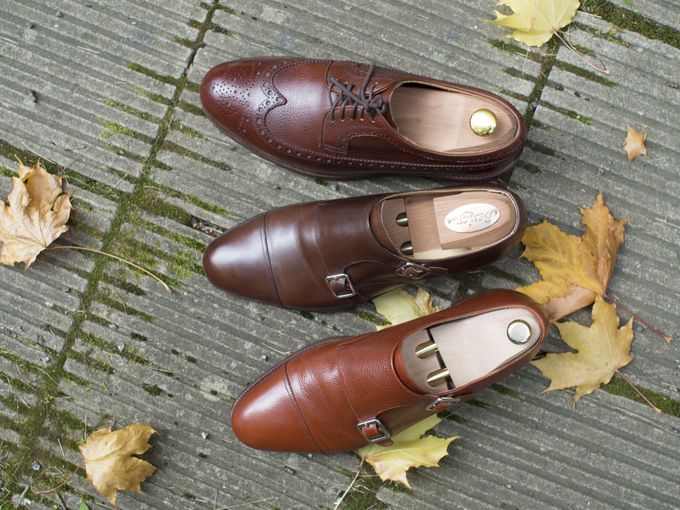 Since getting my first pair of Meermin shoes, I've been getting tons of questions regarding the quality and how they fit, so I hope this article will help many of you. I also have a pair of Meermin's new snuff suede derby boots coming up, so expect pictures soon. In the meanwhile remember to like on Facebook and follow on Instagram for more content and notices when a new blog entry is posted.