Meermin Snuff Suede Derby Boots Review
This week's Saturday reading provided to you by The Nordic Fit features Meermin's new snuff suede derby boots, a long-awaited model that Meermin has finally decided to produce. Lots of pictures and my thoughts after about two weeks of field-testing. Enjoy and leave a comment if you have a question.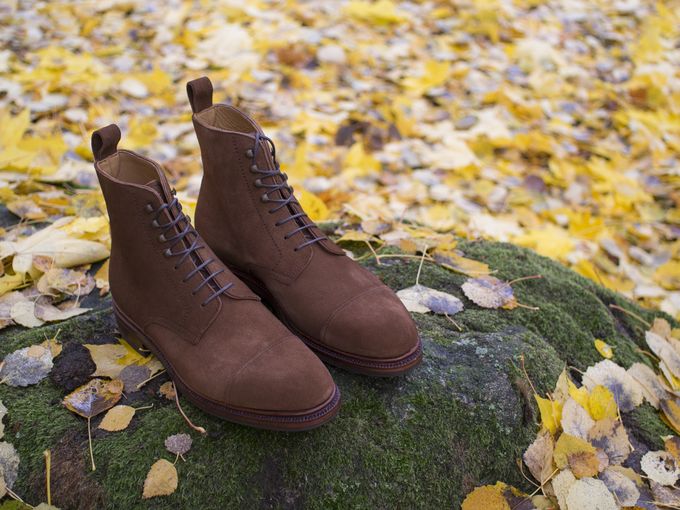 So, the basics. The boots are made of snuff (this is the color for those who are wondering) suede, have a sturdy Dainite type studded rubber sole and have been made on the Rui last. As we know, suede is the best winter shoe material, something I keep having to tell people. The color on these is a slightly less red ish than on Meermin's site, and basically what I'd call very basic snuff suede color/mid brown. The Dainite sole is my personal favorite for the northern conditions, the least slippery on ice and the snow doesn't pack into it like in a commando sole.
Then a word of praise. The last used, Rui, has never looked this handsome. Here it achieves a great balance between rugged and sleek, making this pair a great option for both more formal outfits but still having that wanted presence for the rougher more street style combinations. This might sound trivial, but when you think about there are only a few derby boots in the market that achieve this. Most are too wide or too narrow to be very versatile. Size wise the Rui is very true to size in my opinion. I'm wearing my normal size, UK7/Euro41, and the fit is just right but comfortable enough to house a pair of thick wool socks.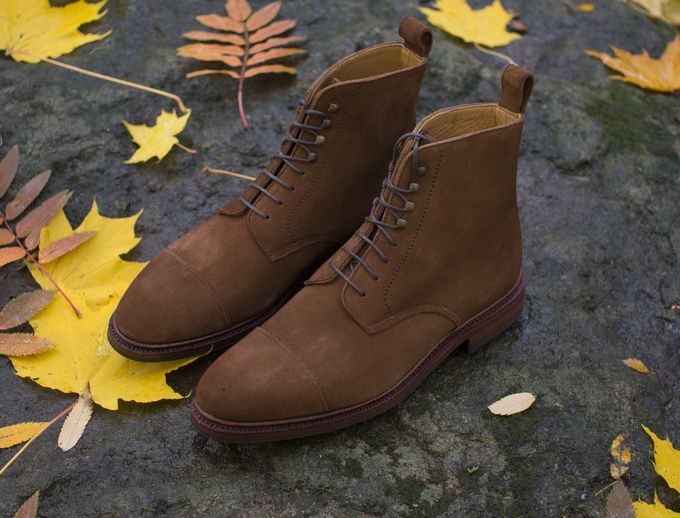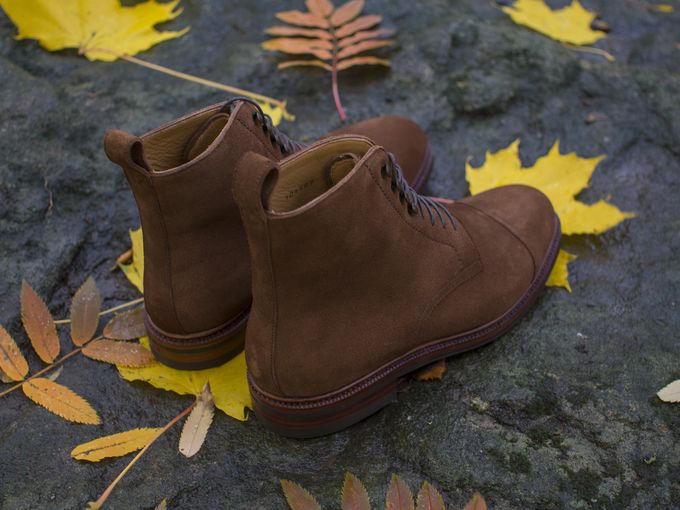 Then some initial thoughts about the quality. The suede was almost too soft when I received the pair (the pictures are taken before using the boots by the way), but I've been brushing them after each use now and the material is starting to gain some more texture and the color is starting to get properly alive. The suede leather pull tabs feel solid and I think they won't be coming off anytime soon. Most other manufacturers use canvas as pull tabs, and I think the suede leather in this case is a nice touch. The ski hooks are of very nice metallic bronze color, again a nice detail.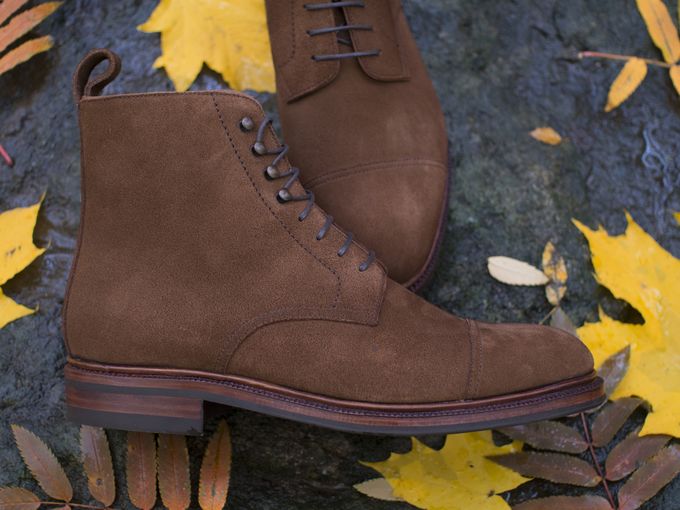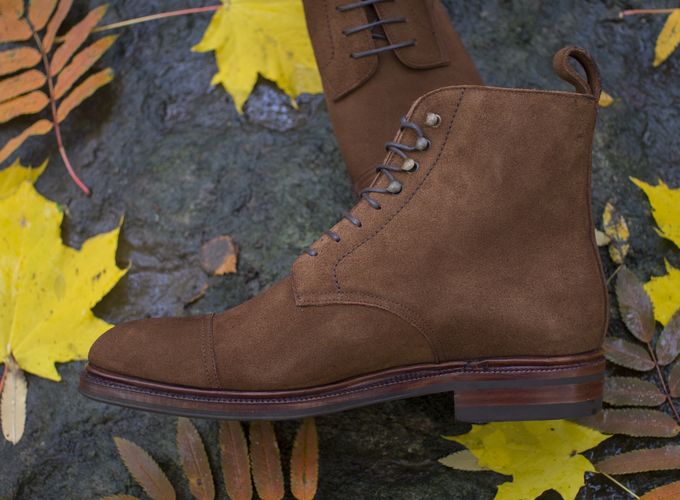 What would I criticize? I must say the finishing on this pair is pretty top notch and to me it feels like Meermin has improved from the earlier times, especially when it comes to the seams. The pieces of leather have been cut well and the stitching is bang on. The only thing I would nitpick is the Storm Welt, which is a little bit uneven on the inside of the other shoe. Rest of the way it is even and well done, but there is still a small difference to the most expensive brands. I would say the Storm Welt on this pair is a little bit less refined than in my Tricker's Stow pair (which I actually just sold to make room for these), for example. Then again, the Stows retail for more than twice as much as these.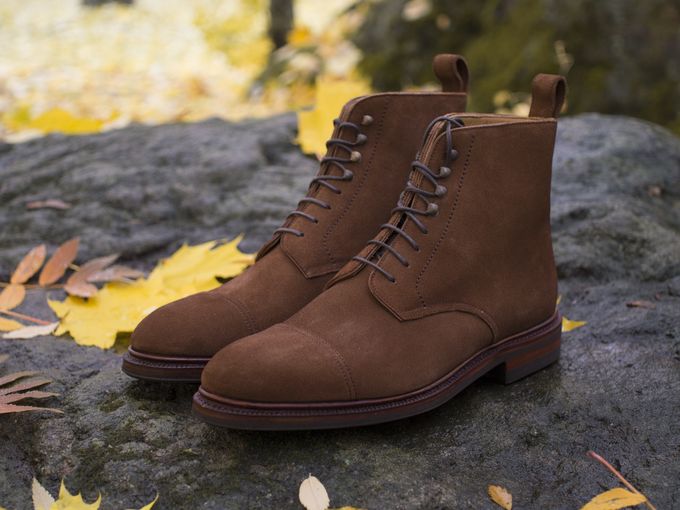 To sum it up, I think this is really a model Meermin should have introduced already a year ago. There is practically no competition in winter boots of "approved design" at this price point, and I for one had long been looking for a pair of suede plaintoe or toecap derby boots that didn't cost a fortune. English competitors (such as Loake) offering similar models at around 200-250 Euros are made on somewhat ugly lasts and the design oozes more country estate and fox hunting than modern menswear. The good-looking models from brands like Tricker's or Carmina only start to appear when we get closer to 400-500 Euros, which is starting to be quite a lot for shoes you will wear in the rough fall and winter conditions. However, now there is finally something that looks amazing and doesn't cost half a grand.
The best value for money if you're looking for a handsome pair of winter boots. They've neatly fulfilled the suede winter boots sized hole in my wardrobe and I would gladly recommend them for anyone looking for a similar pair. At the moment, I myself am very much thinking of ordering a Meermin MTO pair like this, but without the toe seam and in some brown country calf. Would maybe make a great group order too..