Choosing a Suit for a Summer Wedding
What suits can be worn at a wedding?
There are more types of weddings than there are fish in the sea, but a general summer wedding tends to be a fairly similar event in the Western countries. The dress is usually up to the visitor to decide, although it should naturally be appropriate for the occasion. What then, is appropriate for a summer wedding?  A wedding is a happy event, a celebration, so I would rule out the black suit first. A far better and in my opinion appropriate option is to choose a fitting summer suit with a more fresh color palette and compliment it with some seasonal accessories. In many parts of the world, a nice sport coat with perhaps a set of seasonal well-tailored tropical wool trousers is a perfectly good option as well. So, as long as you mind the hosts' wishes for your dress, feel free to go for a fresh summer look that looks the part.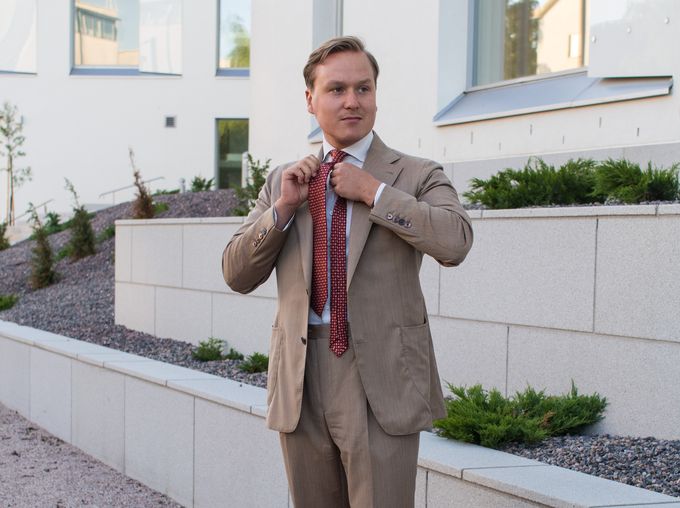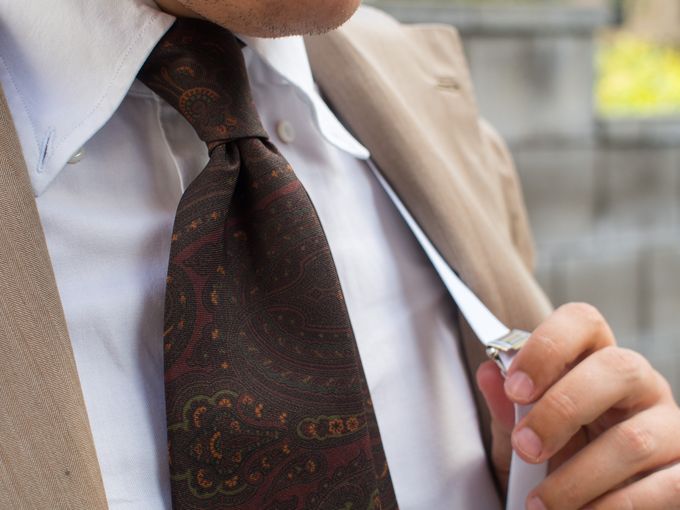 Materials for a wedding suit
Best materials for a summer suit that can be used both in weddings but also in other summer events include lightweight wool, linen and even lightweight cotton. As I always say, the usability really depends on the exact type of fabric and the occasion. In my opinion, it is often good to find a compromise between a casual summer suit and a summer work suit. For example, taking a very distinctive summer fabric such as pure linen, but resorting to a more conservative color choice such as plain navy or cigar brown. This way you will have a suit that's still very much fit for a summer celebration but also one that you can wear at a casual day at work, giving you the most for your money.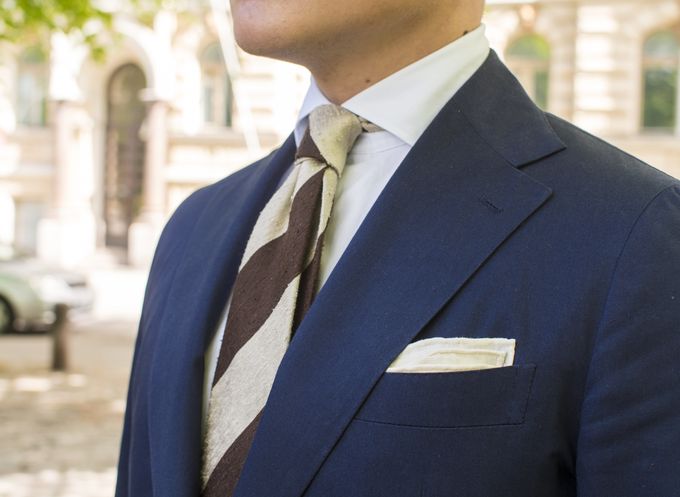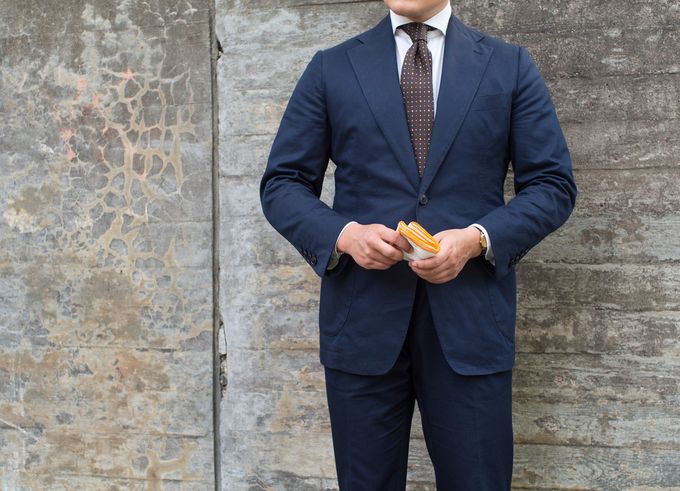 Timeless wedding accessories
Appropriate wedding accessories for men include classics like the grenadine tie or a polka dot jacquard tie. The most important thing when choosing the accessories for a summer wedding though is to understand what type of a wedding it is and what is your suit of choice. A festive silver grey grenadine tie is an exceptionally good and classic choice with a navy suit and something that will always be great for more formal weddings especially. Good options with brown or beige summer suits include navy and dark brown grenadine and knit ties. For more relaxed or playful looks one can think of wearing a paisley or perhaps a printed floral tie with fitting colors. To the question of whether it is OK to attend a wedding without a tie, I would say wear a tie to a regular summer wedding and then just ditch it in the evening when going gets more party-like. For an occasion at a beach resort or something similar where people will be most likely dressed a bit differently a tie is not as necessary.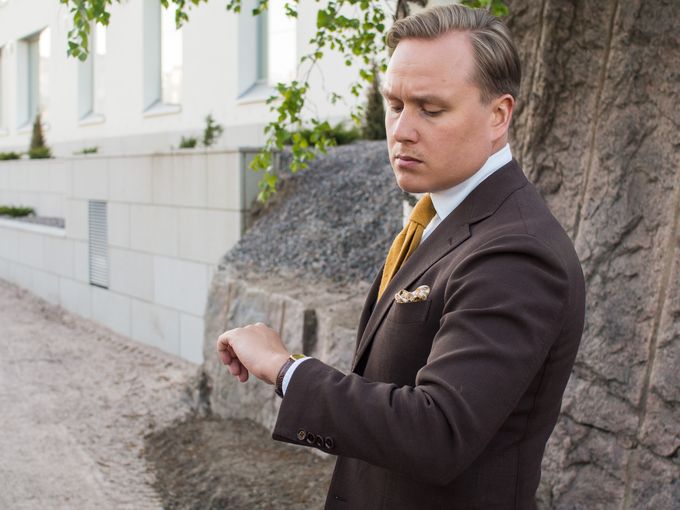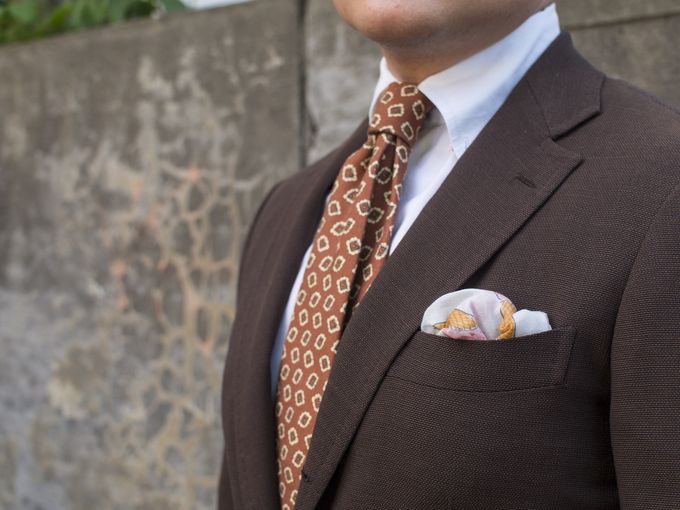 Top recommendations for a man's classic and timeless summer wedding look
To sum it all up, I'll list my own favorites for a summer party or a wedding with a hint on when during the summer this type of color palette and set of materials would be most appropriate. So, my top 5 options are:
Camel brown cotton suit, light blue/white striped shirt, wide navy knit tie, white linen pocket square, medium brown suede penny loafers. (early summer)
Navy wool/mohair suit with some texture, a white shirt, a silver grey linen herringbone tie, white linen pocket square, navy socks and black calf penny loafers. (early summer/late summer)
Lightweight wool suit in dark blue check, white shirt, navy grenadine tie, printed matte color pocket square of choice, navy socks, dark brown Oxford shoes. (early summer/late summer)
Dark brown linen suit, light blue chambray shirt, printed floral silk tie with a burnt orange or burgundy base color, fitting pocket square of choice, dark brown calf tassel loafers. (late summer)
Dark burgundy wool silk linen blend hopsack sport coat, light blue chambray shirt, no tie, light blue linen pocket square, cream cotton trousers snuff suede tassel loafers. (late summer)