Tailored Blue Suit with a Burgundy Jacquard Tie
Burgundy accessories are one of the most versatile menswear pieces that can be utilized in most formal and casual combinations. This includes burgundy grenadine and shantung ties, burgundy edge linen pocket squares as well as burgundy scarves. The dark and earthy tone of red is something that is easy to approach and many menswear enthusiasts the color as among the first ones to include in their wardrobes. Today's outfit post is yet another example of combining shades of dark blue and burgundy, something that I see as perfectly suitable for a regular day at the office during the colder seasons.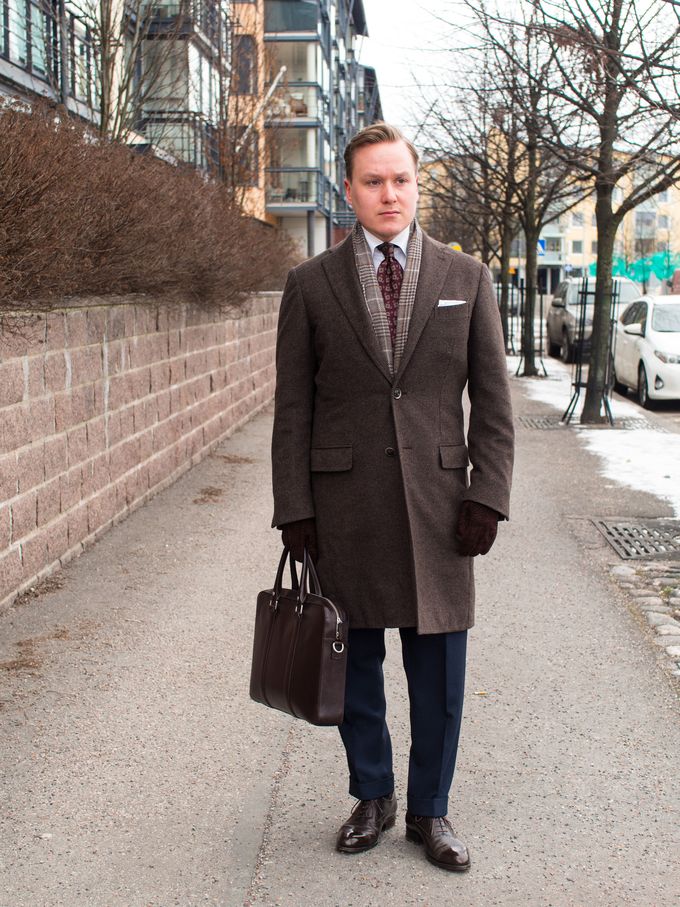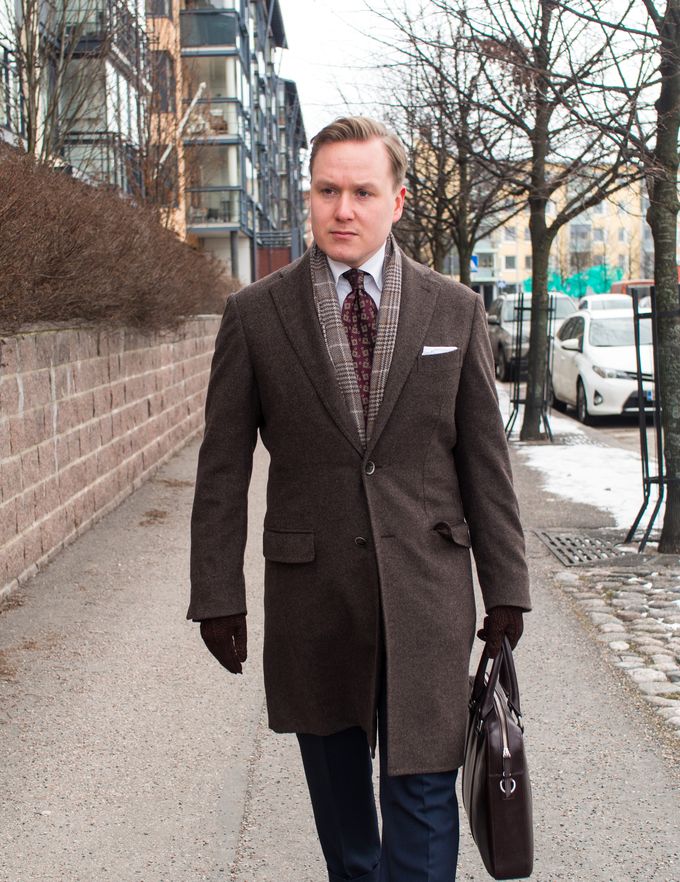 The worn items include a wool cashmere coat from Ring Jacket (with a white House of Kydos linen pocket square), Berg & Berg wool scarf, Madova Firenze carpincho leather gloves, Linjer soft briefcase, Vaatturiliike Sauma handmade made-to-measure suit, Luxire mtm shirt with my collar design, vintage Armani jacquard tie from the 80s, Drake's London wool silk blend pocket square, Albert Thurston braces, Jeeves socks and made-to-order Oxfords from Vass.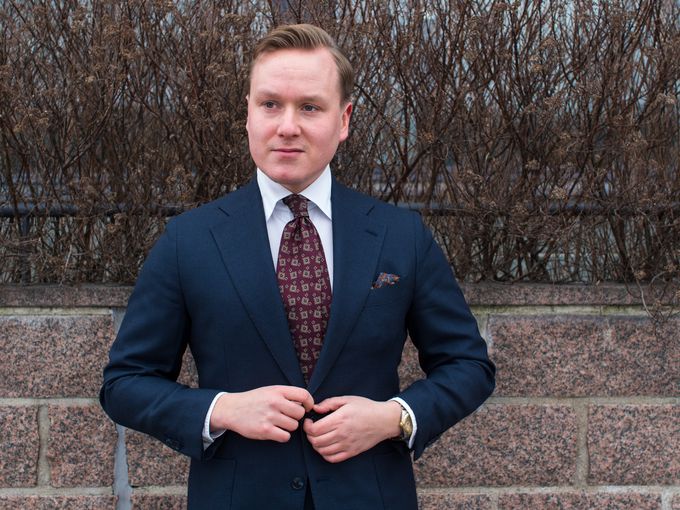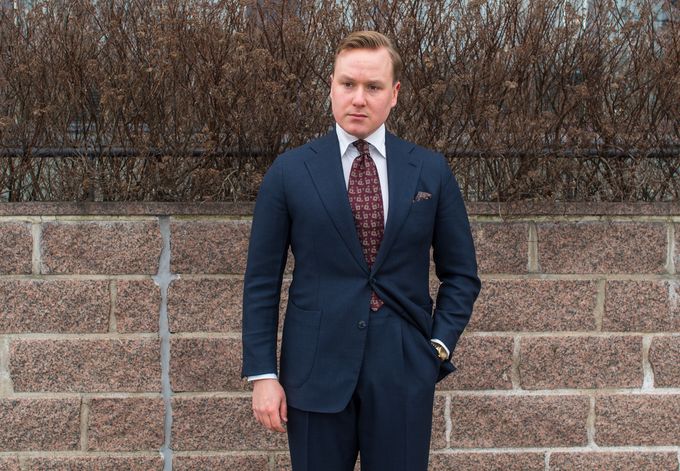 The tie in question is an 80s vintage piece from Armani, one that I found from a nice vintage store in Florence. It's interesting how I have absoluely zero love for these brands nowadays, yet I'm still very much drawn to their old designs and products.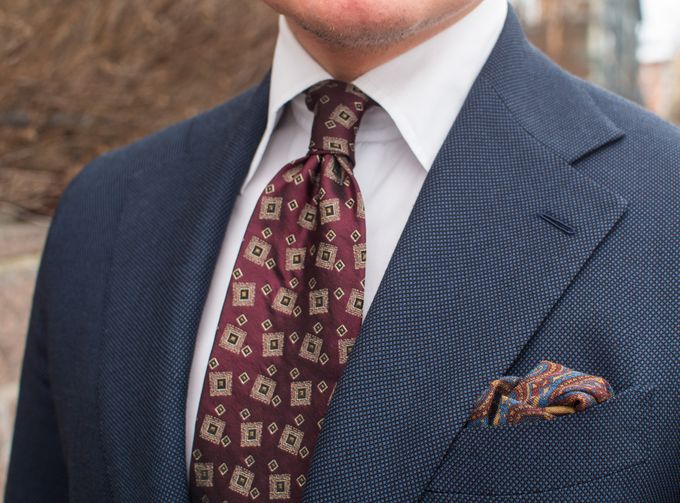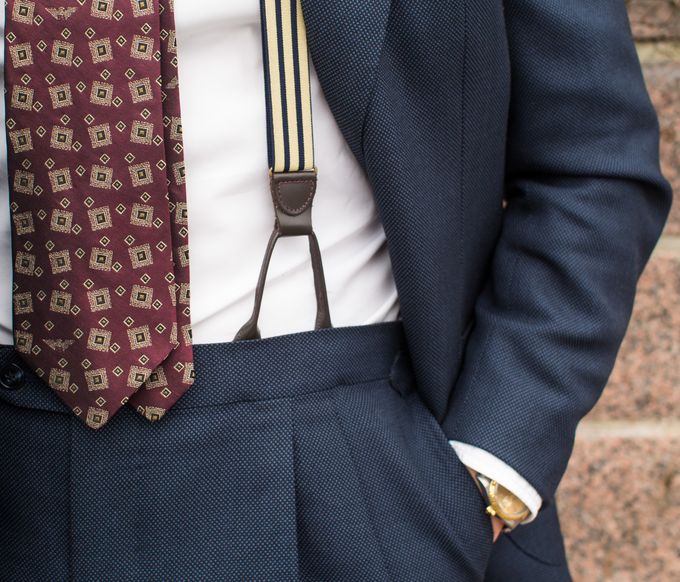 I switch my braces around my suit trousers very rarely, so it's actually quite funny how well this pair of braces fits the other parts of this particular outfit. What I especially like is the faded yellow color in both the tie and the braces.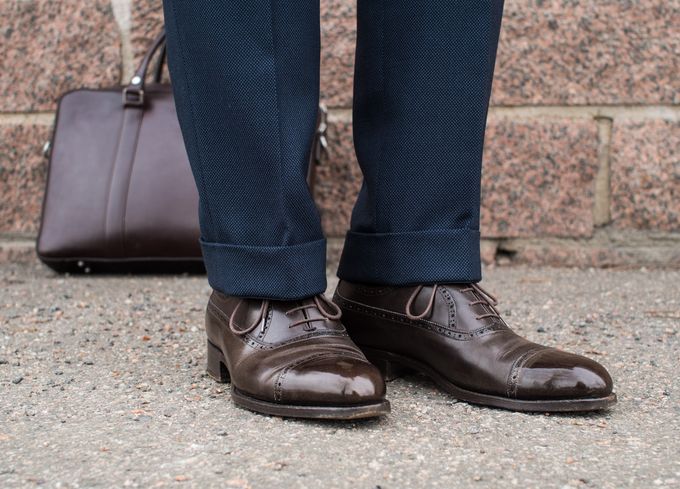 My first pair of Vass shoes is soon going to turn two years in age. The leather has aged really well and I feel it is of very good quality. The model itself has been a good allrounder around the year, and I'm still very fond of the Balmoral design.