Perhaps one of the biggest trends in menswear today is, no doubt, the unstructured jacket. It is the perfect choice for a more casual day or occasion, and usually flatters the body's natural lines in a way that a heavily padded jacket (that is commonly associated with suits and jackets and accounts to perhaps 98% of jackets worn around the world) can only dream of. And just to be clear, an unstructured jacket is a jacket that has no padding and and is completely unlined (apart from the sleeves). All looks seen here are like this.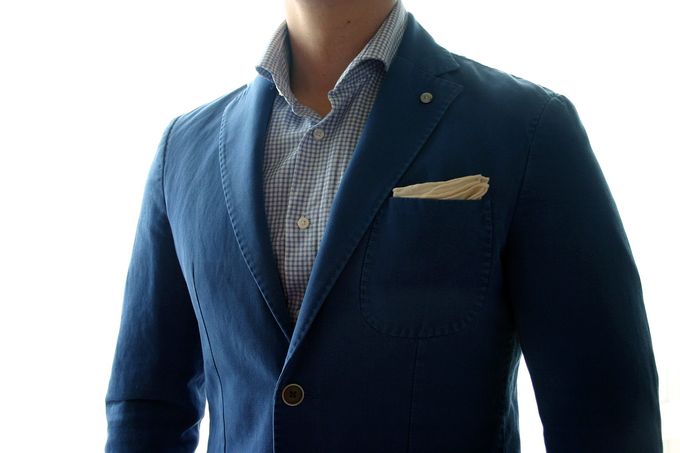 A blogger blue LBM 1911 with a gingham check shirt and a cream linen pocket square.
Nearly all my odd jackets currently are of this kind, and over time I've grown to love it more every day. The soft shoulder that follows the shoulder's round outline creates a natural, more relaxed yet elegant look that simply cannot be matched with a boxy, stiff and heavier shoulder.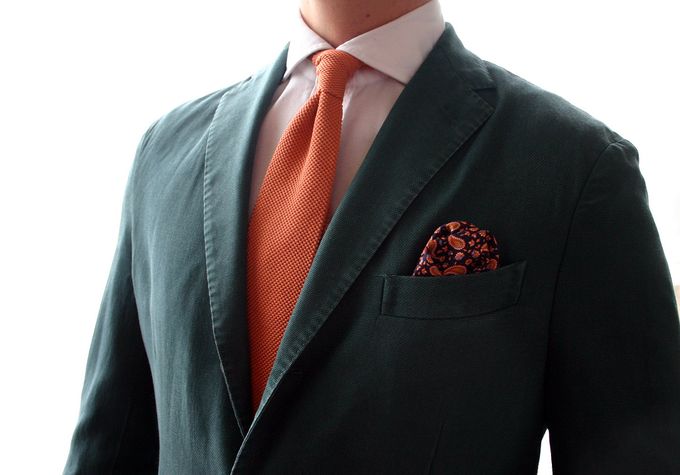 Boglioli K-Jacket in ultra lightweight green wool, a peach Brooks Brothers silk knit tie and a Berg & Berg silk pocket square.
Now, naturally the shoulder is just one feature of the jacket, but it is certainly one that sets the tone for the rest of the piece. Other features that work beautifully (and are most of the time found in them) with a jacket like this are a 3/2 button roll and patch pockets. The first one means that the jacket has 3 buttons, but has its lapels made to roll to the second button, like the navy LBM below. When done well, the soft and rounder roll on the lapel compliments the jacket's already beautiful natural lines. Patch pockets (sewn on the outside), on the other hand, are a more casual option when compared to the "regular" jacket pockets. For this reason they are also often chosen for unstructured jackets.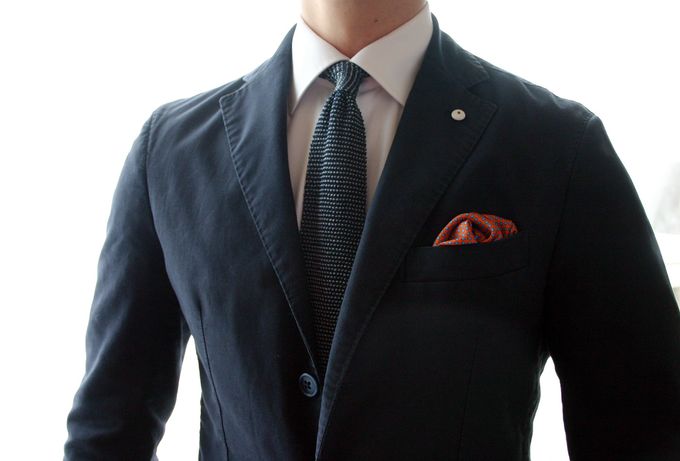 LBM 1911 navy cotton jacket, Kent Wang bicolor silk knit tie, Gieves & Hawkes pocket square.
So, to who would I recommend them? To be honest, anyone who hasn't got very narrow and/or heavily sloping shoulders, should give it a try. For some people, a little bit of padding can be much better, but especially for a person with a more athletic build and broader shoulders, the natural lines of an unstructured jacket offers a great option for those more casual office days or days off. Also a good option if you're a bigger guy, but then I would advise going for a sort of semi-slim fit with not that much drop.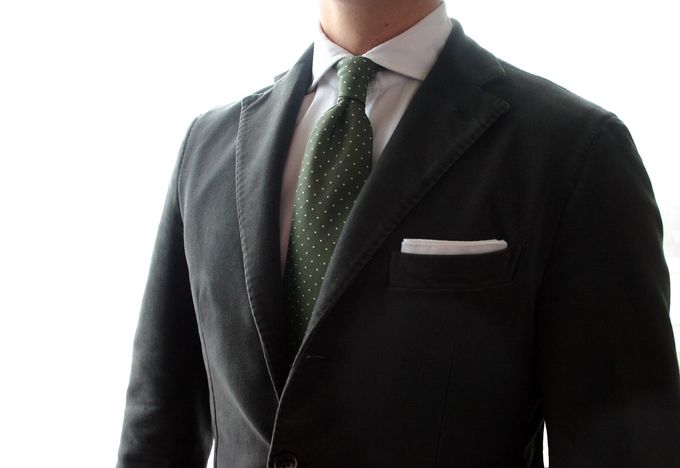 LBM 1911 dark green moleskin jacket, Berg & Berg silk tie, white cotton pocket square.
And lastly, where to get them? My personal favorite is LBM 1911, Lubiam, an Italian company whose jackets and suits can be found from several online sources. Another good options would be Boglioli, Cantarelli and Lardini. These all retail for around 250-700 Euros, and can be found for less when on sale.
Leave a comment if you have any questions or feedback. In the following days I will have a similar article written about the more formal options, with some nice pics of course. So, come back and enjoy the weekend.