Buying An Unstructured Jacket For Summer - Best Picks And Tips
While bearded men pose to cameras in Florence (or did while I was writing this), I figured I'd start preparing for the upcoming summer. The aim of this article is to help "beginners" get their summerwear now when it's the right time to get it, and hopefully save some time for more experienced readers as they won't have to look through the entire Internet.
For those of us with limited budgets and without the possibility to visit the best stores physically, the time to gear up for the upcoming spring and summer season is right now. As ordering online is often a little bit tricky, I personally tend to favour stores that ship quickly for free and have super easy returns. To name a few stores like this, let's say Yoox.com, SuitSupply and Mr Porter. Now, I personally can't really find pretty much anything from SuitSupply that fits me anymore and Mr Porter is just immensely expensive (and mostly carries too fashion forward silly brands). This leaves us with Yoox, the saviour of those who want a quality unstructured jacket or perhaps a suit for budget.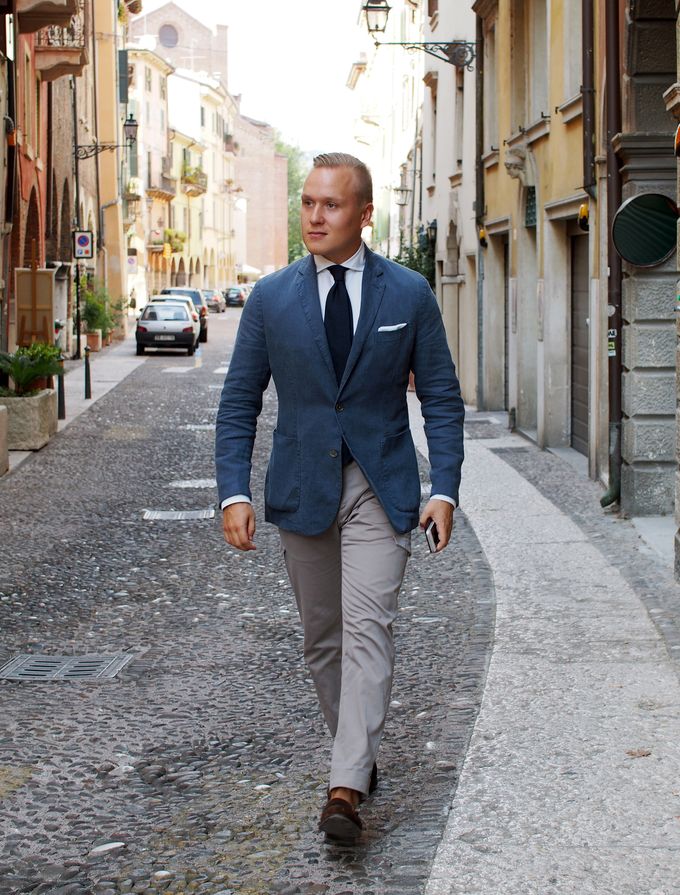 At this time of the year Yoox will be listing all the new stuff, and from experience I can say that if you're one of the most common sizes it's usually a good idea to buy certain things now while there's still some left. The prices may still be around 200-400 Euros for an unstructured jacket and perhaps 300-700 Euros for a casual suit, but this is still only about half of what you'd be paying in normal stores. And to be honest, this is pretty much the minimum you'll be spending if you're in the market for a quality unstructured jacket/suit. The downside of shopping at Yoox is that you'll be getting items from past seasons, but if you're buying something that is classic yet modern (as you should be! and what I mean by that is something you can see above and below) it's not really a problem as it looks as good today as it looked a year ago.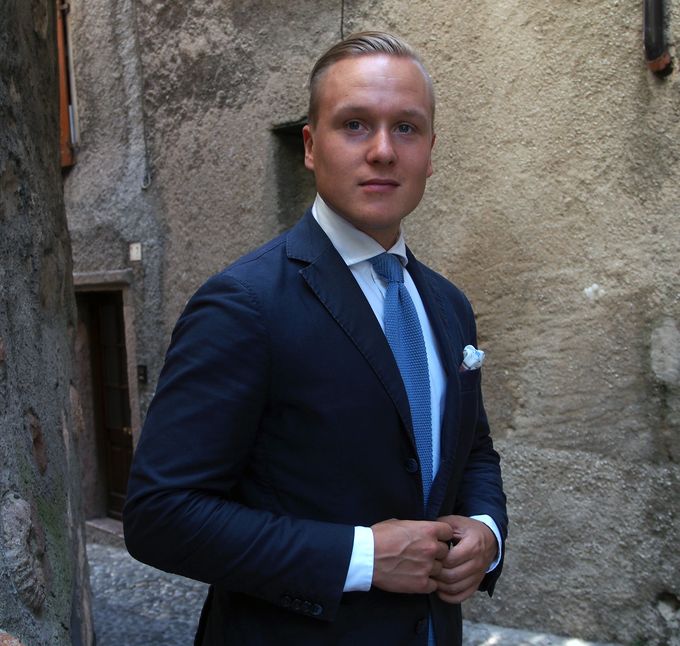 So, during January I will be listing some good picks from Yoox and other online outlets to make your life easier. First, here are my personal favorite brands to watch. You'll find all their items behind the links, not just the summer jackets.
All Brando items. (tip from reader Tsparre)
All Luigi Bianchi Mantova items.
All Luigi Bianchi Rough items.
Then, perhaps the more interesting part. My favorites (if I wouldn't like to wear it myself, it isn't here) from the above listed brands. I've tried to look for the ones that provide the best value for money and mostly left out the pricier models. Some have pictures added, but to keep this post mobile friendly not all of them (also let's face it, these outlets take just horrible pictures so I'd rather have my site free of that crap).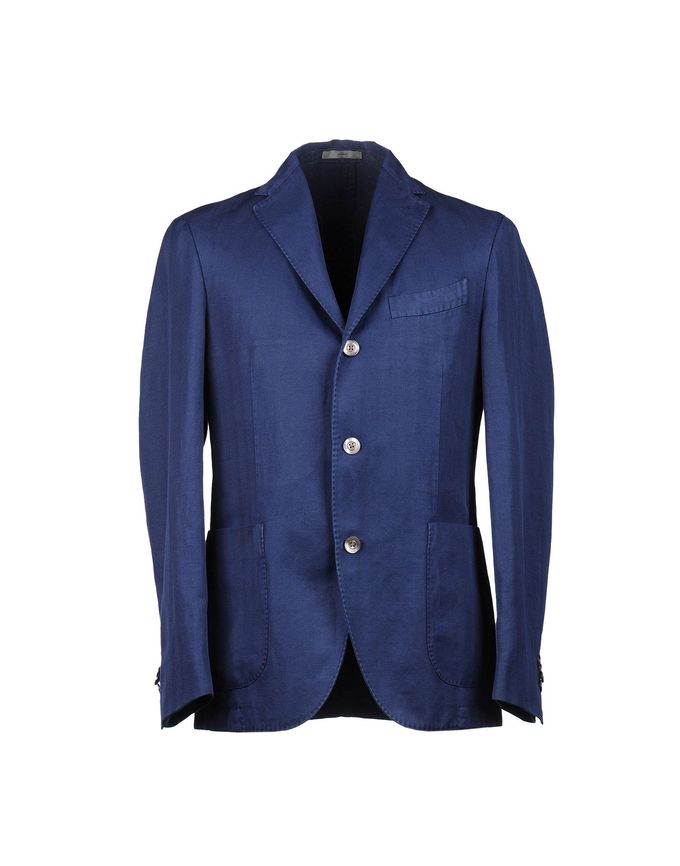 Boglioli Blue Unstructured Cotton Linen Jacket, Size 48 (one left). A good-looking blue jacket for summer from the Boglioli Coat (Frans Boone has pretty good measurements for these) line. If you want your unstructured blue summer jacket with a little something, the subtle herringbone pattern and the linen cotton fabric will give you that with a nice texture.
Boglioli Beige Unstructured Cotton Jacket, Size 48. If you're going to have one summer jacket, you want an unstructured cotton jacket. If you're going to have two, get some diversity to your summer wardrobe by getting a cream/beige one.
Brando Light Grey Unstructured Double-Breasted Cotton Linen Jacket, Sizes 48-52. A promising light grey double-breasted jacket made from a cotton linen blend fabric that will be great during summer.
Brando Blogger Blue Unstructured Wool Mohair Jacket, Size 48 (54 in a darker blue). A great option for a blogger blue summer jacket.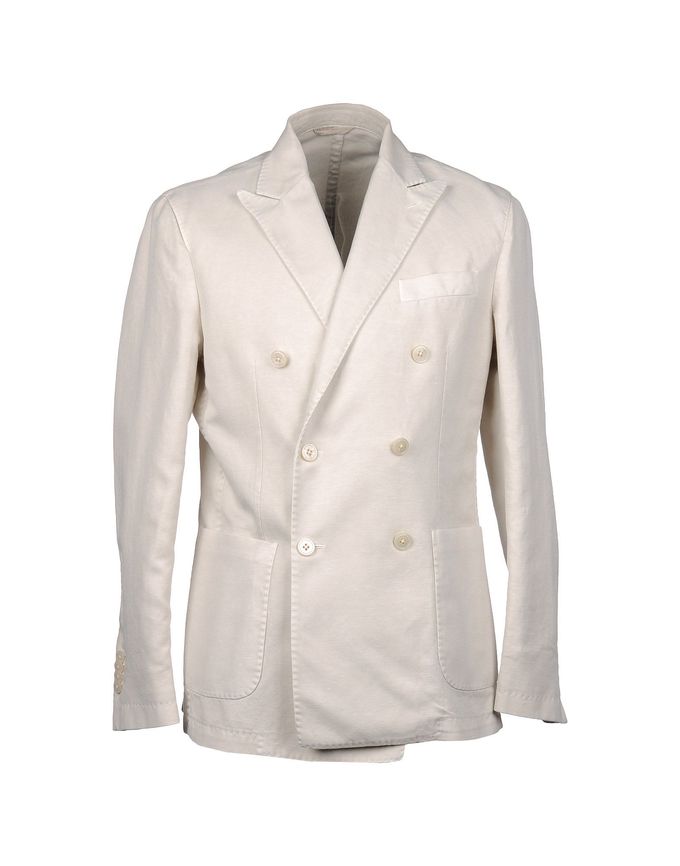 Brando Ivory/Off-White Unstructured Double-Breasted Cotton Linen Jacket, Sizes 46-52. Another true killer for summer. Wear it only after you have a tan though.
Brando Khaki Unstructured Suit, Sizes 46-54. Get both a khaki unstructured jacket and khaki trousers for a very reasonable price. Lots of sizes left.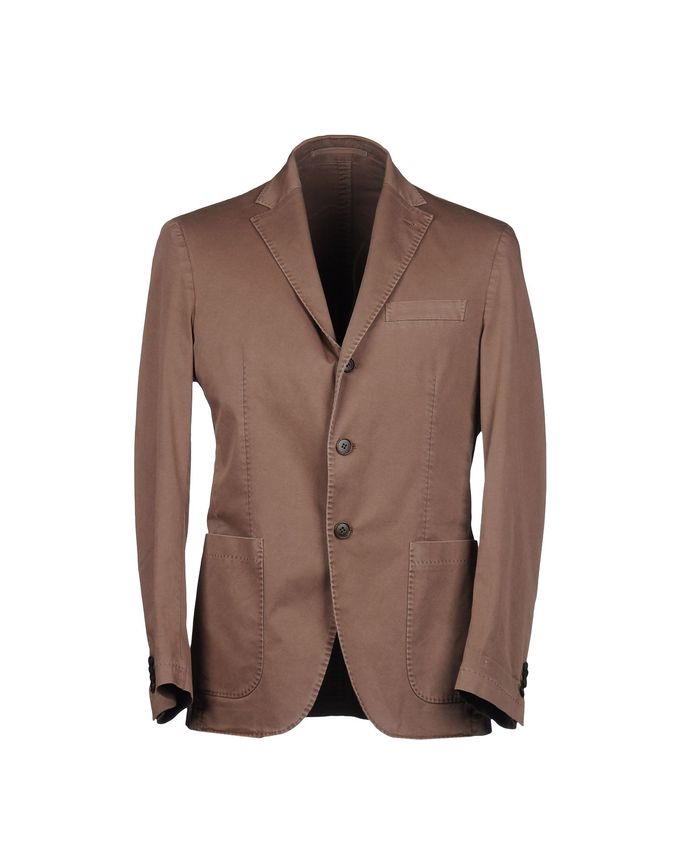 Cantarelli Brown Unstructured Cotton Jacket, Sizes 48-56. If you can live with the 2% elastane, this one's got a pretty nice tan color and goo-looking soft lines. Seems to be the same cut as my khaki Cantarelli.
Cantarelli Dove Grey Unstructured Cotton Jacket, Size 50. Another one of those jackets that you can just throw on on a casual day. Wear it with a light blue button-down shirt, pair of denim and sneakers.
Cantarelli Blue Unstructured Cotton Linen Jacket, Sizes 48-52. A moderately cheap for a Cantarelli, this blue jacket offers some unstructured (I think?) flair for your summer.
Lardini Unstructured Navy Cotton/Silk Lardini Jacket, Size 48. A damn good-looking jacket from Lardini. If you want one summer jacket, get this or something similar.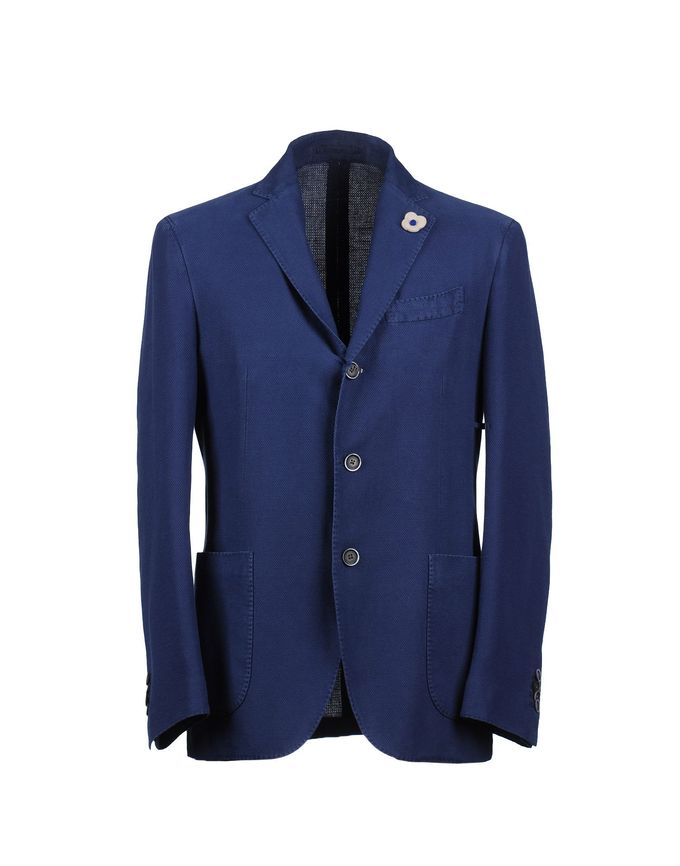 Lardini Blogger Blue Unstructured Cotton Linen Jacket, Size 50-56. This is another true gem, one of my favorites from the entire Yoox inventory. Also available in beige.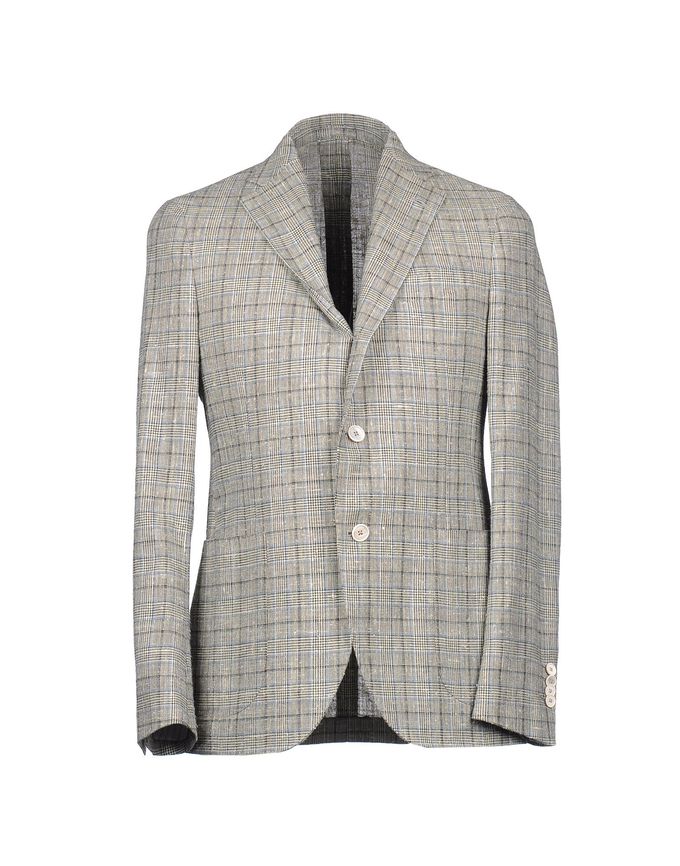 Lardini PoW Check Unstructured Beige Jacket, 48 & 52. An interesting Prince of Wales check jacket in a slubby cotton linen silk wool blend fabric.
L.B.M. 1911 Dark Grey Unstructured Cotton Jacket, Sizes 48-56. The "Bob" or 2834 fit, which fits a little bit small to size. If you're an athletic guy, go one size up and you'll have a chic summer jacket. Wear with an unbuttoned shirt, denim and loafers. Very cheap so it'll be gone in weeks if not days.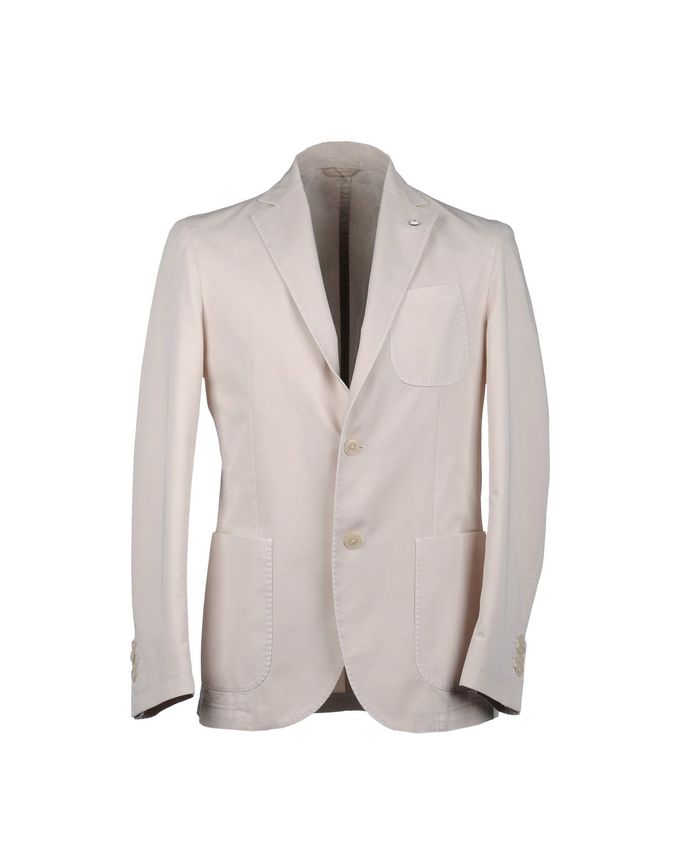 L.B.M. 1911 Cream Unstructured Cotton Jacket, Sizes 48-58. Another jacket that seems to be in the 2834 fit, so read above. This color will look fantastic with denim or blue chinos.
L.B.M. 1911 Navy Unstructured Lightweight Wool Jacket, Size 50. A true keeper, thinking about getting this myself at the moment. Again, 2834 fit so this would probably fit a "large ish size 48" person the best.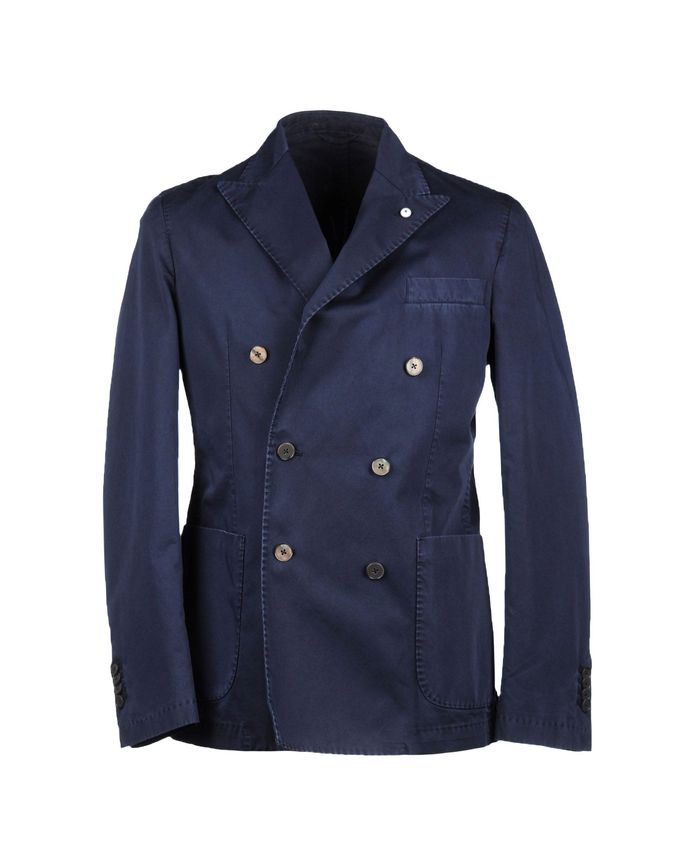 L.B.M. 1911 Navy Unstructured Double-Breasted Cotton Jacket, Sizes 48-52. A jacket I'm considering rather seriously. You're not going to find a better double breasted navy summer jacket than this. Won't be available for long.
L.B.M. 1911 Light Blue Unstructured Double-Breasted Cotton Jacket, Sizes 48-54. A promising light blue (or azure, if you like) double breasted cotton jacket. Good sizes left. Wear with mostly unbuttoned white shirt and slim khaki chinos and finish it off with suede tassel loafers. Summer swag in its best.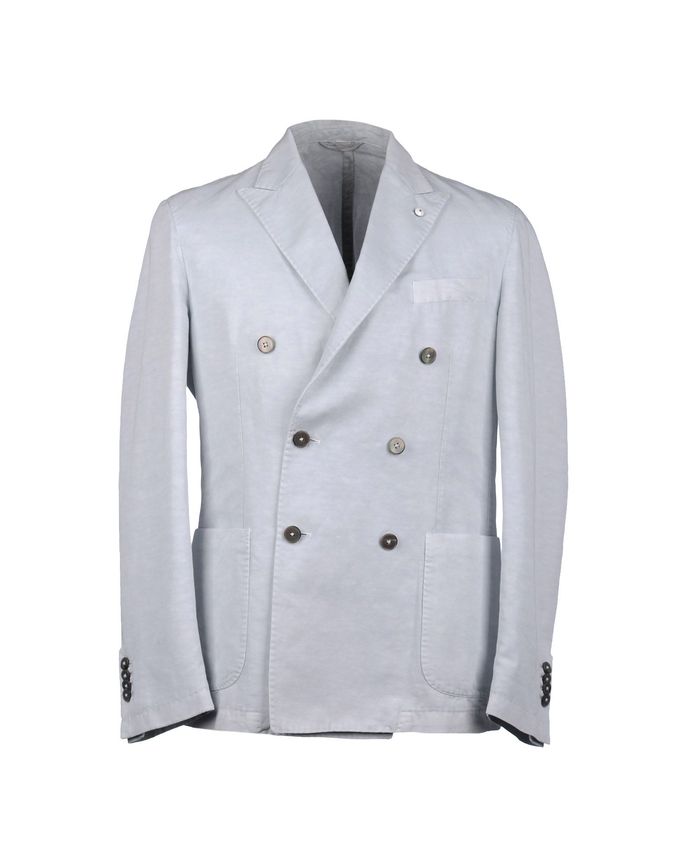 L.B.M. 1911 Light Grey Double-Breasted Cotton Linen Jacket, Sizes 48-52. I'm surprised if these last long. A pretty great looking jacket that will get an extra boost of coolness from the cotton linen blend fabric. Can be worn with almost anything.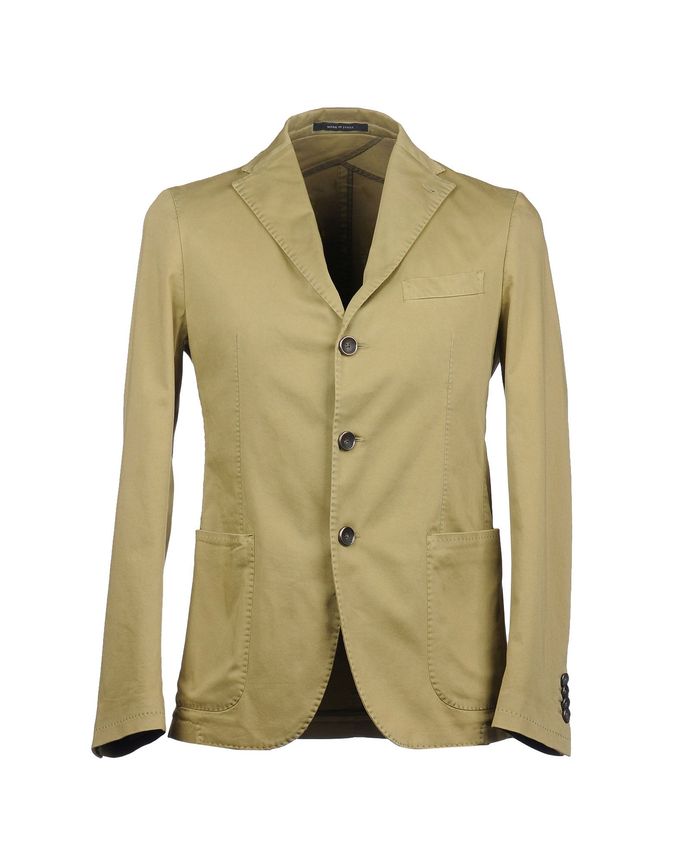 Tagliatore Olive Unstructured Cotton Jacket, Size 48. If you already have all the basics covered, this might be an interesting addition to your summer wardrobe.
Tombolini Navy Suit, Sizes 48-60. Obviously not a casual model, but a quality option for your every day navy suit for the office.
Tombolini Navy Unstructured Double-Breasted Cotton Jacket, Size 52. A casual navy double-breasted jacket. Wear with an unbuttoned white shirt, khaki chinos and brown suede loafers.
Tombolini Grey Linen Suit, Sizes 48-52. If you're in the market for a grey summer suit, look no more. A truly good-looking 100% linen suit that even looks good on the model (Yoox first). Note the patch pockets that will add a touch of casual flair fit for the warm seasons.
If you think some brand was missing, gimme a shout. The idea is to keep this post up to date so I will be adding and deleting the top picks as time goes by.