Vass F Last Balmoral Oxford in Dark Brown Calf
As I wrote some weeks ago, I was waiting to receive a pair of gorgeous Balmoral Oxfords from Vass, the Hungarian maestro of handmade shoes. And behold, here they are. A truly beautiful pair in Vass' dark brown shade, produced and delivered actually fairly quickly, in about a month. Here are my initial thoughts on the shoes, paired with lots of pictures of course. Enjoy.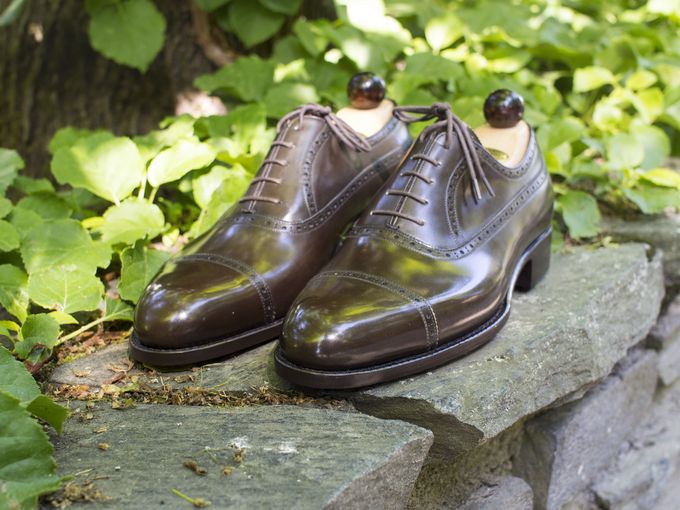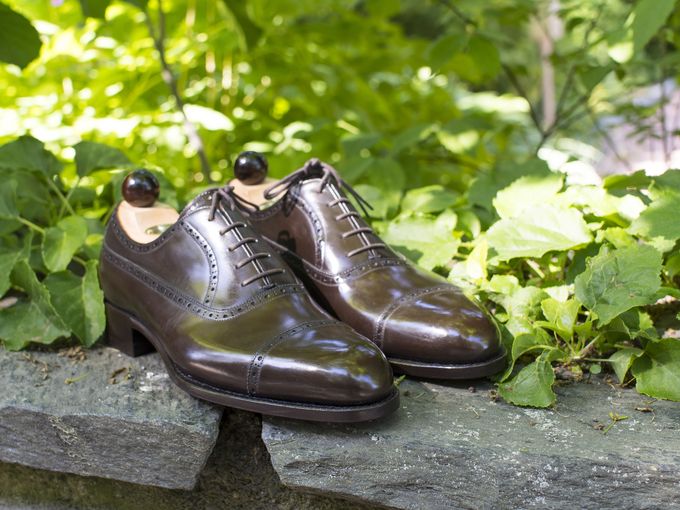 The shoes have been made on the gorgeous F last that is by far my favorite dress shoe last after looking at these shoes for a few days. In this case, the distinctive shape of the last is further complimented by the Balmoral details that don't break up the longitudinal lines of the shoe. What I love the most is the high and almost flat like instep followed with very steeply-dropping sides (The absolute best part of the shoe is the outside arc.) and the tip. To me it gives the shoe a very bespoke feel to it, and when combined with the narrow waist it makes the shoe look really elegant and refined. In general I'd say that the F last is probably the best last for Oxfords, double monks and most dressier boots.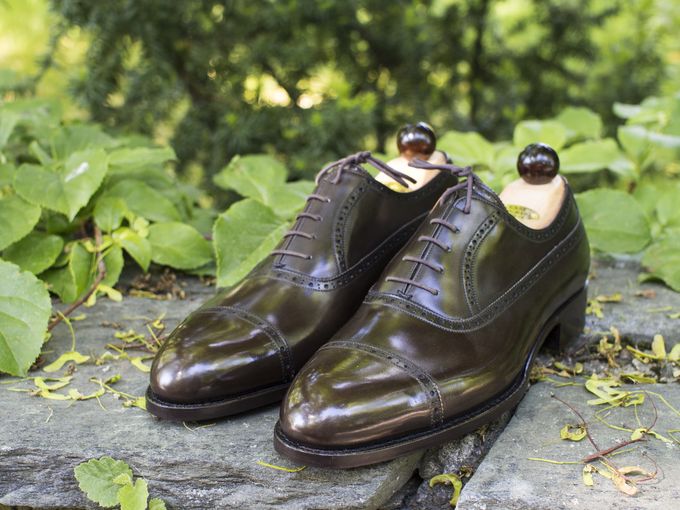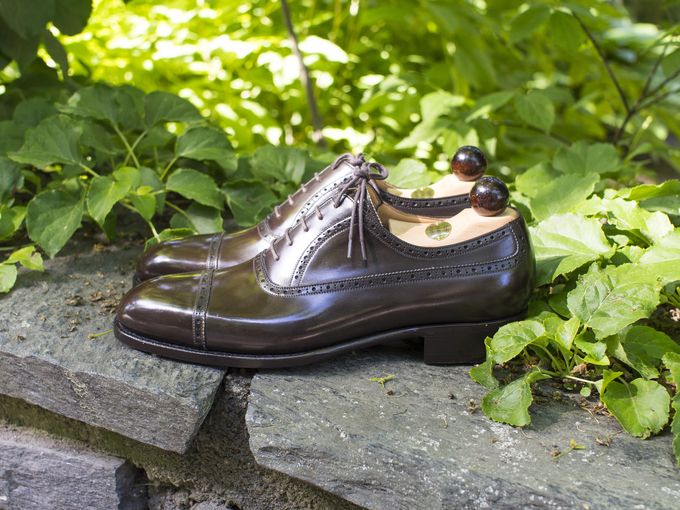 If we look at the level of detail, this pair is probably my best one. All the pieces of leather have been carefully cut, and the stitching is impeccable all around. Even the paint used for the soles and the heel 100% match that of the leather, leaving no room to critisize the quality. Naturally I cannot speak for the leather too much yet, but based on the used Vass shoes it is probably going to age rather beautifully. That presumption is further supported with the fact that the calf leather feels very soft and buttery, a sign of proper premium material. The color itself was a little bit darker than I expected, but the darker shade actually fits the type of the shoe very well. Furthermore, I expect that when treated regularly with a medium brown Saphir wax polish they will develop a brown shade that will have a somewhat golden hue in sunlight.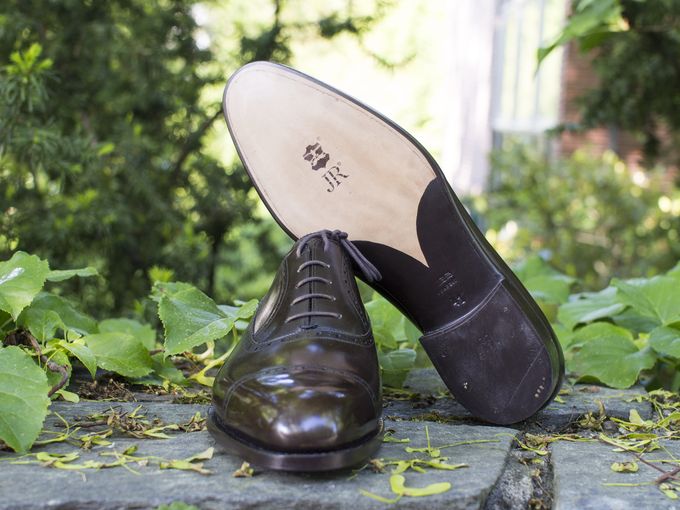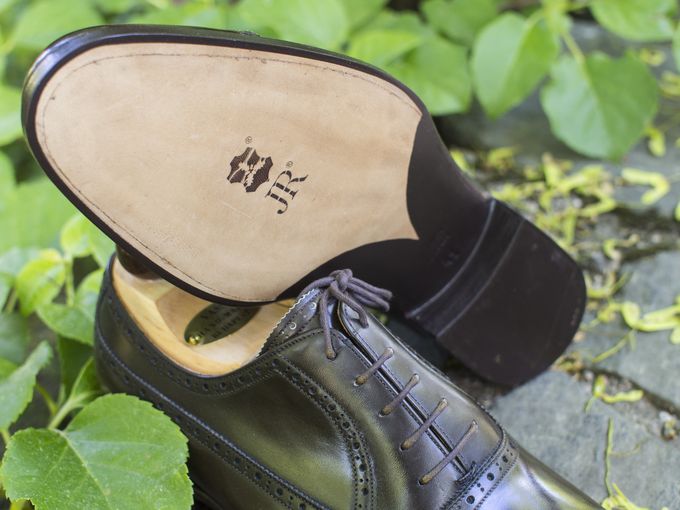 The shoes are equipped with a tapered double sole that is the most elegant option Vass offers for their made-to-measure shoes. This type of sole is perfect for Oxfords and in my opinion works really well with my pair. Future concerned, I think I will probably order my next pair with this option as well, provided I won't be ordering boots. And as a side note, it has to be said it's great Vass now offers Dainite soles, making it possible to order proper winter models fit for Scandinavian conditions.
I wear UK7 in pretty much everything, and also this pair is in UK7/EU41. Size wise the F last is a little bit roomy in my opinion, not significantly large-to-size, but a little bit roomy. In a way the sizing feels similar to Carmina's Rain and Inca lasts, as well as C&J's 363. Due to the shape of the shoe, I would say there is a surprising amount of width for those with wider feet.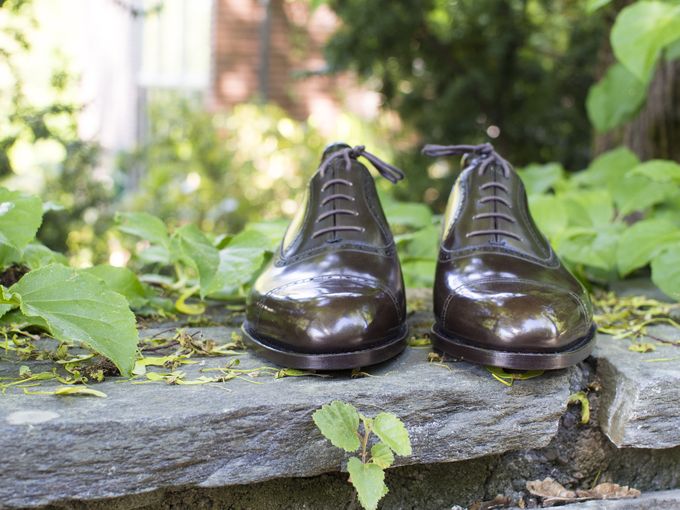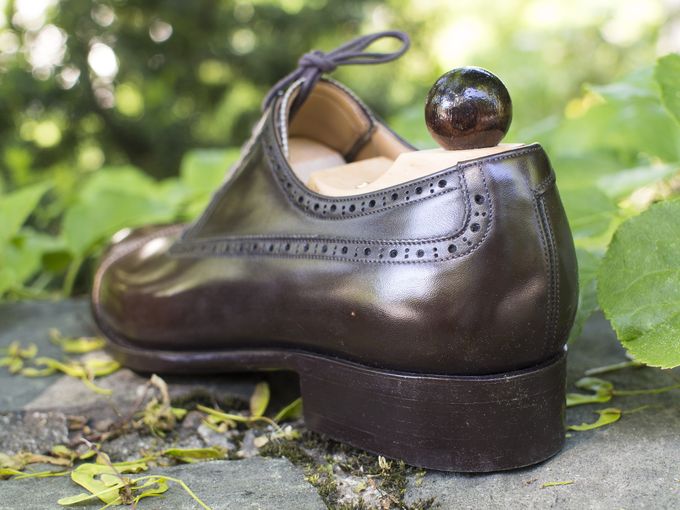 So, a truly beautiful pair of shoes that will no doubt serve me for years and years to come. I expected a lot, but was still surprised how much I like the feel of these shoes. The finishing and the level of detail is immacculate, yet the items feel very much handmade. I'd say the feeling comes mostly from the ultra sexy shape and the amount of care you can see that has been put into making these shoes. However, a big part of it comes from the knowledge that a skilled craftsman has made these for you, according to your wishes, in a traditional workshop in Budapest. And with this feeling comes another of appreciation, something I hope I had for all my clothes in this amount.