Alden Chromexel Plaintoe Bluchers On A Budget
After a long long search, I finally found a pair of Alden plaintoe bluchers in my size, for a reasonable price. My first pair bought from eBay since early 2012, these Aldens will finally fill that ptb-sized hole in my shoe collection. They were listed as used, but to be honest there wasn't a single mark on the sole (insole or outsole), just a couple of very minor creases that you sometimes get when trying shoes on in a store. And what's best, I got them for a mere 202 dollars, a bit of a bargain when you think that Aldens like this normally go for way over 300 dollars even when properly used.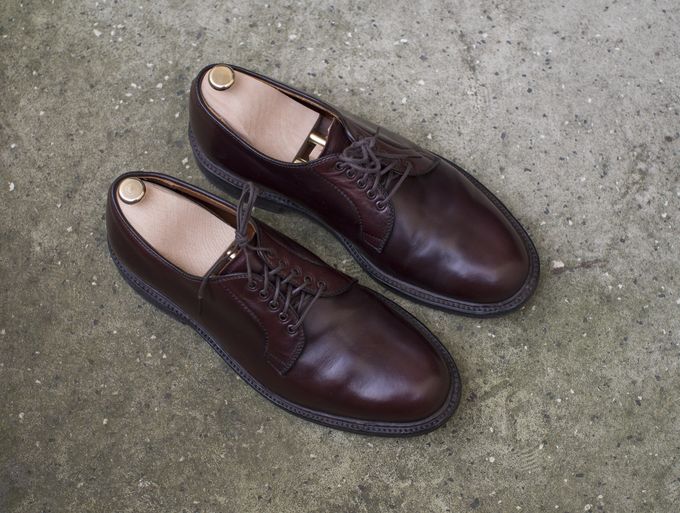 The best thing is that I normally like to avoid red ish browns, and this particular pair was pretty much the first pair I had seen in this kind of normal dark brown. Most Chromexcel leather used by Alden tends to be of a kind of chestnut shade. The only reservation I had for these really was the sole, a thin commando type sole. I would've preferred leather (well, Dainite really, but Alden doesn't equip their shoes with those as far as I know) soles, but was willing to let it slide due to the nearly unique color and the great price.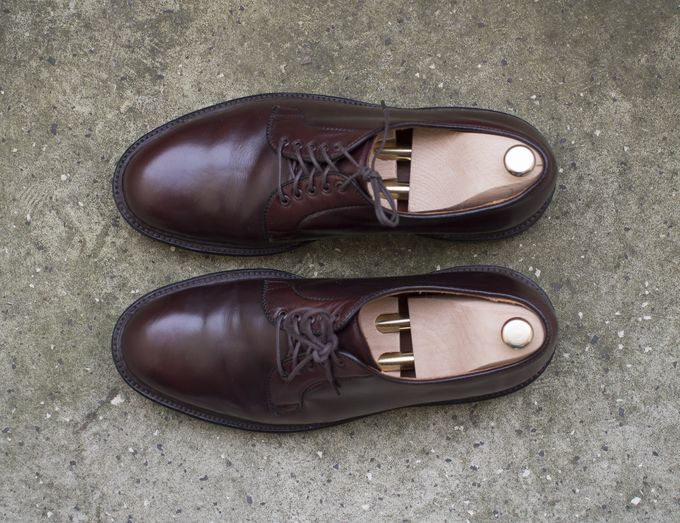 Having worn the shoes for a few days this week, I can happily note that the soles don't look too chunky at all. Also, at least in the slushy conditions of the last few days they were great due to the additional elevation you get. So, at the moment I think they're going to do great during our winter and changing the soles to Dainites isn't really on my to-do list anymore. Sizing is a little bit roomier than I remembered from trying on Barrie last shoes before, but nothing a winter weight thicker pair of socks can't fix.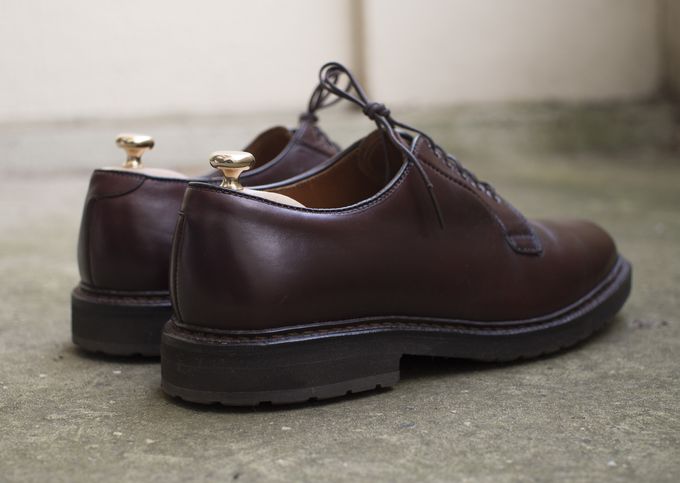 I've went on and on about how plaintoe bluchers or longwings are ideally worn, so I won't spend too much time on that anymore. What I posted on my Instagram a few days ago is pretty much what I'm going to be wearing mine with. Also, if you're hunting for a pair of Aldens and don't want to pay the full prices (especially the European 500 Eur+ prices), this eBay seller is worth keeping an eye on. His inventory is a mix of slight seconds (some are pretty banged up though) and slightly used pairs (like mine).
It's been a busy couple of weeks, and I have quite a lot of emails unanswered. I thank you for your patience whatever your query was and will get back to you as soon as possible. Also, posts will again be more frequent in the weeks to come.