Those of you who read my site regularly have probably already seen this watch, but I'm still to put some good pictures up.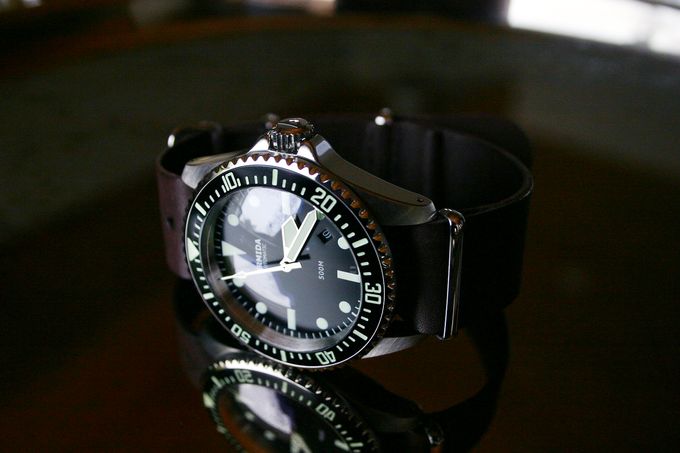 So, after a long search for a both classic and sharp-looking mid-sized diver, I stumbled upon this gorgeous watch, Armida A2 500. I was in touch with the owners of the company and was delighted that some stock was still remaining at Armida's inventory. Even better, the remaining models were of the "Dome" series, meaning they were equipped with a domed sapphire crystal.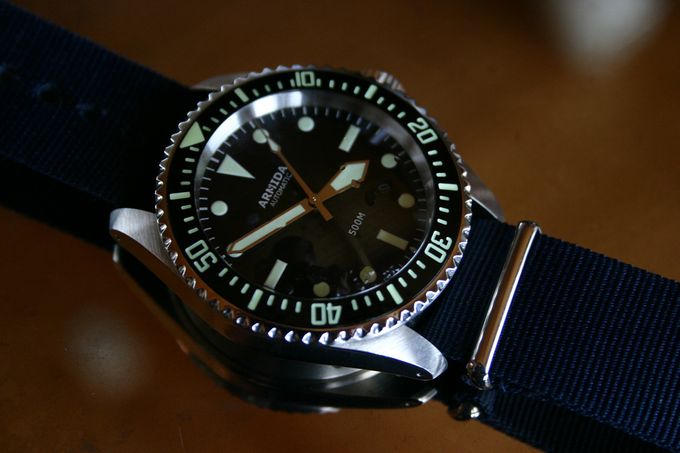 I had the following criteria when making my choice: the diver had to be mid-sized, it had to have an automatic movement and a sapphire crystal, but most of all, it needed to have that classic yet sharp look to it. 
Now, I very much like the Mil-Sub look (The 360° minute markings has something so appealing it cannot be described.), and therefore was thinking about the Steinhart Ocean Vintage Military for quite some time. However, basically buying a pure replica with a different name on it didn't sound that appealing in the end, and through some random websites I was lucky enough to find this, the Armida A2. What I really like about it is that it keeps that spirit of the Rolex Mil-Sub, but is clearly different enough to not make it just an homage, but a watch of its own.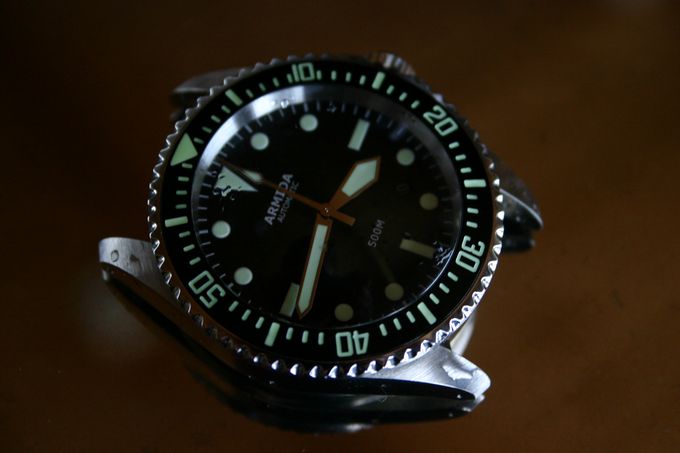 The watch comes in a water-tight pipe-like box that includes a stainless steel bracelet (that I'm still to have shortened) and a rubber strap. Both look great, and especially the steel bracelet will see some use soon. The rubber strap may need to wait for my next visit to a coral reef. However, on a NATO strap is where it will spend most of its time, as you've probably seen from some late outfit pictures.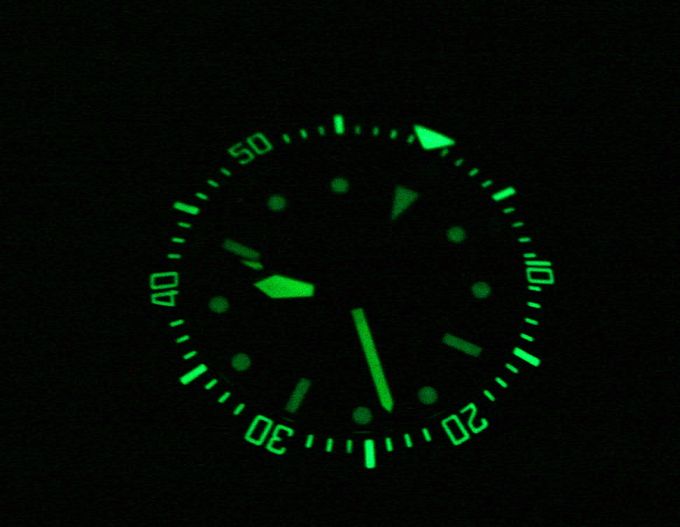 The lume is actually a lot brighter than this, and has that cool green color C3 lume has.
So, to finish up the text, I am extremely happy with this purchase. I personally think this is the best looking diver for under 1000 Euros which, at the end of the day, was the most important criteria for me. It might not have the heritage of the big boys, but something about getting a micro brand watch like this works for me. There is that feeling you get from knowing that none of your friends or no one in the office won't have the same piece, and with all the quality factors on a satisfactory level I'm not missing an expensive name on the dial at all.