Burgundy Grenadine Tie with a Dark Grey Suit
I recently received a nice gift from Sprezza Spain, a fairly new company selling classic menswear accessories from, you guessed it, Spain. My arsenal of unicolor ties isn't too wide actually, so a 9cm wide burgundy grenadine tie was a welcome addition to my collection. It works great in many type of looks, but perhaps my favorite is simply to wear it with a suit, simple shirt and a subtle patterned pocket square.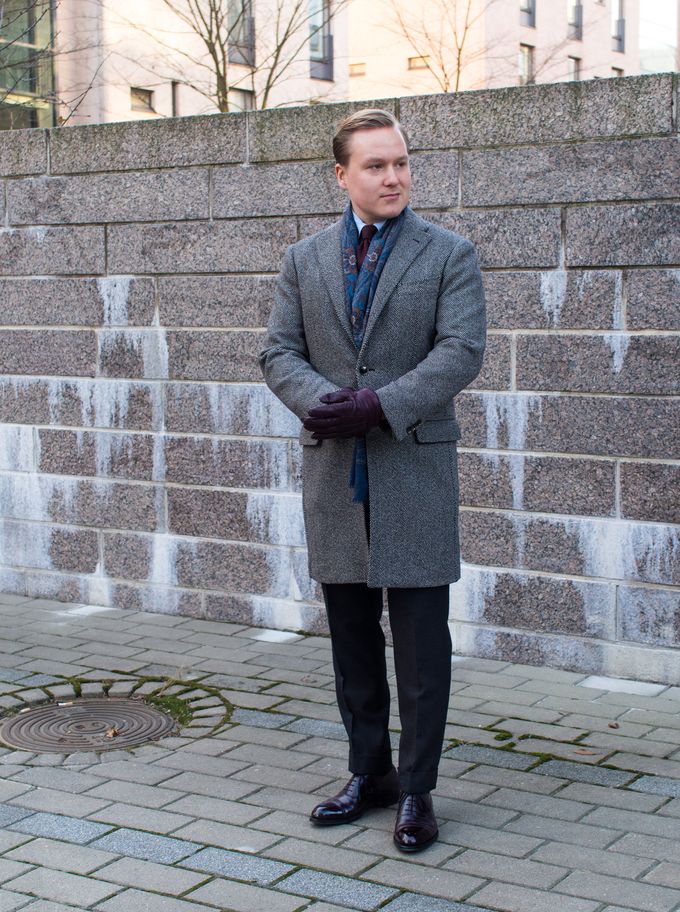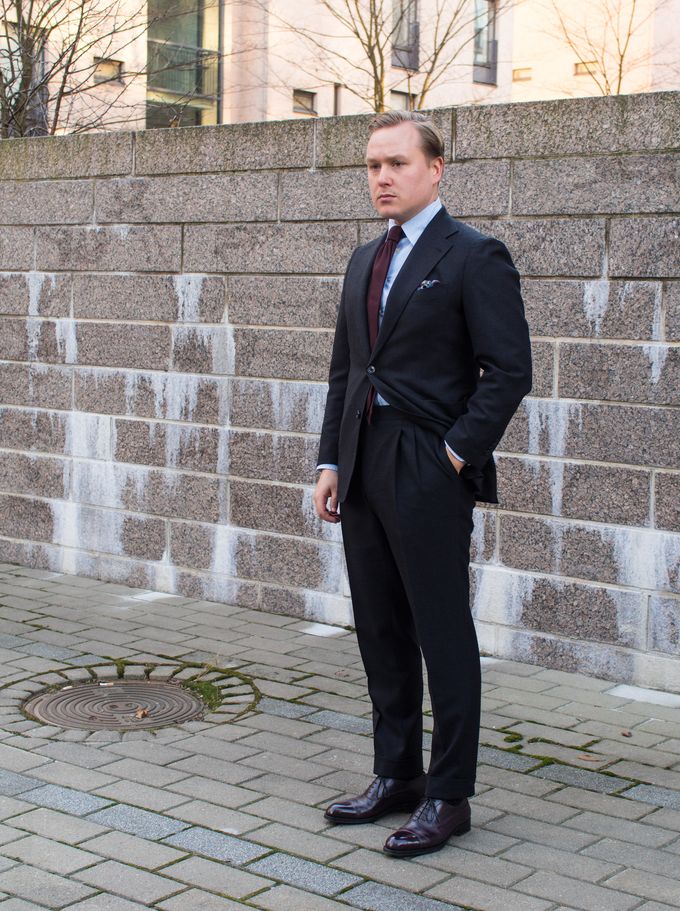 All the items in these pictures include a handmade mtm suit from Vaatturiliike Sauma, handrolled 9cm wide grenadine tie from Sprezza Spain, wool silk pocket square from Drake's, mtm shirt from Vaatturiliike Sauma, braces from Drake's, charcoal wool socks from Mazarin, mtm Oxfords in Oxblood calf from Vass, printed wool scarf from Shibumi Berlin, Chesterfield coat from Ring Jacket and burgundy gloves from Madova Firenze.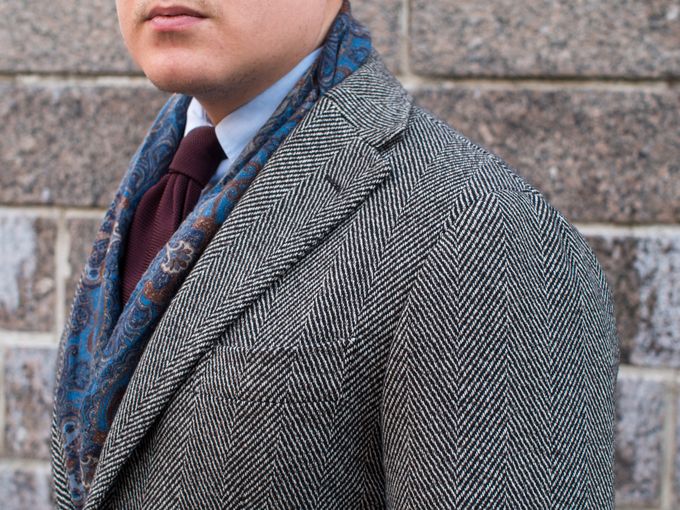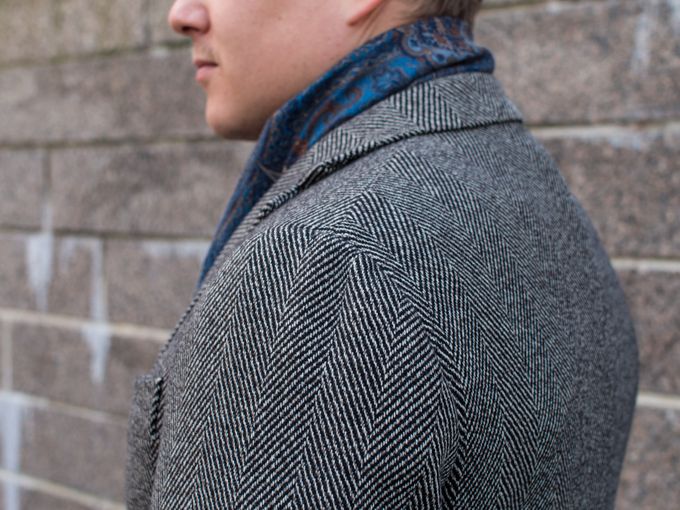 A printed wool scarf is a nice touch if your outfit is otherwise fairly simple. The problem with such scarves tends to be that they're often made from some type of silk wool blends that are nowhere near warm enough for the Nordic winter. This Shibumi scarf is 100% wool and quite warm, but it could be a bit bigger in size.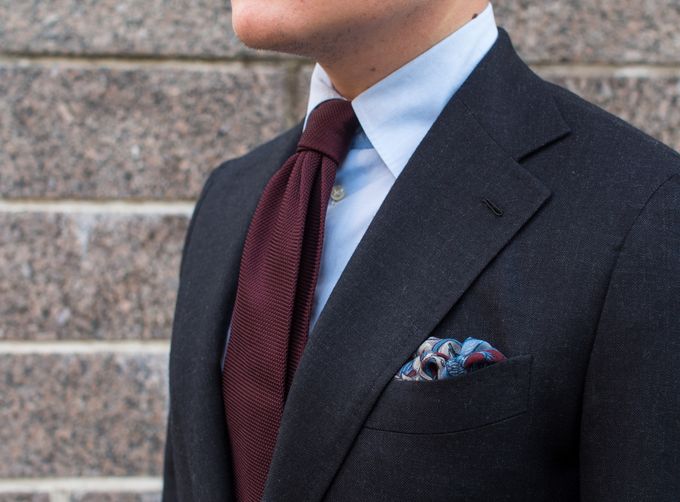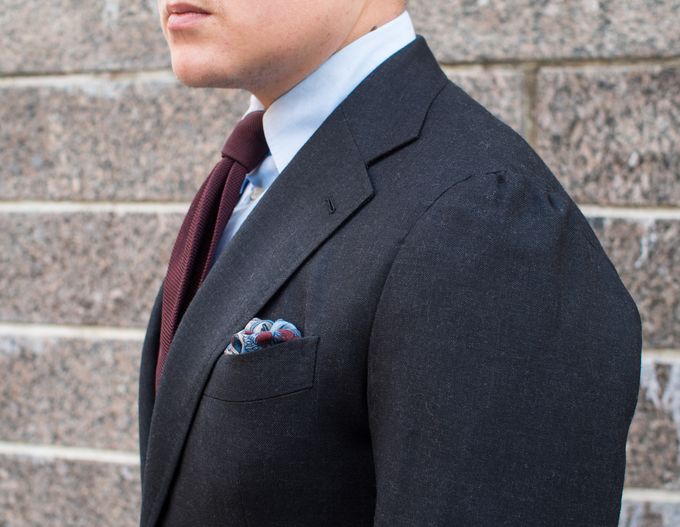 I quite like how the light blue end-to-end cotton shirt looks wih the burgundy garza fina weave of the tie and the wool silk blend pocket square. The tie also ties a beautiful double dimple that looks great every single time.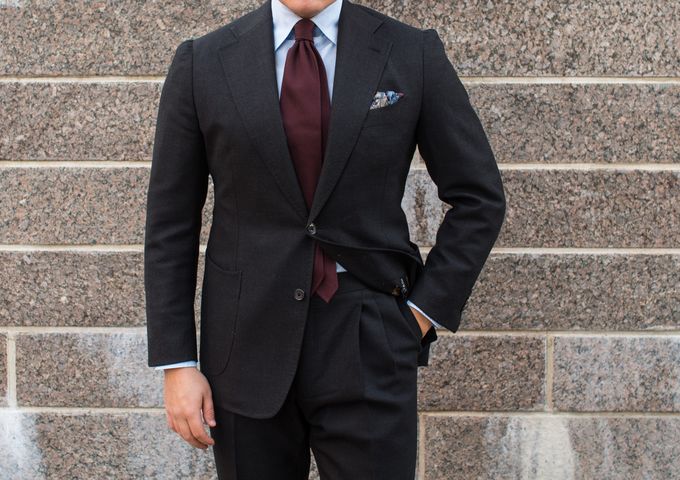 The elephant print in the pocket square is the only proper pattern in this look, making the actual handmade details in the suit, material choices and such things like the tie knot gather most of the attention. That said, I find this type of a neutral outfit not drawing too much attention to it in any case (just as it should be).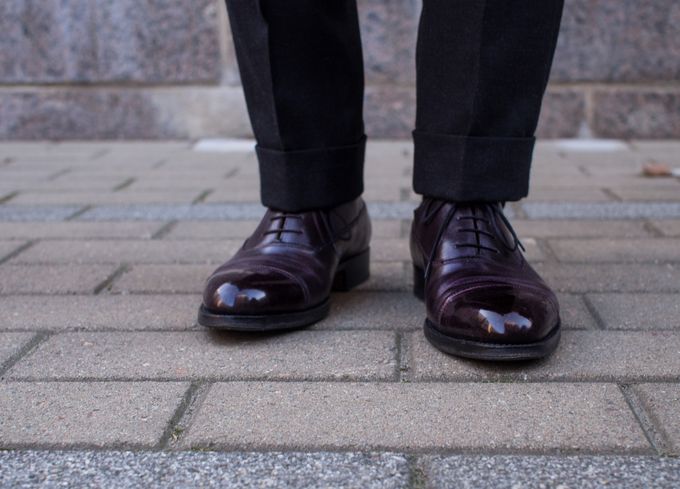 Oxblood calf with a decent polish is always a good option when you're wearing a charcoal wool suit or burgundy accessories. If you're doing both it's even better.