Coccinella Bespoke Sport Coat in Scabal Wool Fabric
Late souveniers from Osaka, Japan
If you followed up on my Japan posts during the past summer, you've seen me visit Mr Chujo at Coccinella in Osaka. Mr Takeshi Chujo is a great master tailor with a house style that clearly nods towards Florence, but retains some personal character to its creations as well. My sport coat is from Coccinella's fully handmade line and even though I've just received it, it's easy to say the garment is beautifully made and the attention to clean finish is showing quite clearly in all aspects of this jacket. I will write a proper review of the jacket once I've worn it a little bit and had some minor alterations made, but on first impression I'm very happy with the money spent on Japanese craftmanship.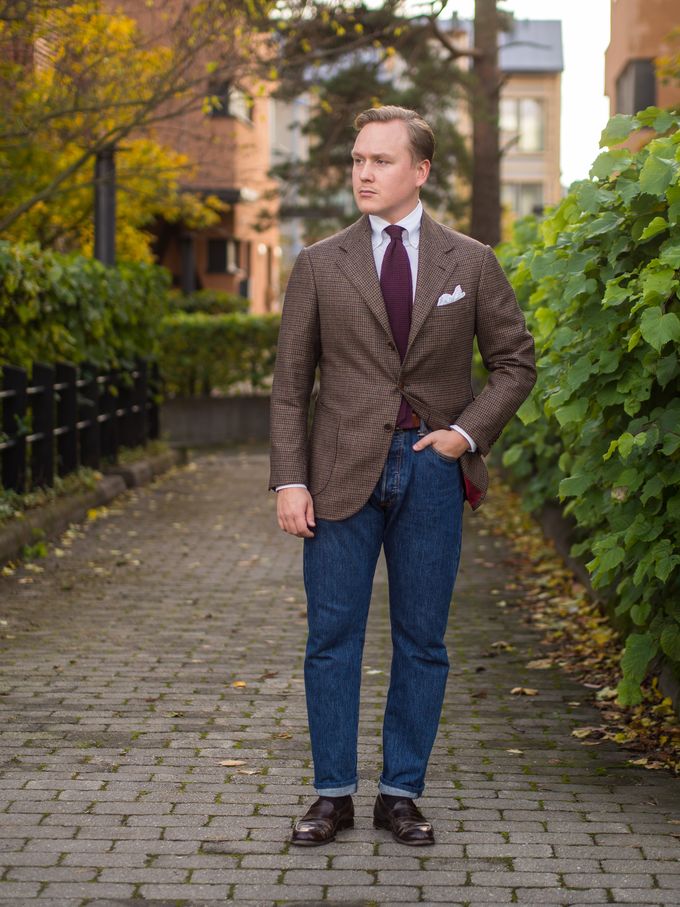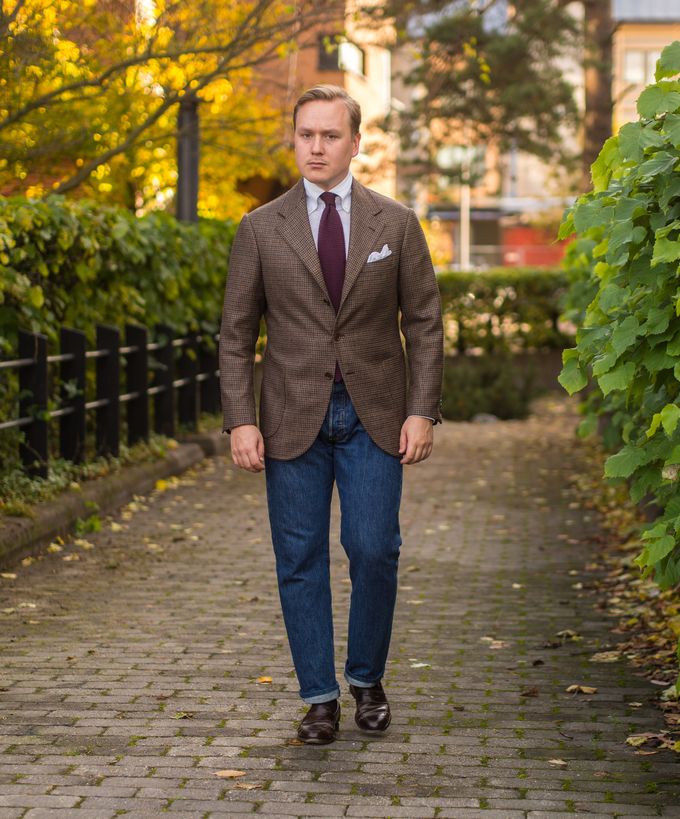 Today's look - autumn sport coat inspiration
So, today we had one of the few days during the later autumn it didn't rain. Luckily, I had just received my Coccinella jacket a couple of days earlier and it happened to be weekend, so naturally we had some shots taken. The outfit is something I might classify as a casual Friday office look or perhaps just a casual office look. The softly-tailoring Coccinella jacket is quite perfect for a range of looks, and this one is certainly from the casual end of the spectrum. Denim, knit tie, button-down collar shirt and my grandpa Harvard loafers all make a great look together, playing that same casual Friday tune.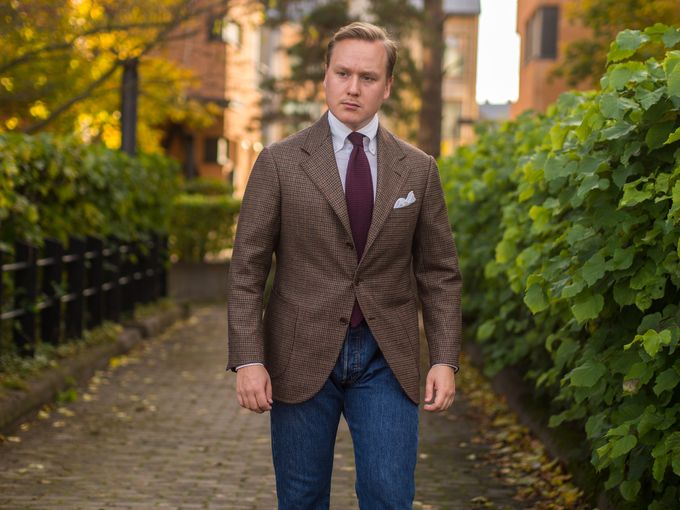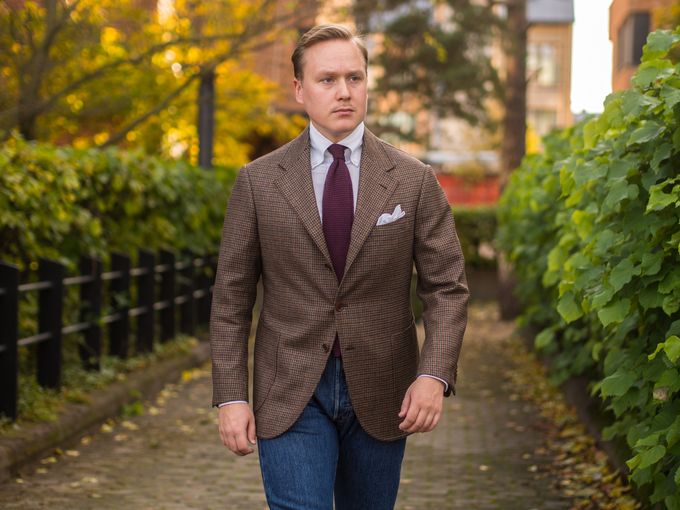 Classic patterns and the fabric used in my Coccinella jacket
Even though I plan to write a longer piece on the jacket later on, I would point out that a patterned fabric like the one used here (100% virgin wool from Scabal) is great to bringing some life to your outfit. However, you do want to keep other pieces rather simple and clean to keep the overall look working well together. In this case, I've only chosen plain pieces with the denim trousers bringing a touch of ruggedness to the mix.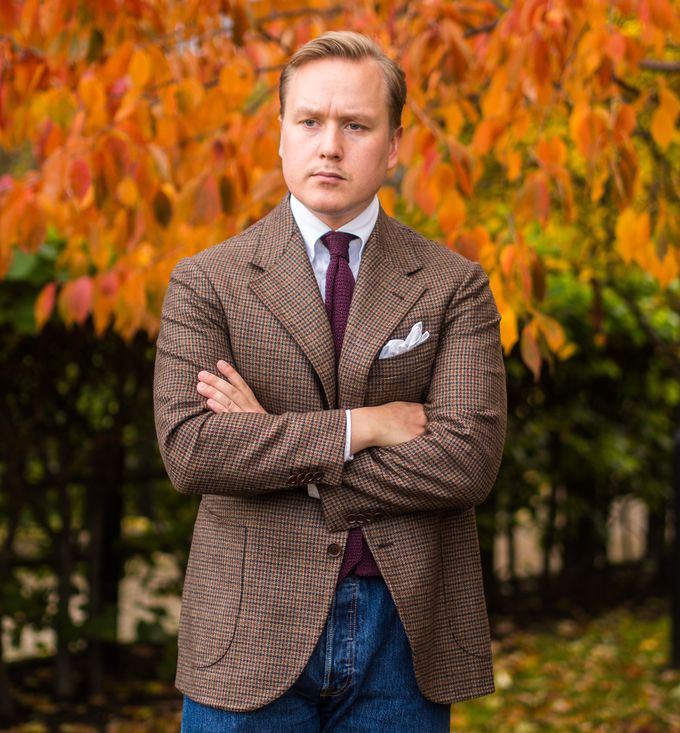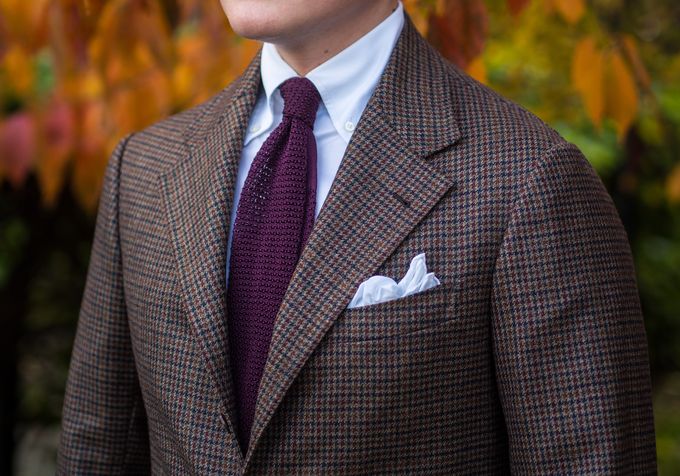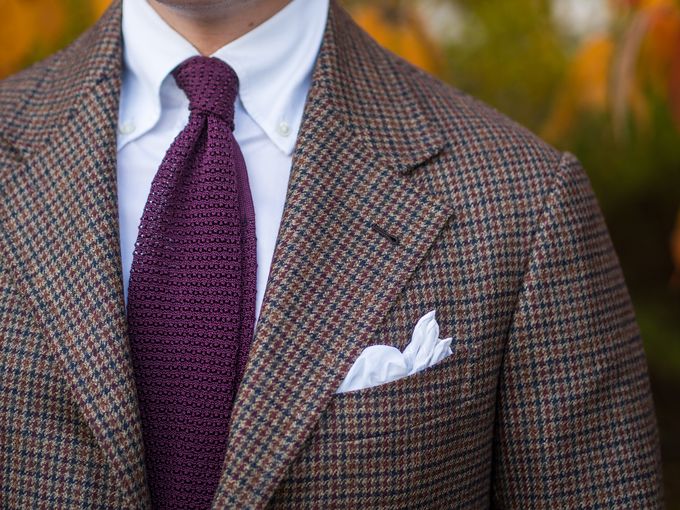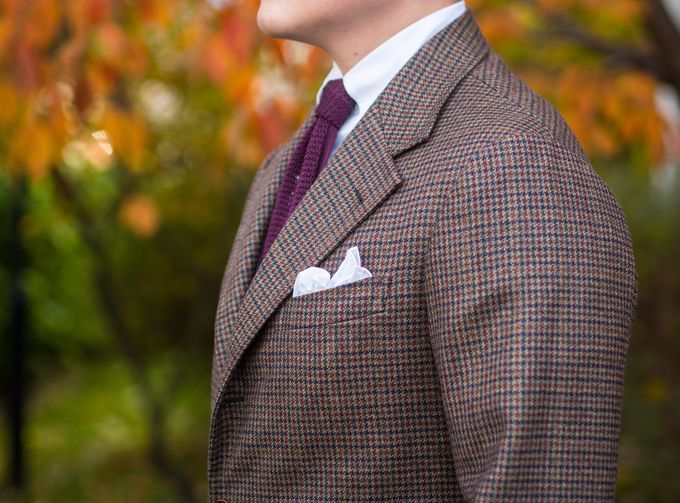 Last words and things to come
So, I've been quite busy with my new job and haven't really had a chance to focus much on the website lately. I do have some good stuff stored though, two insanely cool and unique bespoke vintage ties to say the least, so there should be a steady supply of reading coming in the near future. Also, make sure you tune in into my Instagram as that's where most of the content is now anyways. If you don't have Instagram, the feed can also be followed under the Instagram tab on this site, but you won't get access to the daily Instagram Stories content.