Crockett & Jones Harvard in Dark Brown Cordovan - Quality, Style and Sizing
Crockett & Jones at Eliel's Helsinki
One of the things I've had on my list of things-to-get for a longer time has been a pair of classic Ivy style, very classic, penny loafers. I also had two options, Edward Green's new model the Duke and the Harvard from Crockett & Jones. Having been postponing the purchase for quite a while, I decided to go with the Harvard. While getting my first pair of EGs was interesting, the cheaper price and the Cordovan options made the decision rather easy at the end.
I also thought it would be nice to be able to buy the shoes from Eliel's, a great new shoe store located in Helsinki. The store has really an epic grade level of customer service and the owner Johan is also very knowledgeable in quality shoes, making it a rather unique opportunity to shop shoes here in Helsinki.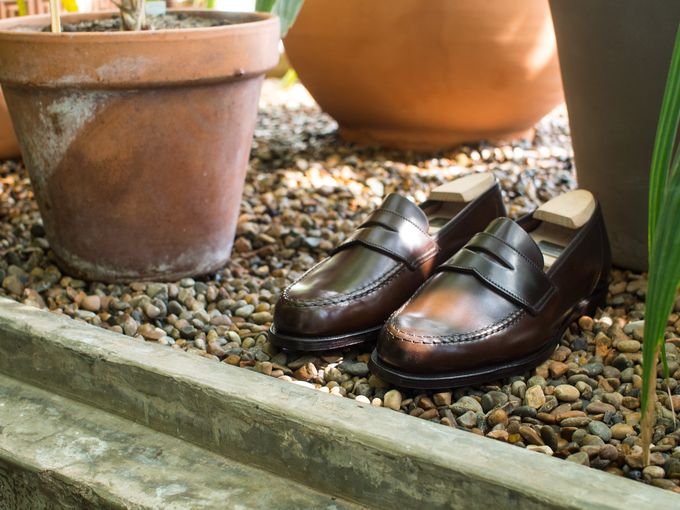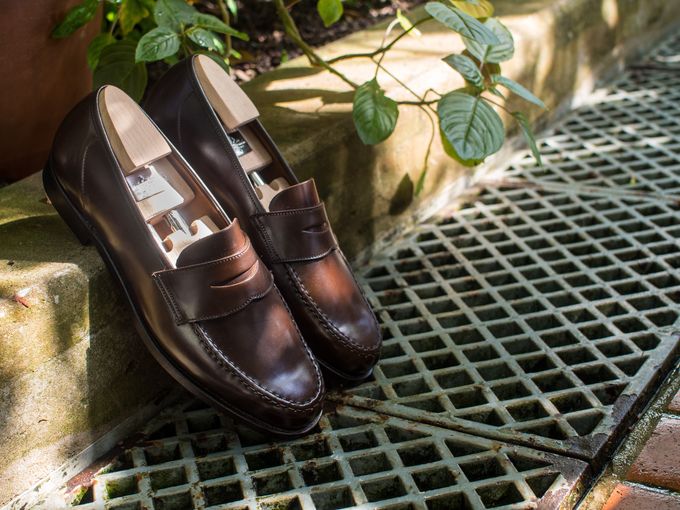 Ordering a pair of Crockett & Jones Harvard in Cordovan leather
After deciding on the model I wanted, I walked into Eliel's in late March. We placed the order to C&J for a pair in my usual size UK7. Despite sizing down in C&J Cavendish, Johan advised that we would go with my usual size as the 314 last is apparently the smallest last in C&J's selection.
The pair arrived in early April for me to try on, and we were pleased to see it was a great fit right from the box. However, the leather on the outside of the other shoe's heel was a slightly damaged, most probably from when they had been working on the heel stack. I wasn't too excited about this and Johan seemingly had already decided he didn't want to sell me a seconds pair, so the shoes were sent back and I was left waiting for a couple more weeks for a new delivery.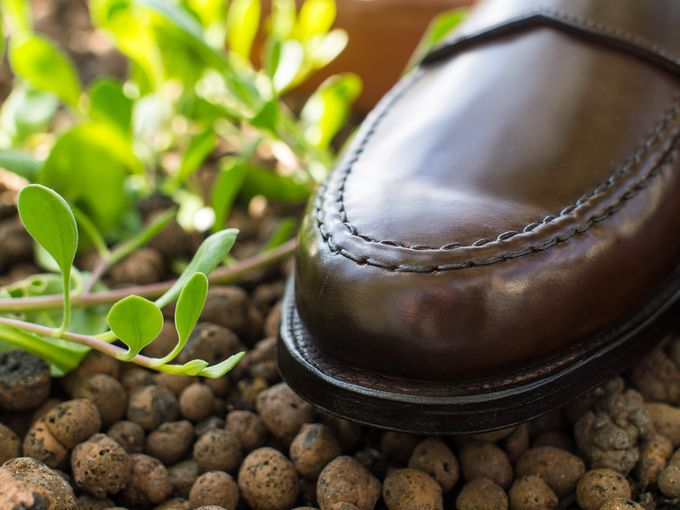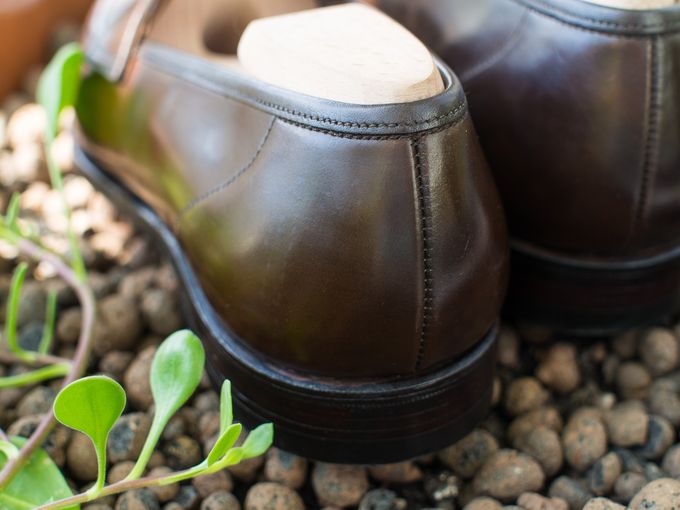 C&J Harvard styling and the 314 last fit
The Harvard, as mentioned earlier, is obviously a very classic and partly Ivy inspired loafer in design. The heavier beef roll around the apron is a very distinctive part of this style, as is the near vertical side walls and generally the shorter toe box. This kind of shoe works great with outfits ranging from denim and an OCBD to a classic cut suit. I've also probably used my pair with practically anything that can be found from my wardrobe.
Regarding fit, I'd say the 314 last used on the Harvard and the Boston loafer models is very true-to-size. As said many times before, I wear UK7 in almost all of my shoes, but multiple loafers have been less than ideal in this size. This is not the case with the Harvard though as it was great right from the beginning. Being an unlined loafer, it also molds into your feet quite well as you wear them.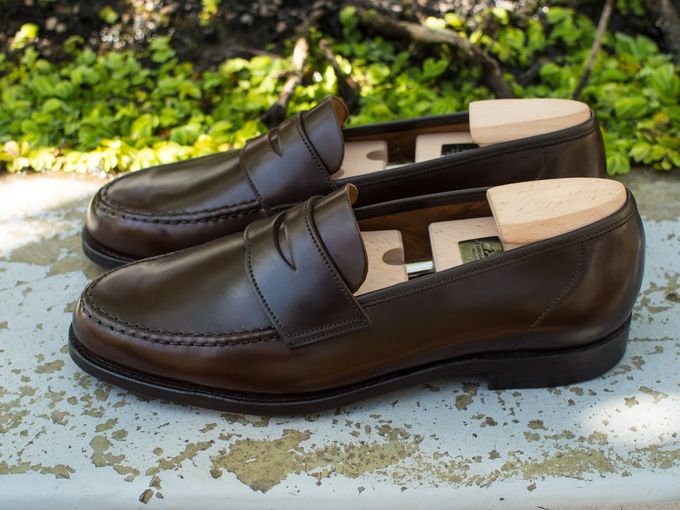 Quality of the shoes
This is always a very subjective thing to assess, especially when talking about a new pair of shoes, but people bring it up and I also want those sweet Google clicks so let's go. First of all, the first pair was a clear case of seconds but not labelled as such. This we can mark as a bit of a fail to C&J's quality control. What about the pair in the pictures then? It's definitely a well-finished pair of shoes where the details are how they should be on a pair of this kind of price tag. The Cordovan in my my pair particular has created those distinctive Cordovan creases and seems to be of the usual Horween standard. One thing I would like to see on a pair of shoes at this price range are oak bark tanned soles, but perhaps they would cut too deep into the margins? The shoes being loafers that people rarely equip with rubber inserts, I would personally like to have the best leather soles possible.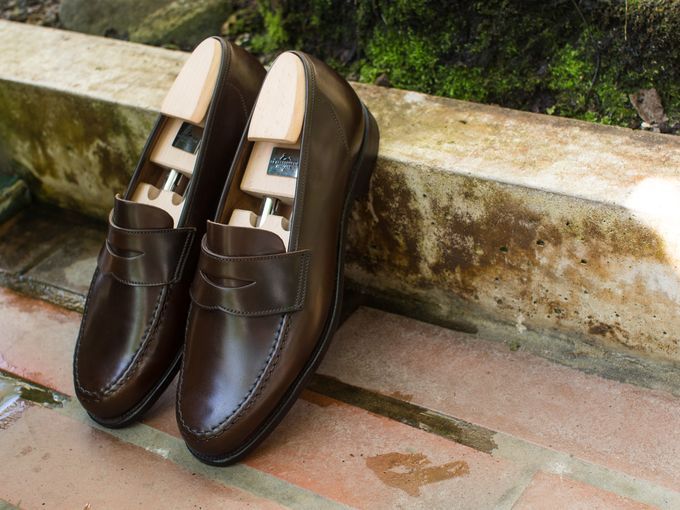 Final words
A great pair of classic summer loafers in a prestigious material, the Crockett & Jones Harvard is definitely a keeper and in my opinion worth its price tag. It's also a type of penny loafer I've long wanted to have, and to be honest having been using this pair for a month now, I would gladly buy another pair in black Cordovan if C&J made it.
Also finally a big thanks to Eliel's for fantastic customer service and all the good luck in selling the best shoes available here in Helsinki.