Formal Business Dress for Men - How to Look Professional?
There are some things you always want to stick to when aiming for a convincing and respectable outfit in a business setting. As always, you want a well-tailored suit that does not mean it has been slimmed down to wetsuit level of tightness. A comfortable fit that follows your body's natural lines while giving you enough space to move is the key as the comfort will show through when you actually conduct your business. Colorwise you will want to wear a dark suit, preferably navy, that may or may not have a faint pattern or texture. A white shirt is always the best choice, but a subtle stripe can be alright with a unicolor tie. And speaking of ties, avoid bright colors and pay attention to your tie knot. Pocket square wise, a white linen or cotton pocket square is your safe choice and if you have to use a colored pocket square, make sure it isn't overly shiny or have super bright colors. Lastly, make sure to avoid any silly fashion details such as colored buttons or bright lining fabrics.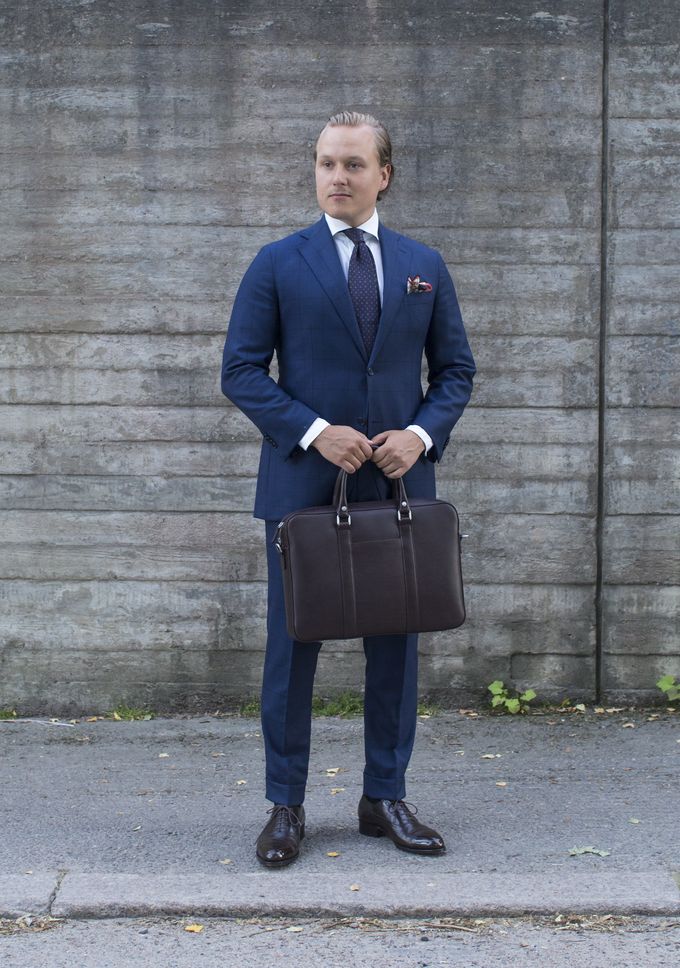 The worn items include a fully-canvassed made-to-measure suit from Helsinki's Vaatturiliike Sauma (Ariston 270g/m2 fabric), Luxire made-to-measure shirt, Berg & Berg handrolled six-fold silk tie, Rampley & Co printed silk pocket square, wine silk barathea braces from Viola Milano, ribbed navy cotton socks from Berg & Berg, made-to-measure dark brown Balmoral Oxford shoes from Vass Budapest and Linjer soft briefcase in mocha.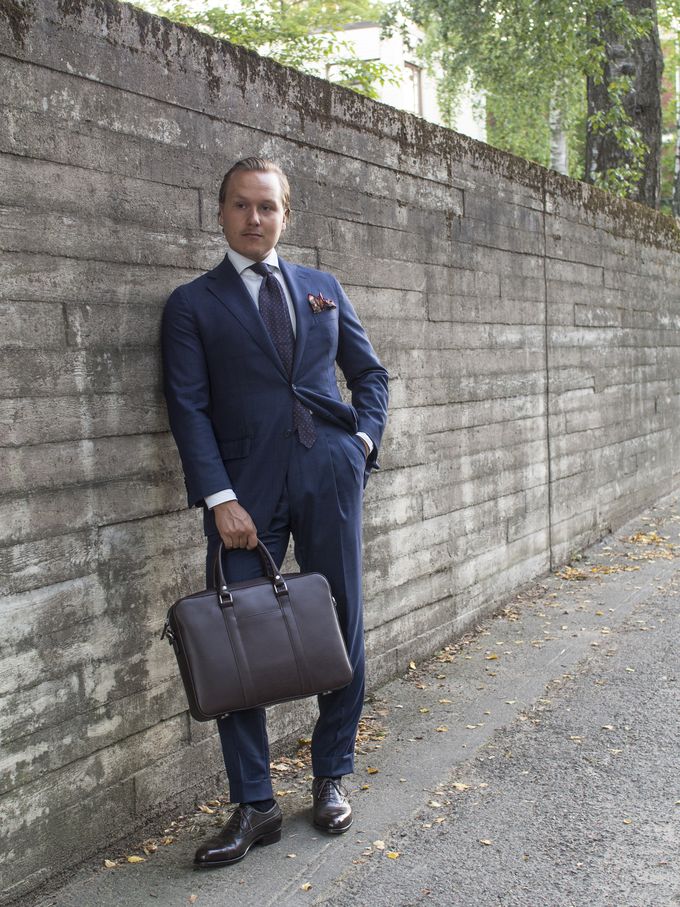 When you're pieces are tailored from the softest materials and are comfortable, it's OK to look a a little bit relaxed every once in a while, too.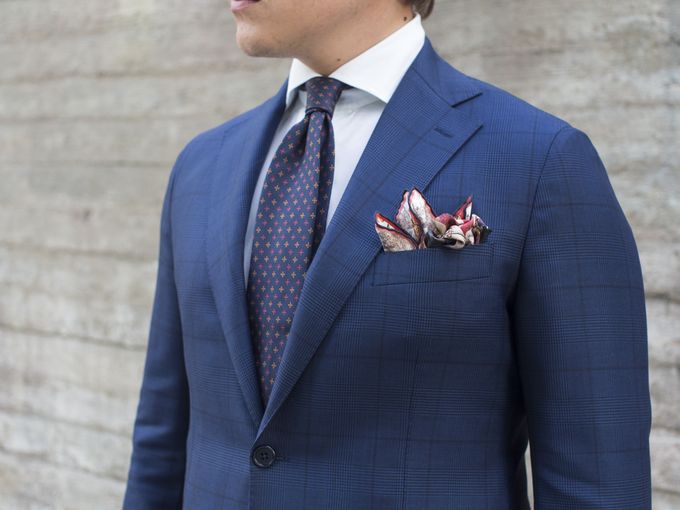 A printed silk tie with navy base color is always a good choice when you want to look professional yet still have a little bit of color in your outfit. It's a good place to mix some of those power colors to your presence as well, as I've done here.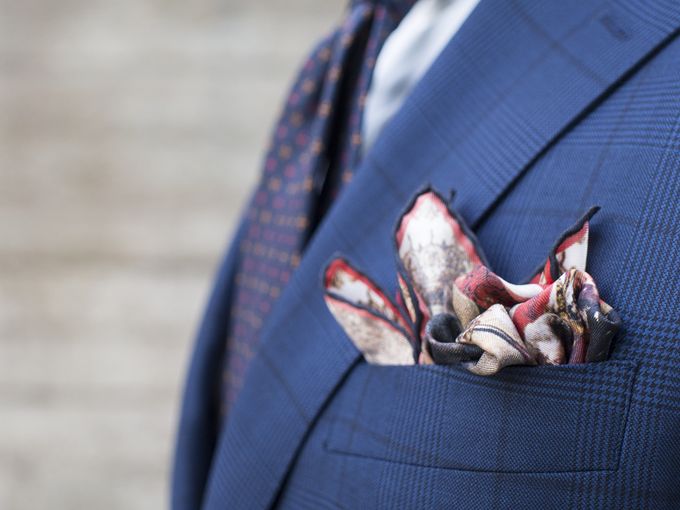 Rampley & Co's Death of Major Peirson is a wonderful match for the Berg & Berg tie I'm wearing here. The greatest tie and pocket square combinations always share a few similar colors while the rest of the colors complement your outfit in general. Full matchy-matchy colors will never look very refined and mostly just speak for a lack of understanding colors.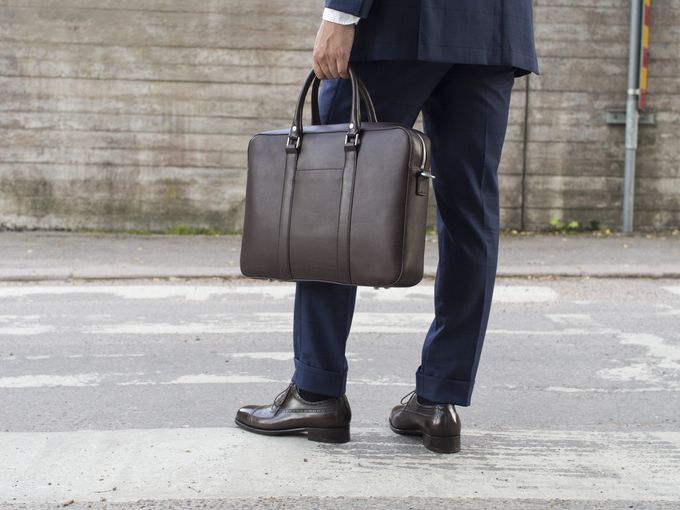 For the most part, dark brown is perfectly acceptable for conducting business in the Nordic countries, but in some other countries or specific cities you will want to go with black leather. That said, I personally prefer brown as it's a lot more alive as a color, especially when I'm wearing a suit that isn't grey (which is basically always). Well-polished dark brown leather shoes and a dark brown leather briefcase look amazing and simply ooze elegance. Also, brown allows the products get a more natural and characteristic patina that will allow your high quality leather products to age in style.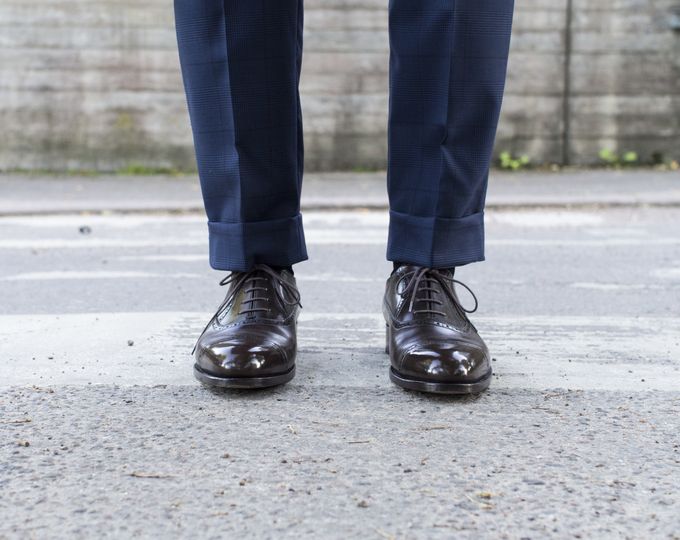 When it comes to formal business looks, you're most likely doing it right when choosing a pair of Oxford shoes. Be it dark brown (emphasis on dark, cheap tan "business shoes" that are usually derby shoes as well, should all be burned) or black, you will want to wear toe-cap, quarter-brogue or semi-brogue type of Oxfords. The made-to-measure pair from Vass I am wearing here is a little bit more unorthodox choice called a Balmoral Oxford, but it's similar to the previously mentioned models. The key is to avoid overly strong brogue details and stay with fairly simplistic models.
If you have any questions or thoughts I'd love to hear them. I personally work as a management consultant regularly meeting with top management and board executives here in Finland, so I'd say I have a pretty good idea of what goes and what doesn't in today's business environment.