Guide: How to Combine Your Pocket Square and Tie
Something I get asked a lot is how I choose the accessories I'm wearing. Especially when it comes to ties and pocket squares, this seems to be a repeating theme that many of you want to read about. Combining your accessories is also something I feel quite passionate about, so it was certain I would write this at some point. Luckily, I had a bit more time this January and was able to jump back to a draft I wrote almost a year ago. So, behold, a guide into combining your tie and pocket square and looking like a boss.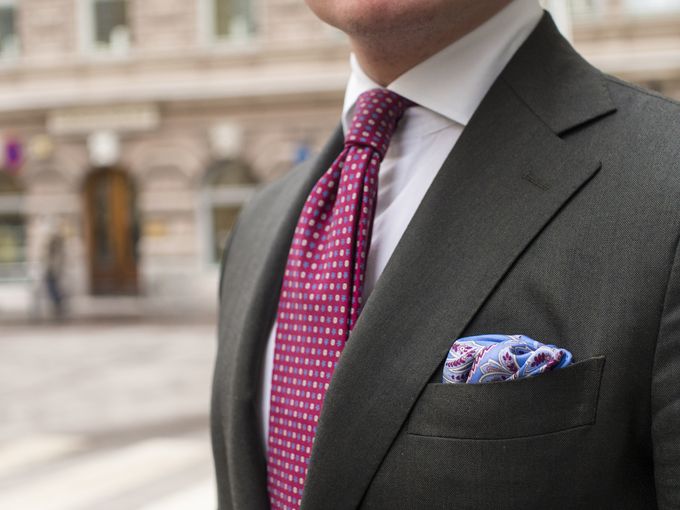 Choosing your menswear accessories
Combining your accessories is not really a separate thing from putting together your whole outfit, at the end of the day everything should sort of follow the same theme for your look to be coherent. There are the obvious mistakes you can make, including the famous matchy-matchy where the pocket square and the tie are at the worst case made from the same fabric. More minor problems can be caused by simply combining some colors that don't really go together, such as brighter blues and greens. Many sources, including myself in many occasions, will tell you that mistakes can be avoided by using a simply white linen pocket square. Now, while that's true it doesn't really help you if you want to occasionally utilize more colors. This article will go through the basics of combining colors, so read on.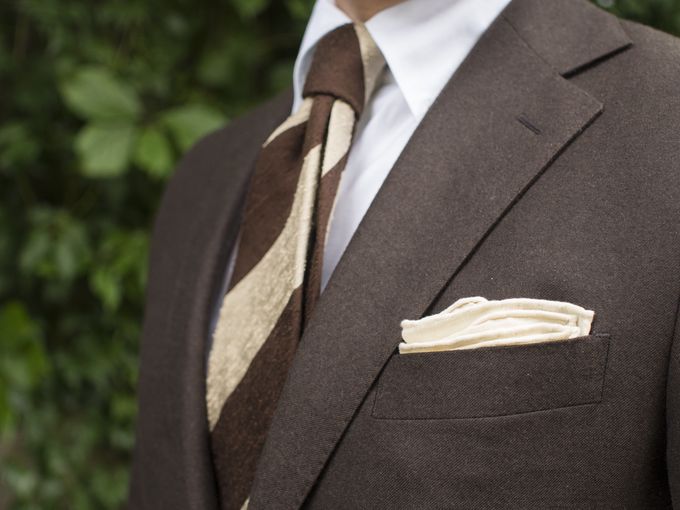 How to choose your tie?
First, you need to pick a tie that fits your outfit. If you're wearing a formal grey or navy business suit with little texture, good tie options include a dark-colored grenadine tie that isn't black. You might, for example, go for a burgundy garza fina grenadine tie. On the other hand, you might choose a floral print tie that combines a few colors and has a dark base color. If you're choosing a tie to a casual outfit such as a navy sport coat and a pair of khaki trousers, a more casual option with more texture is often a better choice than a sleek silk business tie. This means picking a textured wool tie during winter or perhaps a linen or a cotton tie during the warmer seasons. Again, you must understand the level of formality of your chosen attire and then pick your tie accordingly.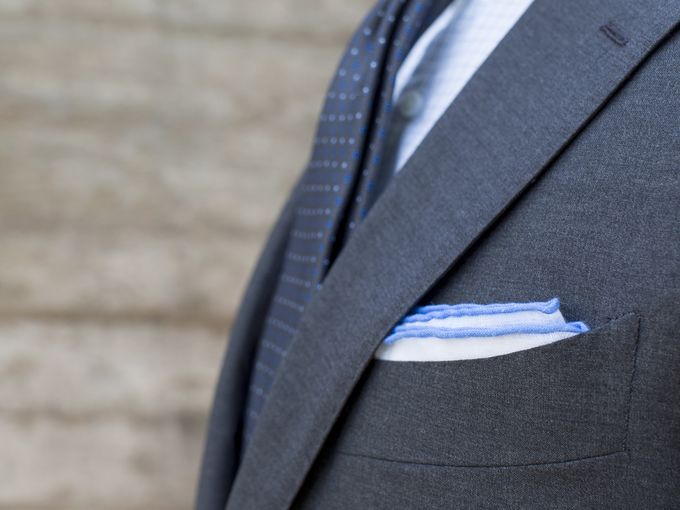 Having all the pieces of your outfit on a roughly the same level of formality is the first step towards a coherent and stylish look. However, there are more things to consider even before starting to think about your accessories. A patterned suit, jacket or even trousers often require simplistic accessory choices. A patterned suit will not only require a solid-colored white or sky blue shirt, it usually forces you to choose more subtle accessories that create a calming effect on the whole look. So, if your bigger components have a lot going on, it is usually a good idea to wear a unicolor tie.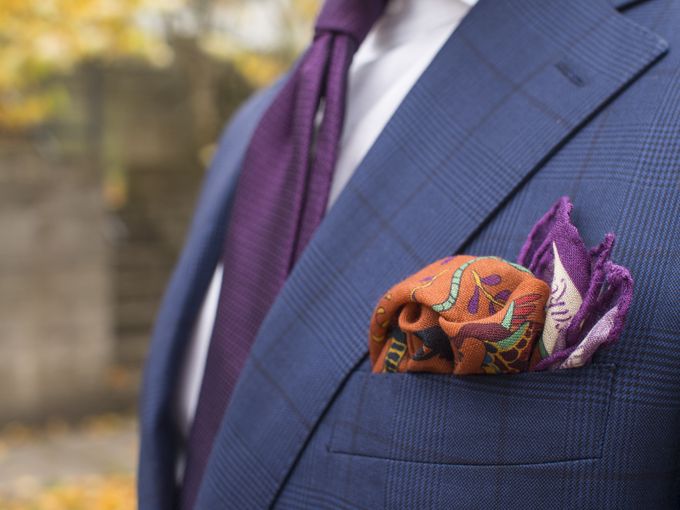 How to choose your pocket square?
After you've selected your tie, it's time to consider what kind of a pocket square would look good with your outfit. In my opinion, your pocket square should add a touch of elegance to the complete package without stealing the show. A well-chosen pocket square compliments the key pieces of your outfit or simply provides some freshness to the look. A somewhat nonchalantly folded white linen pocket square is superb in giving your dark suit that little something without drawing all the attention to itself. The simple white square in the TV fold can be recommended for nearly any outfit, but there is one thing that should be avoided. Do not use a basic white cotton or linen pocket square when you're wearing a sky blue shirt.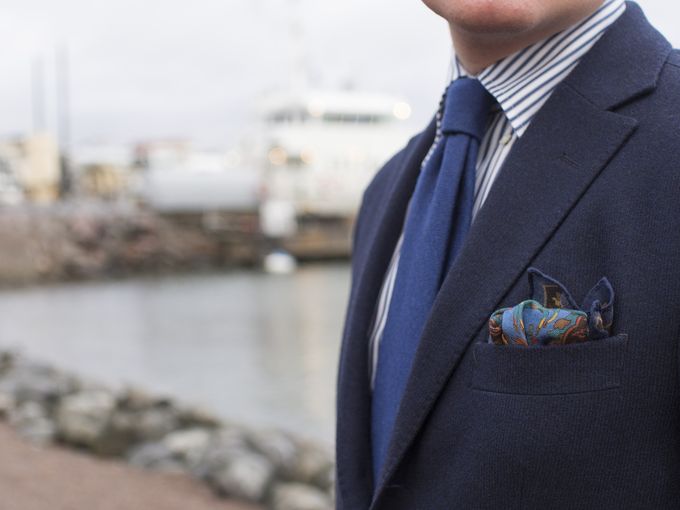 Color coordination between your accessories
Now, this is the big thing, the meat of this text. The end result, if it works or not, is always a very subjective matter, but I would say I have a pretty good eye for this. The key word here, really, is harmony. If you're brave enough to go outside the safer unicolor linen pocket square world, things tend to get a little bit more challenging. As before, you need to see that the materials of your tie and pocket square look alright not only together, but also in the context of your bigger components and even the season and the day's weather. Avoid using bright silk pocket squares and instead choose a good quality wool or matte silk square that fits the time of the year.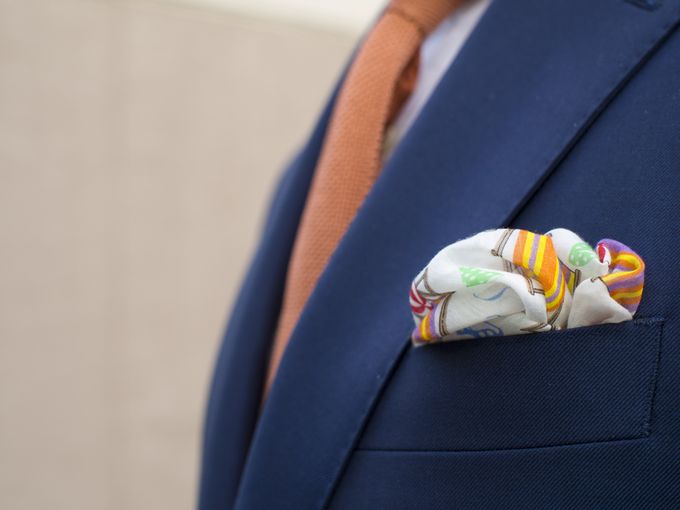 Now, colors. In this instance, I believe in the power of examples. If you're wearing a unicolor purple tie, choose a pocket square with the base color that compliments your suit or jacket and that contains small splashes of purple. Think of a golden and beige wool pocket square with some sort of a pattern in purple similar to the shade of your tie. On the other hand, if you're wearing an orange tie with a blue floral print pattern, perhaps look for a pocket square that has a neutral base color and some bits of orange. If you're wearing a patterned suit and a patterned tie, pick a contrast border linen pocket square that flatters the color of your tie.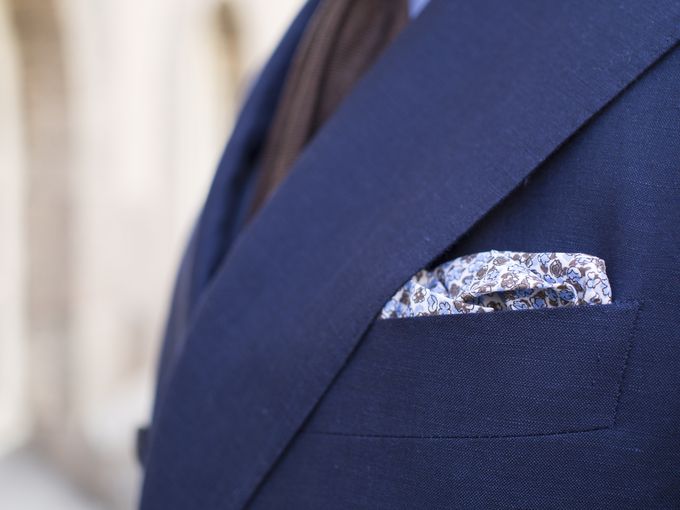 A good colorful and patterned pocket tends to have a base color and two to three secondary colors. Perhaps the best rule for an elegant tie and pocket square combination is to pick a pocket square with a secondary color or two that match your tie's base color. The other colors should not clash, otherwise the harmony is lost. This way you will have a coordinated palette that doesn't look too forced. Avoiding too many patterns is also key and using simple accessories is actually a good way to calm otherwise busy suit and jacket fabrics.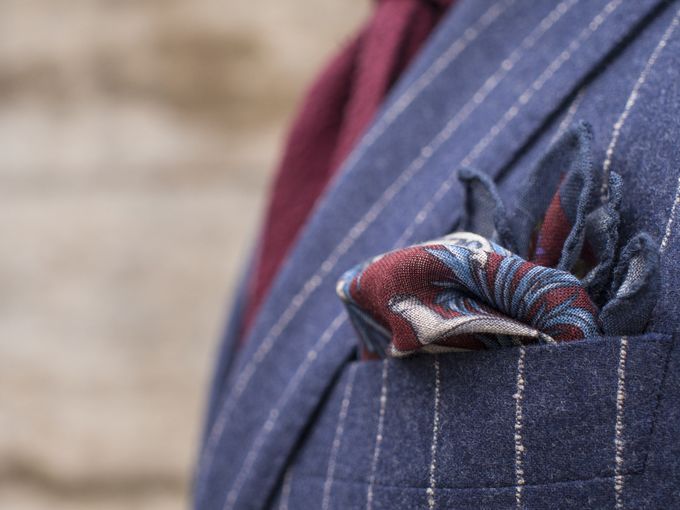 Breaking the rules
When is it correct to stray from the previously stated tips? I would say not too often, and I would not really recommend it to anyone. Succeeding in combining more unorthodox colors together is not easy and requires an impeccable eye for colors. When I say unorthodox combination, I mostly mean using pocket squares that are in no way connected to any other piece you're wearing. To be able to do this without making your pocket square pop up like a Pitti peacock in a Moscow suburb is even harder. I see even the most stylish men in the scene fail in this more often than not, but when done right the results are truly amazing. A person who I feel is really skilled in this is Alan See of the Armoury. That said, I would recommend training with the basics before trying it out with the maestro level things, especially if you don't feel 150% confident in your color eye.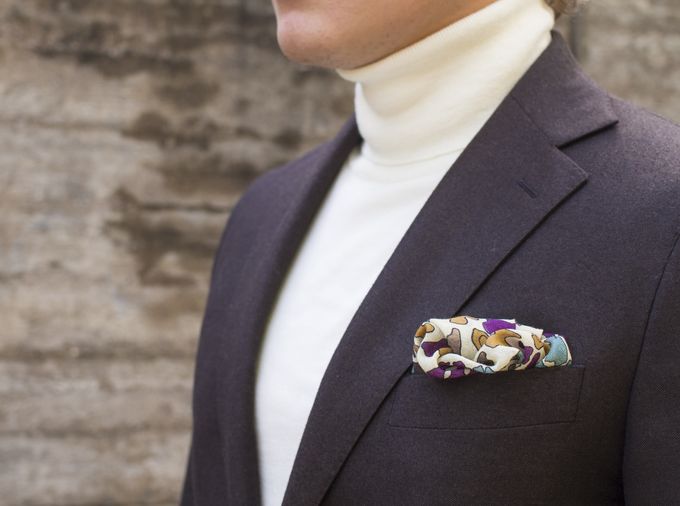 Confidence and feeling good in your outfit
So, to summarize there are a lot of things to think about when picking your accessories. I could write an entire book on this, but this article does give you some main pointers I feel are the most important ones. If I would put this article into one sentence, it would probably be aim for harmony and see that the outfit is not for the accessories but the accessories are there for the outfit. At the end of the day, the most important thing is that you feel confident in your clothes, that's the part that shows to others. I personally don't really think about my accessories, the process is more or less subconscious and I tend to go with what ever I feel like at the moment. Nonetheless, the limitations are there and some things simply look good while others don't. If you feel like you need practice, it can be a good idea to stop for 15 seconds in the morning and choose your accessories with some thought. In time, you will get the hang of it and become the master yourself.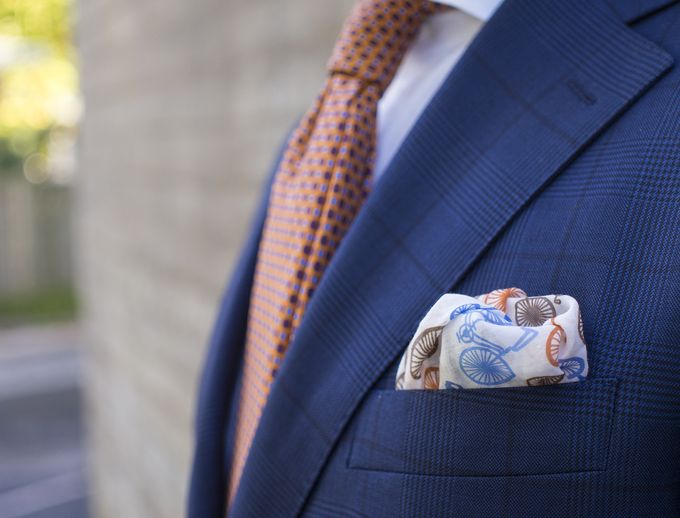 Let me know in the comments if you agree or disagree, and let me know what the next topic for an educational post should be! Also remember to follow my Instagram for some daily inspiration and ideas.