Late Autumn Inspiration with a One-Off Vintage Jacquard Tie
Autumn colors
It's very common to see mostly browns, oranges, dark greens and other similar colors when it comes to seasonal looks. It's very true these tones tend to look especially good this time of the year, but it can sometimes feel quite fresh simply using what ever colors you want to use. Today I chose shades of blue with brown, a good basic palette for any weekend look.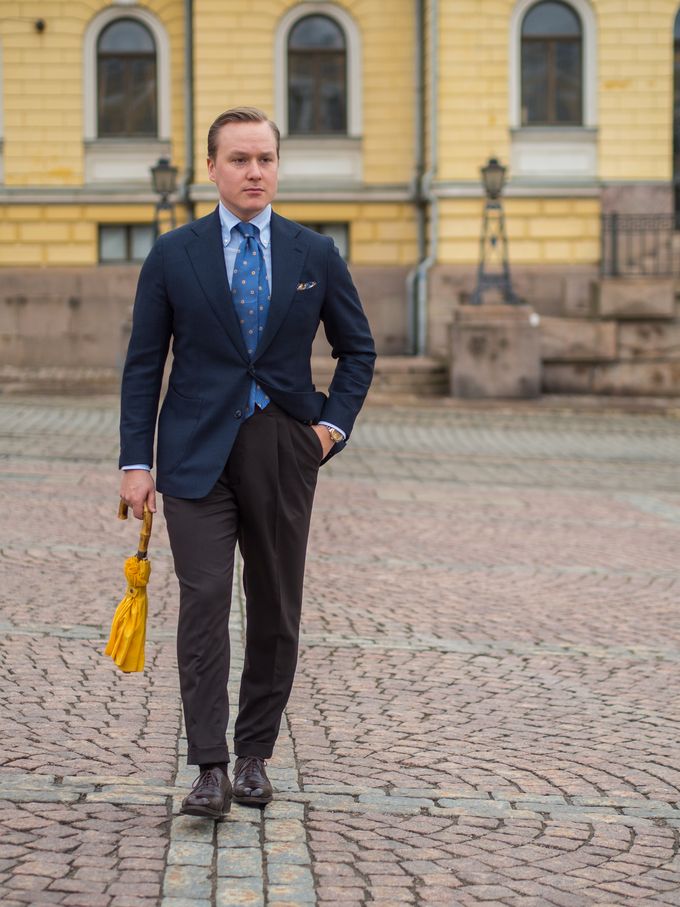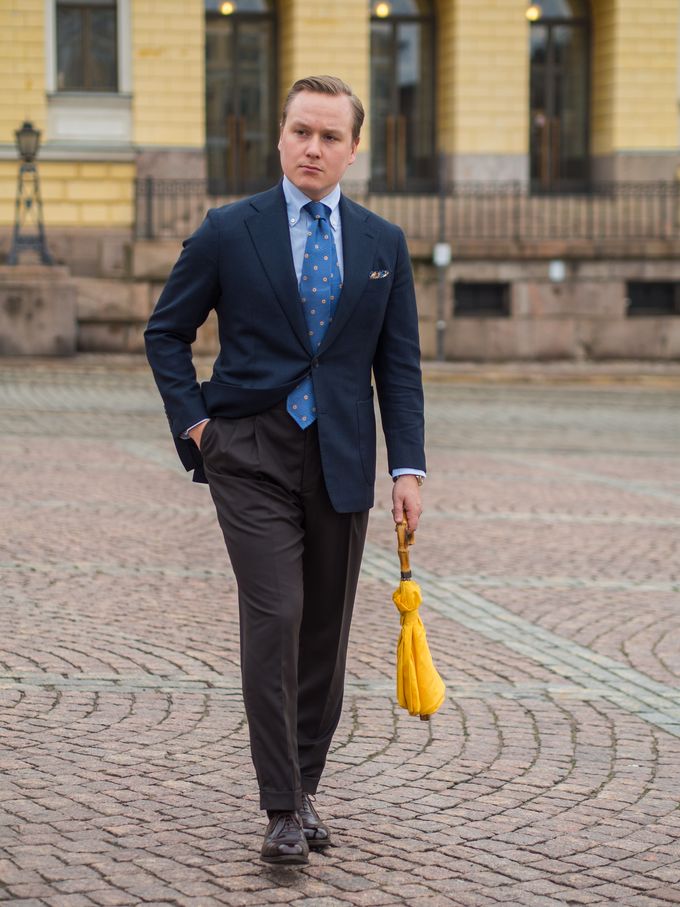 Today's look
Today's worn items include a handmade mtm jacket and trousers from Vaatturiliike Sauma, mtm shirt from Vaatturiliike Sauma, a tie of my own bespoke collection, Drake's pocket square, Viola Milano braces, Mazari socks and Vass mto Oxfords.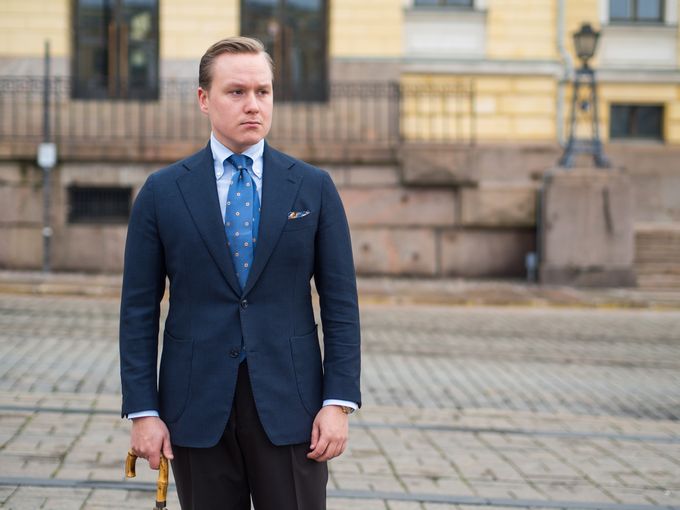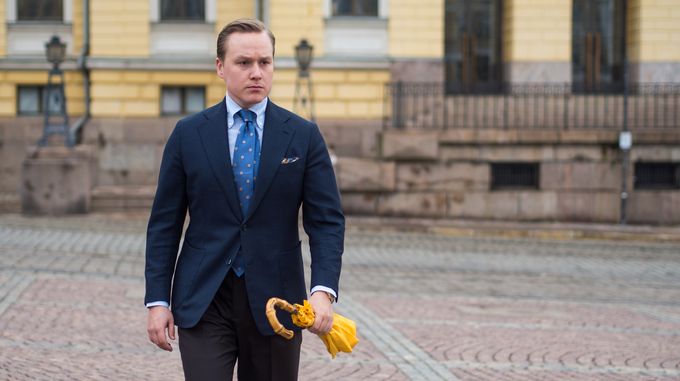 A truly unique piece of neckwear - one off bespoke vintage jacquard tie
The tie I'm wearing in this outfit is one of the two I had made for myself earlier this year. I've probably blabbed about it a million times by now, but I'm quite fond of jacquard ties with the right kind of retro aesthetic. It is incredibly hard to find good ones though and in fact apart from a very few makers such as Seven Fold Firenze and Tie Your Tie basically no good ones are available. The problem with real vintage ties is that while they sometimes are fantastic fabrics, the technical qualities are often lacking. So, I set out to make some myself.
Both of these ties are unique one-off pieces that were made after my design of the jacquard backgorund weave and the pattern. The fabric was produced only the amount that was needed for the one tie and it was woven by one of the few existing machines that exist today, this one in the UK. Getting a time slot at these places is incredible hard and I must thank my Neapolitan friends for being able to buy these fabrics. The tie itself was then handmade in Naples at a friend's tie workshop, producing a truly unique tie and I guess taking the notion of bespoke to another level, especially as this is the only piece of the fabric in existence.
This one has a three fold construction with a lightweight fabric lining, and I would say it turned out rather well. Comparing it to some of my best jacquard ties it has one of the most pleasant weights and feel to it. That said, the other one is easily the best tie I've had and I think we absolutely nailed it there when it comes to feel, weight and a beautiful vintage feel design. More pictures of that later.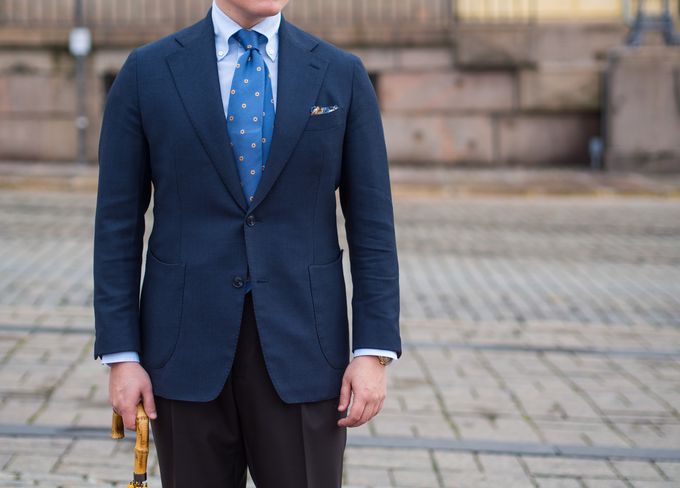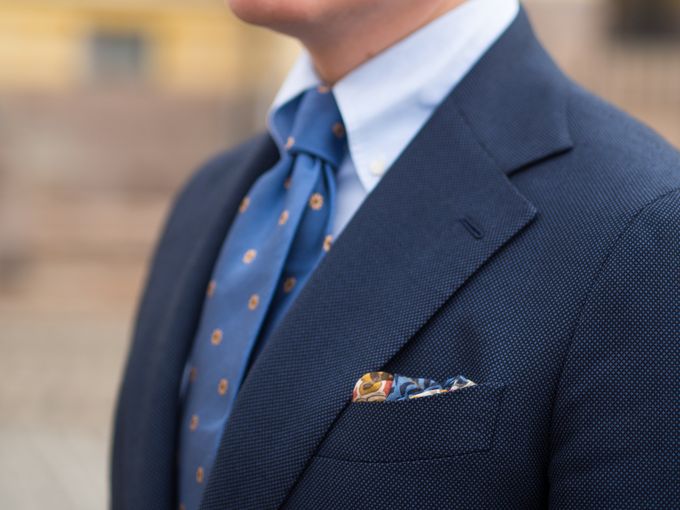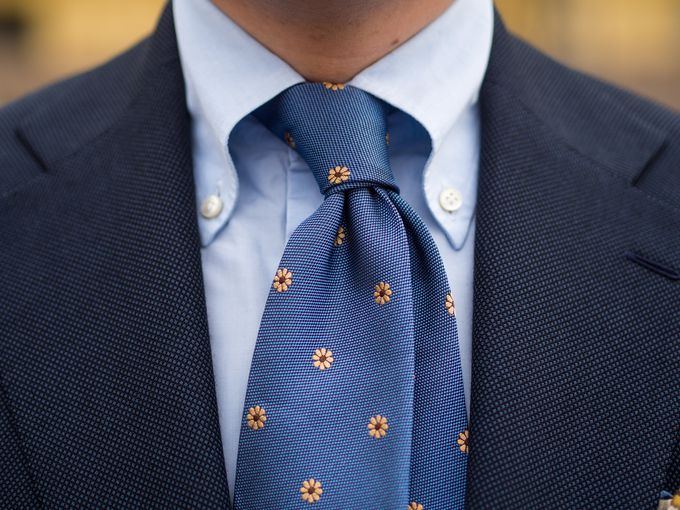 Other details
To go with the rest of it, I picked my ochre colored braces with brown leather ends as well as my dark museum brown Vass Oxfords.