Men's Most Versatile Summer Suit - The Navy Cotton Suit
One of the wardrobe staples, the navy cotton suit, has finally arrived into my collection. After a moderately quick thought process, I ordered mine from Helsinki's Vaatturiliike Sauma as unlined and unpadded, but with some very lightweight canvassing in the front. As a navy suit like this can easily be worn separately as a jacket or just trousers, I wanted mine with the more casual pocket options, patch pockets. As the most important detail, fabric, I picked a wonderful 240g/m2 gabardine cotton from Caccioppoli, one of my favorite fabric producers located in Naples. The result is a very lightweight dark navy suit from a super crisp cotton fabric, super comfortable and easily my most versatile piece of summer clothing.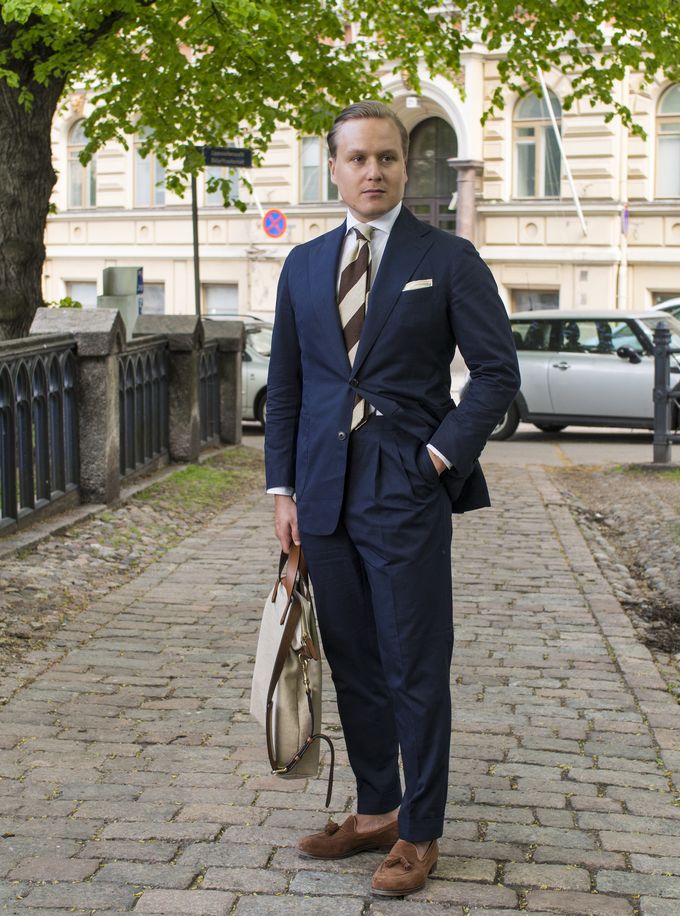 The items worn in these pictures include the mtm suit from Vaatturiliike Sauma, mtm shirt from Luxire, shantung silk tie from Drake's, linen pocket square from Kent Wang, braces from Albert Thurston, loafers from Crockett & Jones and shopper tote bag from Mismo.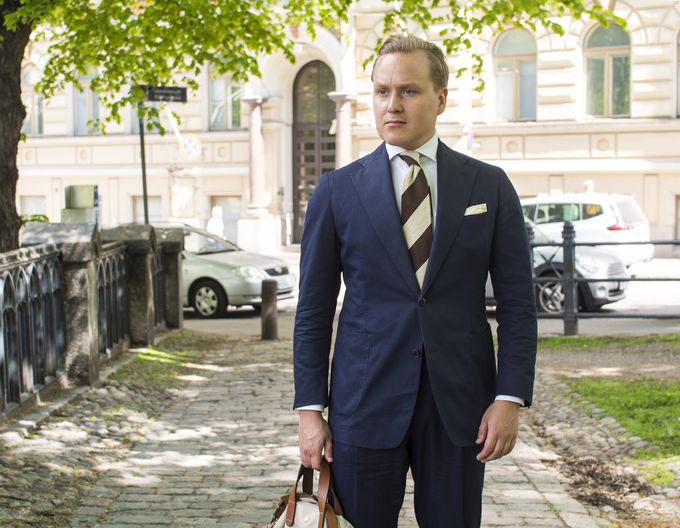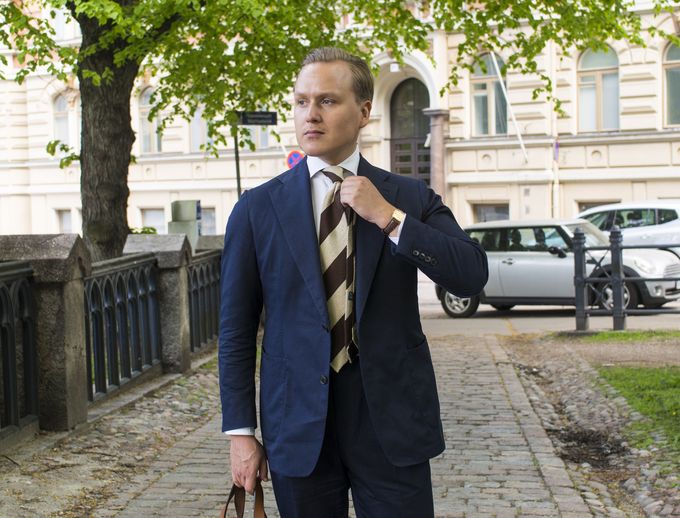 I've slowly been tuning my whole wardrobe into a more comfortable fit, adding room to the upper body especially. This makes the whole suit look more comfortable and does naturally make a real difference as well. The lapels in this suit are also wider from my previous suits and there's a lot more handwork. For instance, all the button holes are handmade.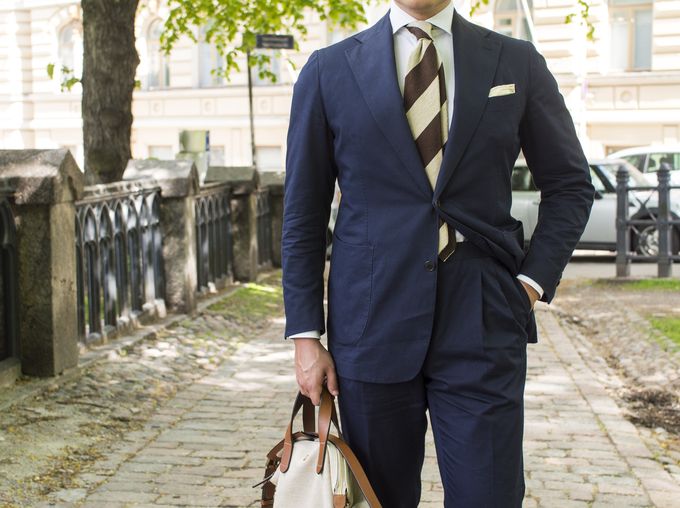 The fact that the jacket is unpadded and has a beautiful natural shoulder line makes it a perfect summer sport coat in addition to being a suit jacket. The neat hand stitching around the seams and the round patch pockets further add some subtle casual flair to both the jacket and the trousers, making the suit a great casual summer suit (or just a jacket) with the right accessories. However, the dark color and the fine cotton fabric are still perfectly good for a fairly formal office look during spring and summer season.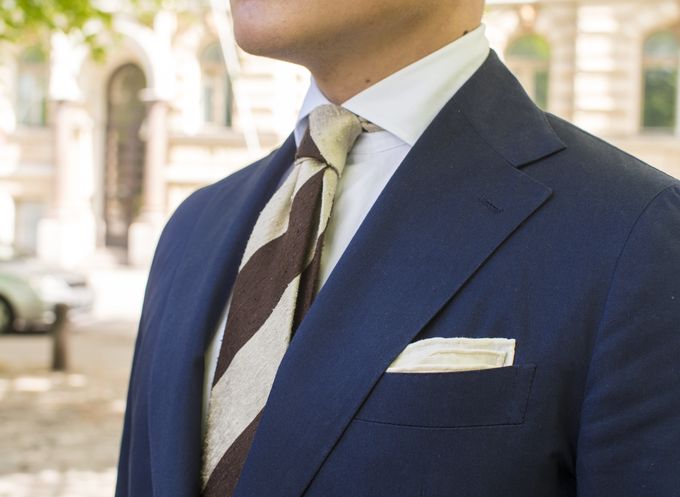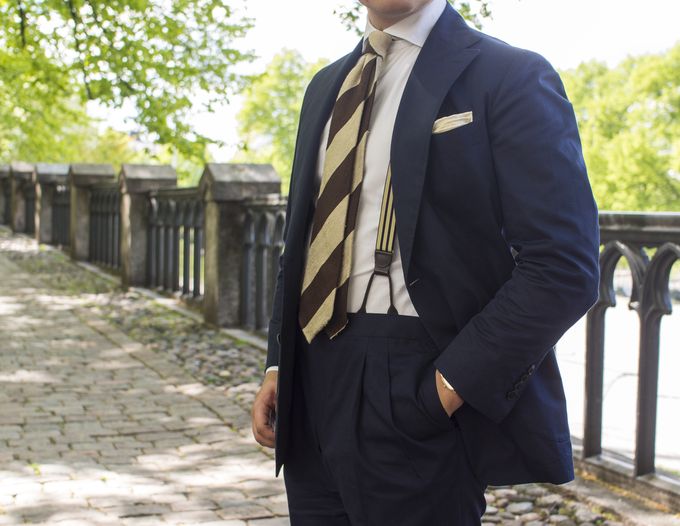 A shantung silk tie is rarely a bad choice when you want to appear more casual. This day, I also opted for a cream-colored linen pocket square and navy/vintage yellow braces with brown leather ends.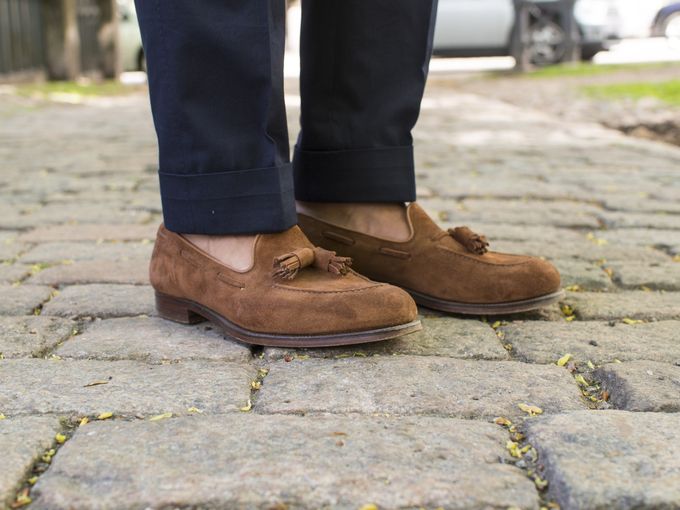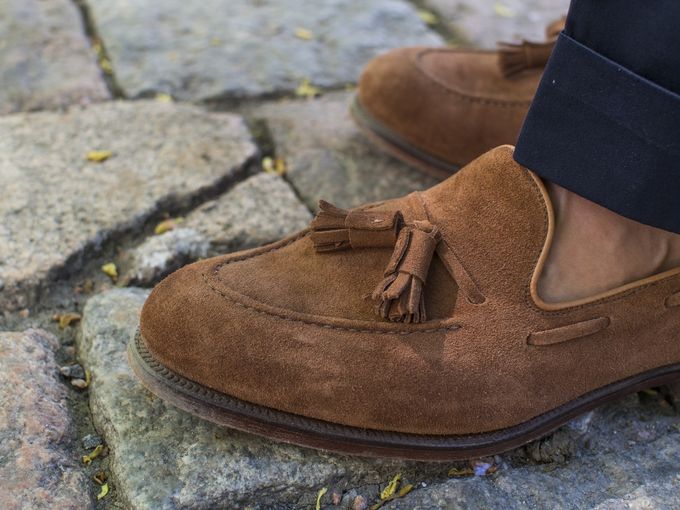 The ultimate summer suit naturally requires the ultimate summer shoe, and according to many this is it. All hail the Cavendish in polo brown suede.
I've got tons of cool stuff coming up during the following weeks, so make sure you're following The Nordic Fit on Instagram and Facebook - you'll get a notification everytime something new is posted here.