Ready-to-wear, made-to-measure and bespoke. What's the difference?
So, today I'll point out some key differences in the three "levels" of clothing. I will also tell you my opinion on where your money is best invested in and why. At first though, let's make it clear what ready-to-wear (RTW), made-to-measure (MTO) and bespoke actually mean.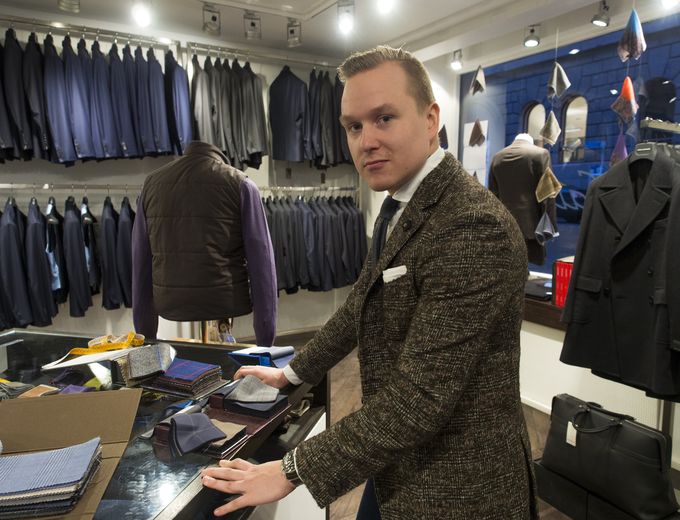 Ready-to-wear I suppose is pretty clear to everyone, and if not, it means the products that have been produced in certain sizes beforehand, to be sold in stores. So basically all your market clothing. Made-to-order means something is produced specifically for you and your measurements. This means the products may still be partially mass-produced or in some cases will mean a fully custom-made item. The offering (especially for self-ordered Internet MTO products) has increased drastically over the past years and there are a dozen mediocre services for every good one. So, not everything labelled as MTO is good for you, but we'll get to that later. Then finally, bespoke means a product that's generally completely custom-made for you by a craftsman, and one that you will get to try during the creation process. For example, a bespoke suit will in most cases include two fittings while the suit is being made. This will allow the tailor to make adjustments along the way and should result in superior fit. Due to the nature of the process, bespoke tends to demand the most man hours and is the most expensive option.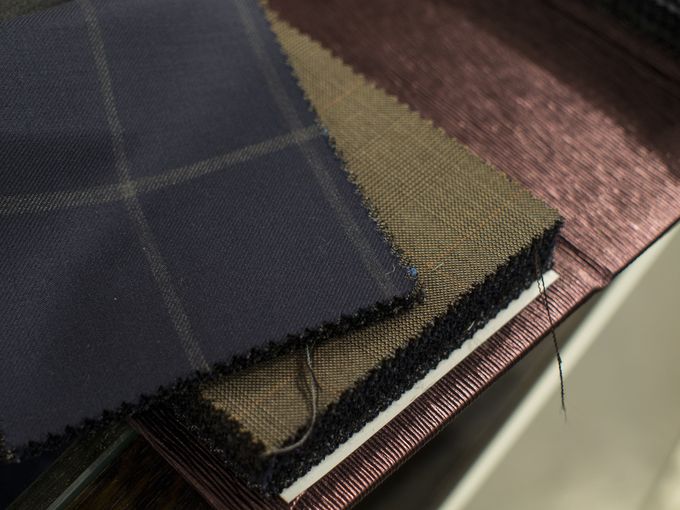 I've personally bought many RTW pieces that have been truly excellent and continue to be so today. However, over time I've learned to compromise less. I've found avoiding sub-optimal purchases does save money, but even more so it simply makes you a more satisfied person. If you care for the details, excelent fit and value getting even those last few things just right, made-to-order or bespoke might be the way to go. That said, you do of course need to consider whether the extra cost is worth the extra value and the results of this thought process will definitely be different for each one of us. My current "list" looks like this:
Ready-to-wear
-Jackets. Even though I was kind of strugling to put this here, I can't deny being tempted by some RTW jackets that I know will fit me well and therefore offer great quality for money when found in a fabric I like. These include SuitSupply's Soho fit, L.B.M. 1911's 2811 John fit and some Lardini jackets, for example. However, I think my next jacket will be a made-to-order piece. We'll see if I'll be able to buy another RTW jacket after that.
-Casual shirts. I've found many OCBDs and other similar casual shirts fit me very well, so I don't really see a reason not to get a good casual shirt from a quality maker (check my last week's post) if the price is right. If you know what you want though, Luxire will be able to make you a made-to-order casual shirt exactly the way you want it for a very reasonable price.
-Shoes are best bought in ready-made models, period. Made-to-order only really brings more material and color options to the table, but the models are still mostly the same. In my opinion you're going to need a pretty hefty shoe collection before running out of good options to buy, so MTO shoes are really only for the addicts. Bespoke on the other hand is massively expensive and in many cases a step down in appearance when compared to the premium RTW shoes.
Check my last week's article for top shoe purchasing tips and you're all set. 
-Accessories then. Although some made-to-order ties (E.G. Cappelli for example) are great, there's loads of great accessories of all kinds to satisfy anyone's needs. The only exception here would be Equus Leather's MTO belts that are simply too good not to be recommended.
Made-to-order
-A suit is a complex thing, and if it's not made for you it will most likely never really feel like a part of you. This is something I often say to my friends complaining a suit is uncomfortable. There's naturally a little bit more to it than that, and I can say the suits I had made in Asia at 18 years old weren't really insanely comfortable (or stylish) either. And so I will start this part by telling everyone to get a fully-canvassed suit. Once you do that, you'll realize you've been missing out previously.
Now, there are great fully-canvassed RTW suits as well. Getting a suit from Isaia for example will set you back quite a lot while even the cheapest RTW options (SuitSupply's La Spalla for example) will still cost a good 650-800 Euros plus at least a hundred in alterations. And due to the price, I wouldn't recommend any of these ready-to-wear options, to anyone really. If you're going for the quality, why not get something that is made from a fabric chosen by you and has all the details you want and most of all, is made to your body's measurements and proportions? As it turns out, many tailoring shops and menswear stores (especially in Scandinavia) have started to offer quite fantastic MTO services that are supported with talented tailors. This is where I personally see a fantastic sweet spot that offers you the most suit for spent Euros.
And this is where I'm currently in. Having just placed an order for my fourth suit in my local menswear store Vaatturiliike Sauma, I'm very happy for what I'm getting for my money. Getting a fully-canvassed suit from the best fabrics and with the handmade details you want is also starting to be at the technical pinnacle of suit-making, so even if you paid four times as much you would not be getting really anything more technically speaking. In my opinion, what you will be paying for from here on is the experience and for example a certain tailor's signature way of making a suit. I can see myself getting my first bespoke piece in a couple of years, but right now MTO makes the most sense for me.
The most important thing is that your tailor understands your taste and what you like. If you like the softer Italian style (like me) make sure your tailor does as well, otherwise the end result might not be as you expected. And needless to say, if you even thought to use some online suit services (Indochino and whatever) you may as well punch yourself in the face now and be done with it.
-Jackets. Like I wrote earlier, I'm starting to lean towards MTO jackets. Really the same arguments as above, and a good quality unstructured made-to-order jacket will usually be around 450-800 Euros, around the same you're paying for latest Lardinis and Tombolinis.
-Formal shirts. I'm actually in the middle of rebuilding my shirt collection, but I've pretty much come to the conclusion that made-to-order ist he way to go here. Apart from some of SuitSupply's fits, I've been unable to find a good RTW shirt fit and therefore have started looking into other options. Additionally, my taste for collar styles has changed a little bit and no RTW shirt really offers what I'm looking for at the moment.
With shirts you're also quite well of using the best Internet services such as Luxire, especially if you know how to spec your order. Many tailoring shops also offer good MTO shirt services from known shirt makers.
For guidance on what kind of a shirt you need, read this.
-Casual shirts. I suppose Luxire can be recommended here. For a million examples on Luxire OCBDs read StyleForum's Luxire thread.
Bespoke
-A bespoke suit is, I have to admit, increasingly on my mind. However, I feel it is something I will keep brewing for a year or two more. As my taste has developed over the years I've come increasingly fond of the proper handmade look, and some of the greatest pieces I saw in Pitti this January really opened my eyes. It is impossible to explain the character and soul that can be felt in an artisan-crafted Neapolitan suit jacket, but it's a force that will seduce all your sartorial senses. Once it has, irrational things start to see rational and money becomes less important. Naples 2017, here we come.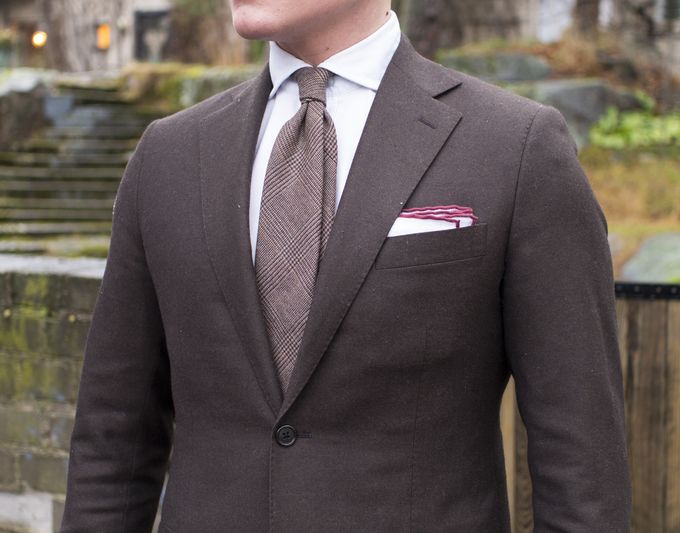 This series will continue with more informative articles, and I will also try to squeeze in some Pitti reports. Stay tuned.
Oh, and if you're in Helsinki, I'd definitely suggest visiting Sauma within the next few weeks during their MTO campaign (all made-to-order products are discounted by -20%). A great opportunity to browse some fabric books and see what it's all about.