Sky Blue Sartoria Peluso Sport Coat - Handmade Neapolitan Tailoring
Visiting Helsinki University botanical garden
These outfit pictures are from a recent visit to Helsinki University's botanical garden in Kaisaniemi area. It was a sunny spring day, so I was eager to wear my new spring and summer clothes. The place itself is rather small, but a really nice retreat from the city center (while staying in the city center). It also has several themed areas that vary from types of desert into a more jungle or marsh type glass rooms. A nice place to visit if you're in town, and certainly inspirational if you just like nature.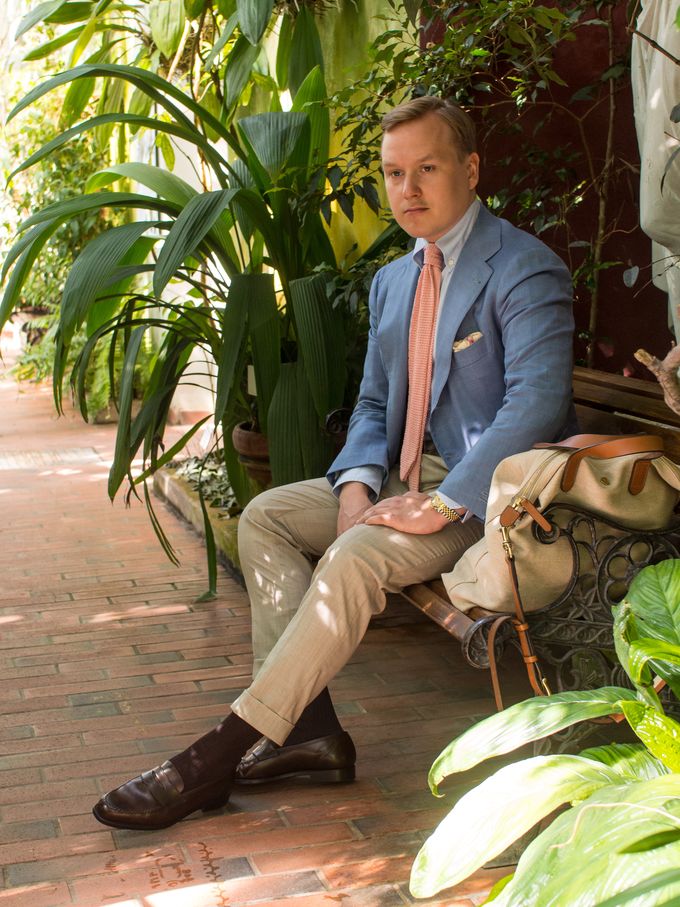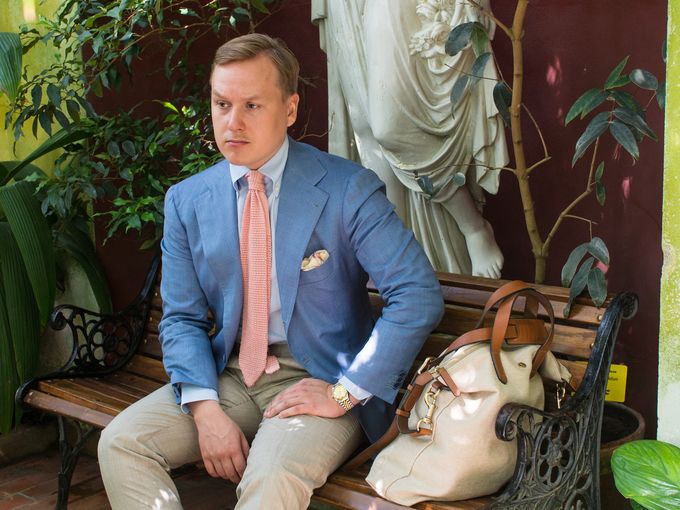 The story behind the sport coat
As I was visiting Naples earlier this spring, an interesting occurence happened while visiting my friend Pino Peluso's sartoria. As we were discussing just random things regarding our hobbies and the life in Helsinki and Naples, Pino found an old jacket of his that he had collecting dust in the back of his sartoria. He insisted I tried the piece on, and to our surprise the jacket was actually a really beautiful fit on me. He then insisted I would keep the garment for now as he had no use for it. After politely declining a few times I finally agreed to do so and thanked Pino for this surprising act of generosity.
Regarding the actual jacket, the styling was very interesting with the buttons placed rather near to each other and the buttoning point set fairly low. On top of that, this jacket had really beautiful classic lapels that when combined with this sky blue wool fabric, in my opinion give the garment a very unique and charming feel of the past decades.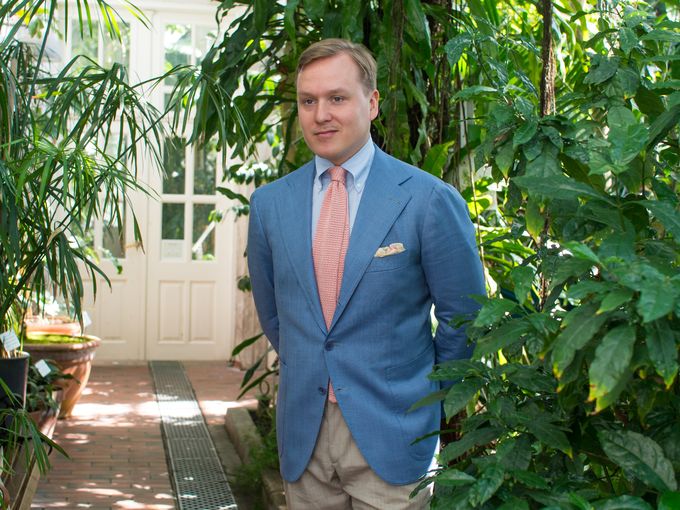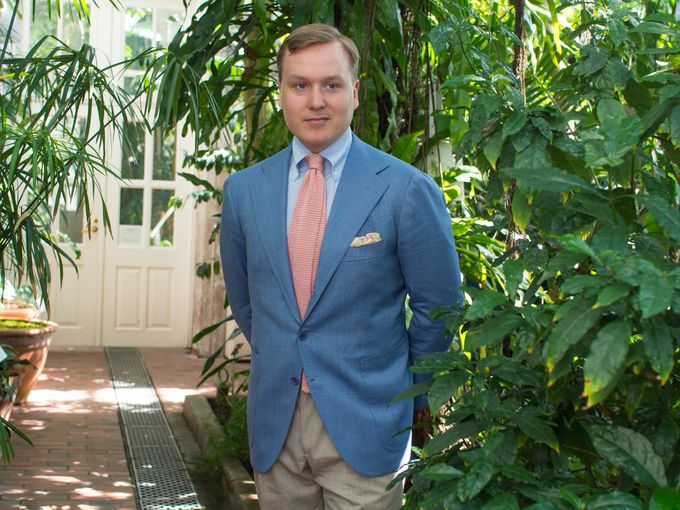 How to wear a sky blue summer sport coat
A sky blue jacket like this is always going to look great with beige and khaki trousers, but it's also a very versatile piece when it comes to different shirt and accessory combinations. This type of plain sport coat looks great when worn with just a striped shirt or even a checked shirt, but you will want to select a shirt with similar feel to it. A little bit of texture or perhaps a shirt made from linen is also a great alternative.
Accessory wise I wanted to keep the overal look in harmony and decided to go for different pastel colors, mainly pink and faded beige. As a shirt I picket a light blue end-on-end cotton button-down shirt that I felt would be a nice and fresh choice for this outfit. The light pink, almost pig pink, knit tie is great for adding that vintage feel that is already created with the styling of the jacket. The pocket square is linen/cotton/modal and from Drake's limited edition collection of summer 2016. The faded pink flamingos on the pocket square compliment the rest of the look while keeping things relatively subtle.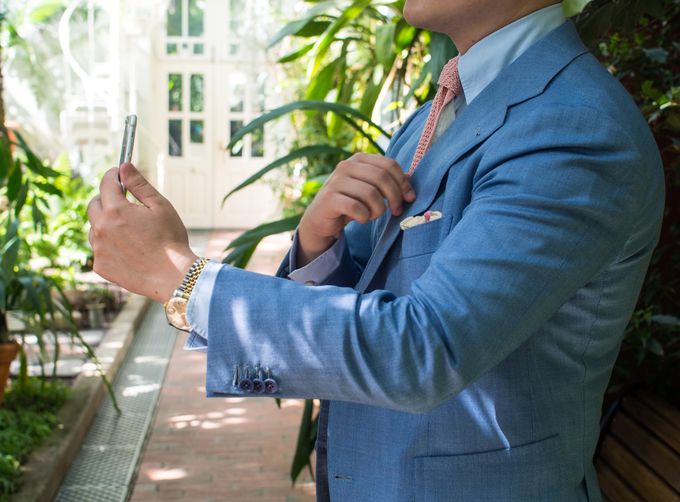 Color combinations with a sky blue jacket
Thinking what other type of color combinations I would recommend with a jacket like this, multiple come to mind. However, my favorites and combinations that I will certainly try out soon include the following:
Brown striped shirt, brown knit tie and a white linen pocket square
White cotton linen blend shirt, vintage paisley or similar pattern madder tie with light blue in it, white linen pocket square
Burnt orange or yellow striped linen button-down shirt, no tie, white linen pocket square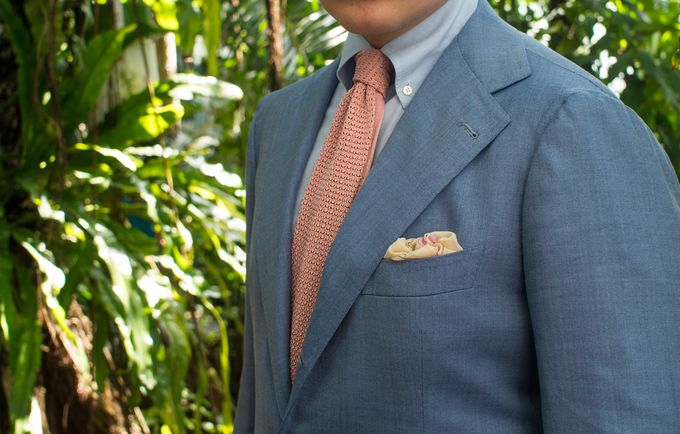 Other elements to think about with similar sport coat looks for summer
When wanting to wear a classic sport coat look, almost any type of casuals shoe fit for the season is good. I would not advise wearing double monks as they are a bit too fashionable, but this is partly due to my personal taste. Great options include classic penny loafers, tassel loafers and snuff suede oxfords for example. You may wear socks as I've done here, but this is optional.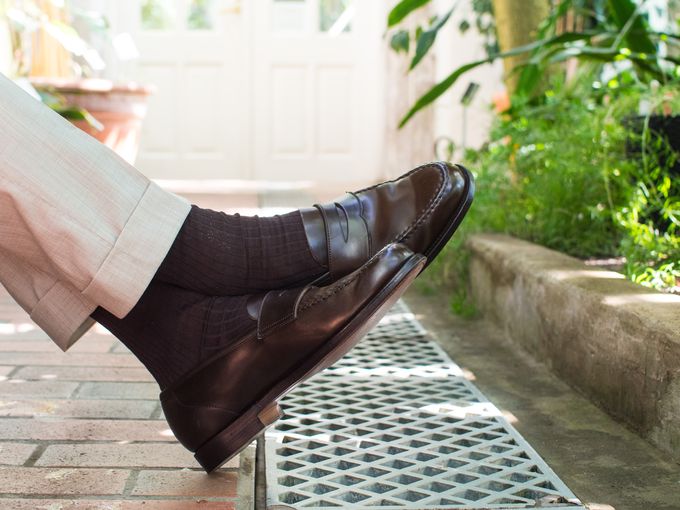 Final words
So, obviously I am very happy to be able to enjoy this great jacket. Despite being quite classic in its style, I think it's a good example of a very versatile garment for anyone's summer wardrobe. A good all around fabric with texture but not too much texture, combined with a plain color make it a great summer piece that will endure time and keep looking stylish.