SuitSupply La Spalla Fit Suit In Review
As I've mentioned a few times during this year, I've slowly been building the formal part of my wardrobe, and a part of that is of course suits. I have one MTO suit in the making and have picked a couple other suits from here and there, but as my grey work option I decided to go for SuitSupply's La Spalla fit suit.
To have enough room for my shoulders and chest, I sizep up to 25 (40 Short in US/UK sizes). I had the jacket slimmed quite a lot and am still considering moving the button a little, as there was some room left for my gut area. The trousers were taken in quite a lot from the waist, let out a bit from the buttocks and then slimmed again from below knee. The leg opening was left at 19 centimeters.
Quality wise La Spalla is great. With a fabric like this it pretty much feels like you're not wearing anything at all, and all the little details are well-made. There is red stiching on the last cuff button, something I must say I'd rather pass on, but as the suit was a good fit on all areas I was willing to live with that.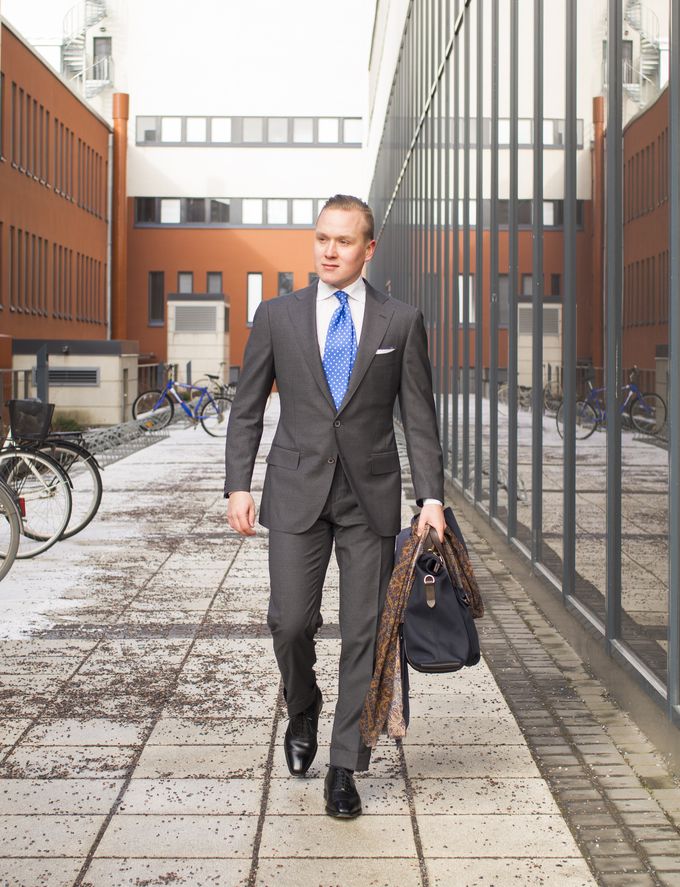 So the wool cashmere La Spalla fit suit is from SuitSupply, faint grey stripe shirt also from SuitSupply, 7-fold silk foulard tie from E. Marinella, contrast border linen pocket square from Viola Milano, midnight navy suspenders from Albert Thurston, socks from Berg & Berg, black cap toe oxfords from Wildsmith, briefcase from Mismo, printed scarf from SuitSupply and the coat from Sealup.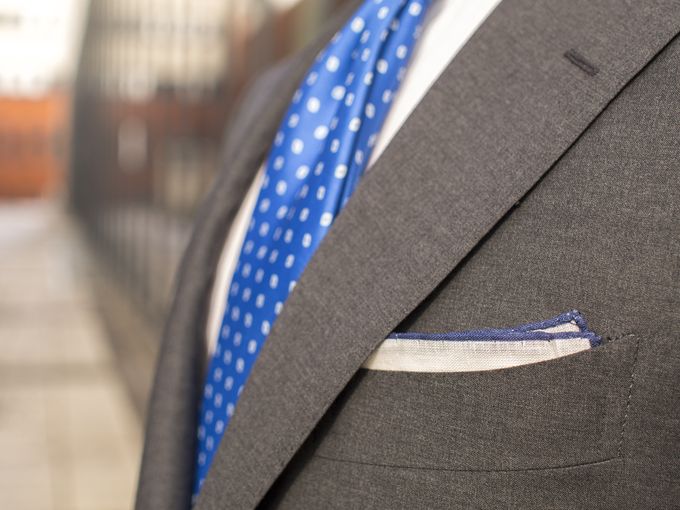 This tie hasn't seen nearly enough use during its lifetime, but it will be a good go-to piece for everyday business outfits in the future. A simple contrast border pocket square goes well with a formal outfit like this.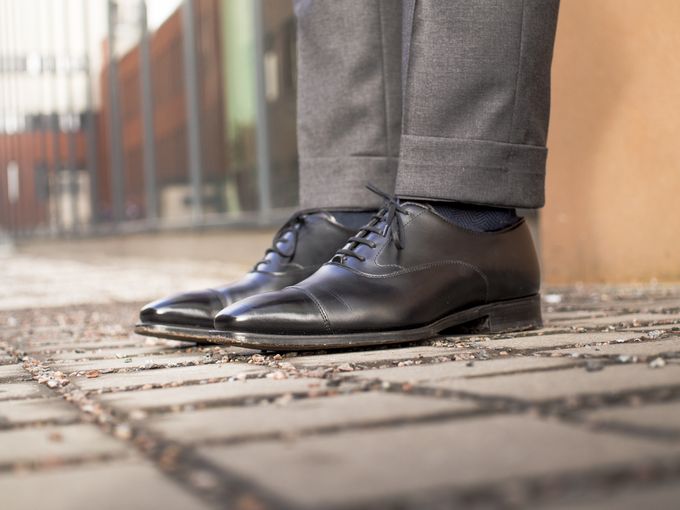 Dark blue socks and black cap toes to keep a formal business outfit a formal business. Looks sharp without attracting much unwanted attention.