Traveling in Style - What to Wear on Your Business Trip
What to wear when traveling for work
Working as a management consultant, I occasionally travel to visit my clients' locations around the world. As I'm mostly helping executive level persons that are often located here in the head offices of Helsinki, it's not quite as much as people would expect, but I still do. I actually get asked what I like to wear when traveling quite often, so I figures this might be an interesting topic to write on.
When we boil it down to the few key things that one should consider when packing for a trip, I'd say there are two things to keep in ming. First of all, you should note where you are going to and how the climate is there. For us Finns this often means understanding that most places are warmer than our little northern country, but for many others it can mean understanding that there are also cold places (like Finland) in the world. As you consider the location's climate, it's good to understand the local culture as well, but more on this later. The second thing to keep in mind is that you probably want to travel light, so selecting suits, accessories and shoes that are as versatile as possible are often the best choices. I usually try to travel with one pair of shoes and two suits that can be made into a more casual evening look if need be.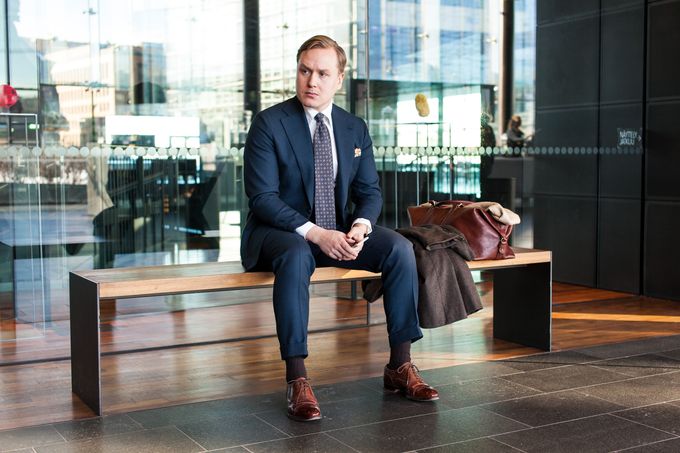 A versatile suit is the key
If I was traveling to London or Asia, I'd probably go with a navy suit and black shoes, but for many countries wearing a clean suit and some dress shoes is quite enough for almost all professional use. My slate blue birdseye wool suit in these pictures is a great example of a versatile suit, as you can easily wear the jacket separately in the evening when dining with a client, for example. If you're traveling to a warm location and you own a navy or dark blue summer suit, it can be a great piece to bring along. If you live in a warmer region and are traveling to a colder area, your regular business suit should be alright if you have a proper winter coat. Also make sure you pack some gloves and a scarf with you.
If you're a very frequent business traveller, I would suggest making a suit out of fabrics such as Holland & Sherry's Crispaire which is a really good natural traveler friendly wrinkle free fabric.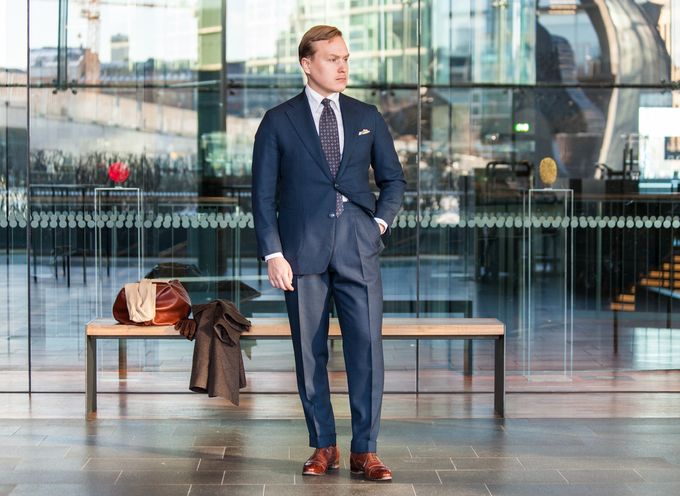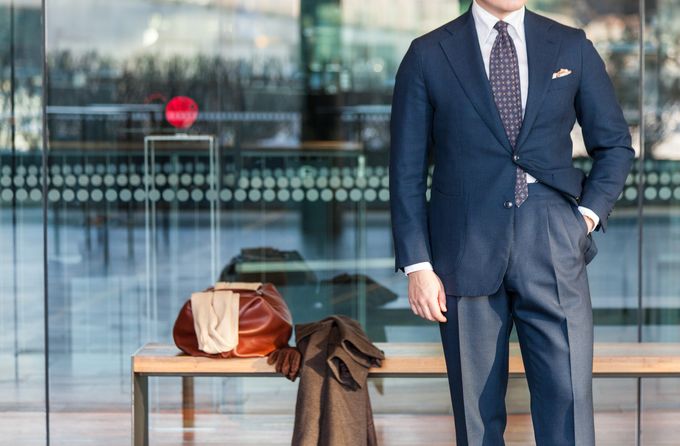 What to wear in a different culture
Being knowledgeable of other cultures is always a good idea, and I would say something that is expected of any business professional. Understand beforehand how people dress in a professional setting where you're going. This can be quite important, as some parts of the world can actually be quite strict in what you should wear in the office. That said, a suit can also be total overkill in some parts of the world. In general though, if in doubt, wear your navy suit and black shoes and play it safe.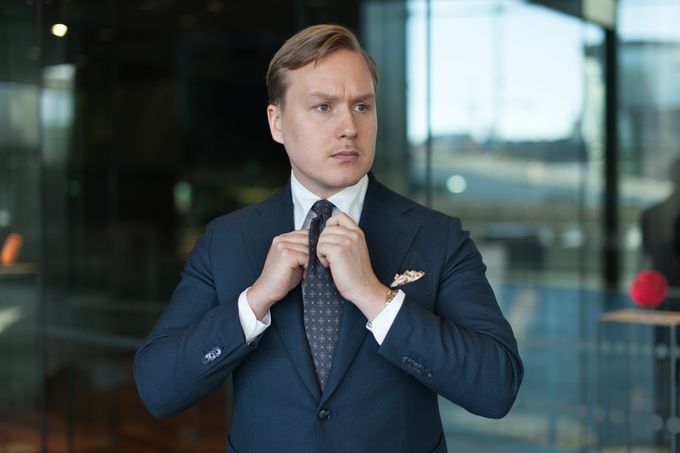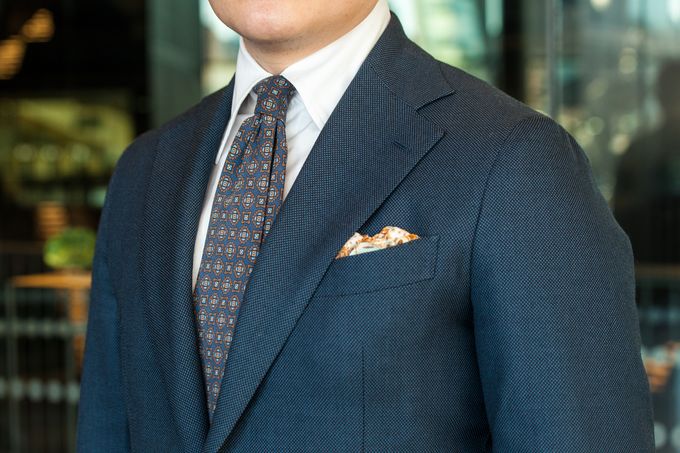 Selecting your accesories for a business trip
Accessories are light and don't take up too much room, but you can easily make do with just a few ties and a white linen pocket square. I usually like to pack a couple of unicolor ties, a floral tie, a white pocket square (that I like to wear in the most formal occasions) and a couple of other pocket squares. As all my suits are made with side adjusters, I usually pack a neutral-colored set of braces (elastic, not Barathea, for maximum comfort) to keep my trousers up and a watch that I feel is appropriate in the place where I am traveling to. Sunglasses are also a nice addition to nearly any trip, even if to just dim those lights a little bit when you're jetlagged and tired.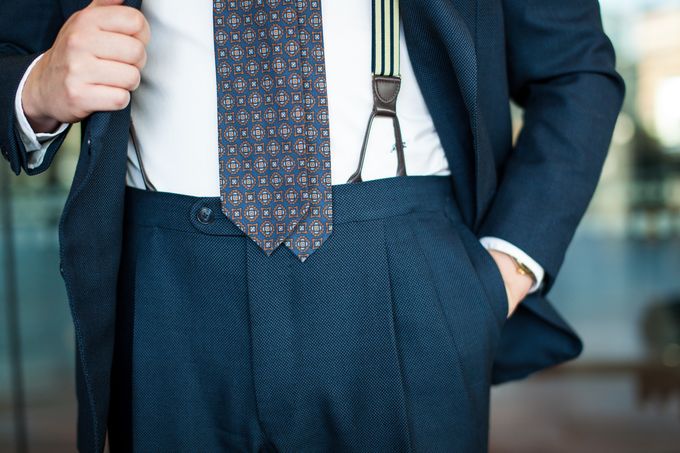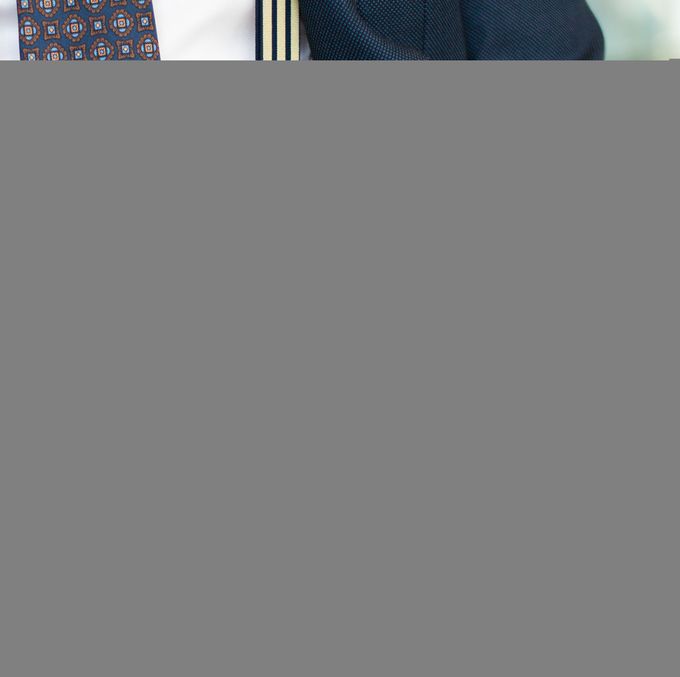 The business trip essentials - key pieces to pack along
So, here's a list of my favorite things that every business professional should own to travel in style and maximum comfort:
A high quality all-leather traveler bag
A versatile dark-colored suit from a four season fabric such as Crispaire
A small shoe shine kit to keep your shoes looking great on the road
Those universal business accessories such as a navy grenadine tie
Sunglasses of choice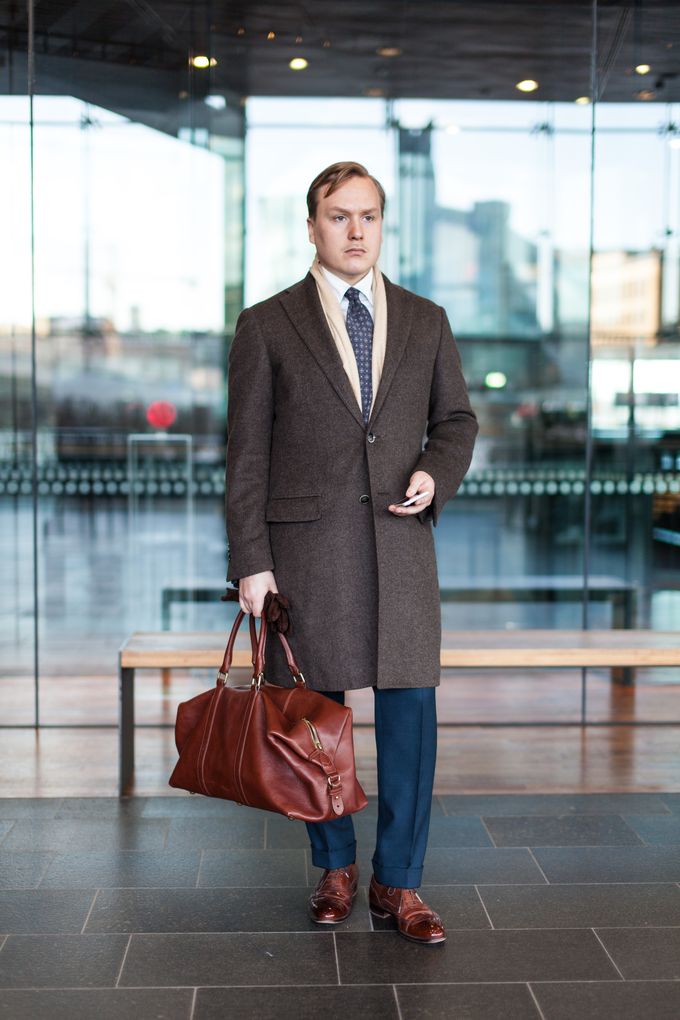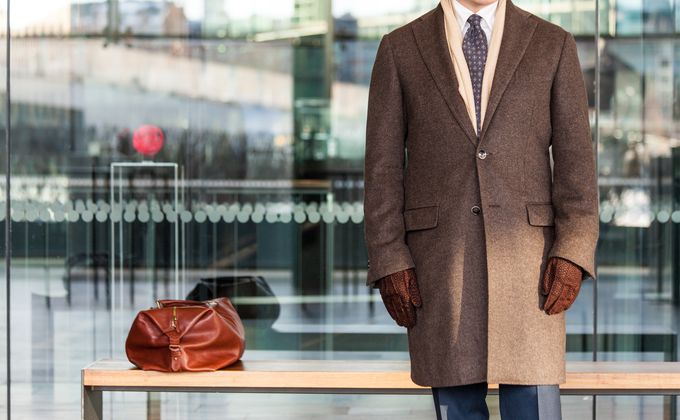 Items shows in these pictures included a Ring Jacket wool cashmere coat, Berg & Berg Merino wool scarf, Madova Firenze carpincho leather gloves, Vaatturiliike Sauma handmade made-to-measure suit and shirt, bespoke E&G Cappelli Madder tie, Rubinacci silk pocket square, Albert Thurston narrow braces, Jeeves cotton socks, Alfred Sargent Hunt full brogue Oxfords and Linjer full grain leather traveler bag.
All pictures by Lauri Anttila.