Using Your Suit Jacket as a Sport Coat
Getting the most out of your classic menswear wardrobe
When you're building your classic menswear wardrobe and don't necessarily have a million bucks to put into your garments, the golden rule for getting the most out of your money is to invest in versatile clothing. This means getting suits that are often of plain colors and materials that can be utilized in as many seasons as possible. Now, most fabrics that work in suits are too fine to look quite right in sport coats, but luckily some exceptions exist. To demonstrate I've actually dressed up in the jacket of my slate blue birdseye wool fabric suit and the trousers of my charcoal wool twill suit in these pictures. What makes it ok do use these pieces here then? Let's analyze.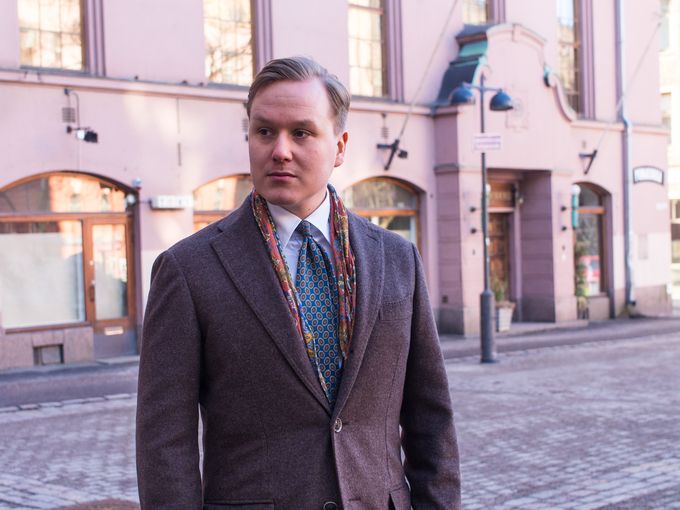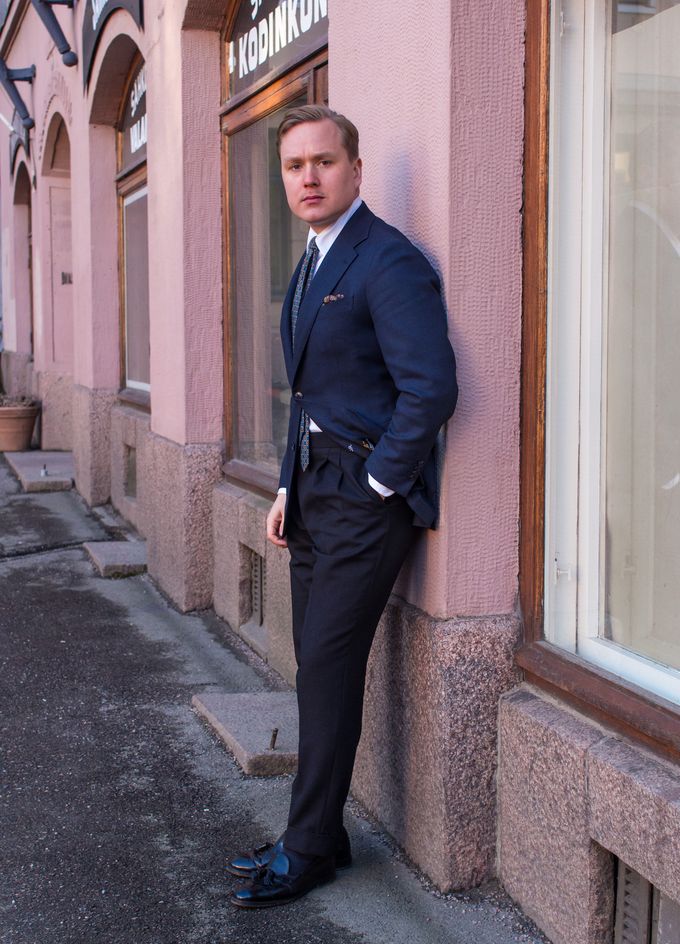 What to consider when using a suit jacket as a spotcoat
The first thing that makes this suit jacket a perfectly suitable spot coat is the fabric. The birdseye wool fabric has enough texture to look appropriate in a more casual setting. Furthermore, the slate blue color supports the "mid blue esque sport coat look" that is created when you pair this jacket with more casual pieces. The second thing that makes this an ok sport coat option is the softly tailored cut and the patch pockets.
To further make my point that some suit pieces can easily be worn separately, I've decided to wear my charcoal grey suit trousers in this look. The key reason I feel they look great here is that the fabric looks pretty much like any pair of woolen winter odd trouser fabric would. The weight of the fabric is also perfect and in line and harmony with my jacket's birdseye fabric, with the jacket having a bit more texture which is as it should be.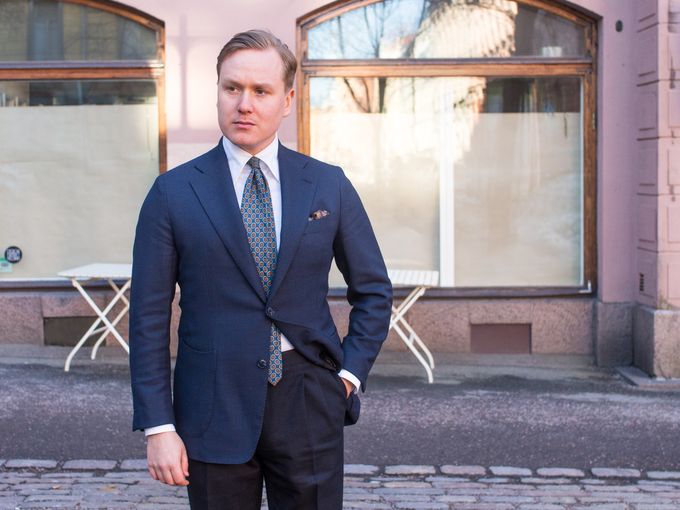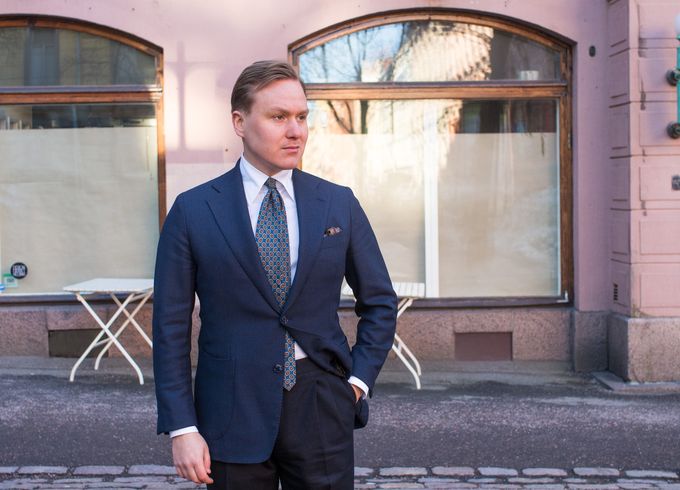 Choosing your tie and pocket square accessories
For this occasion I've selected a vintage Aquascutum tie I picked up from Florence and paired it up with a Drake's London wool silk blend pocket square with a similar color palette. Both include some orange, turquoise and some bronze like colors that are quite wearable around the year. Here I've really like the tones with the slate blue jacket and the otherwise plain charcoal trousers and black leather pieces.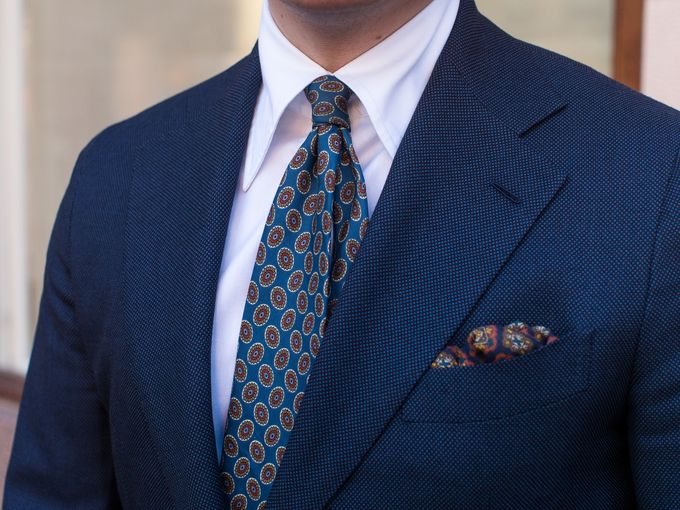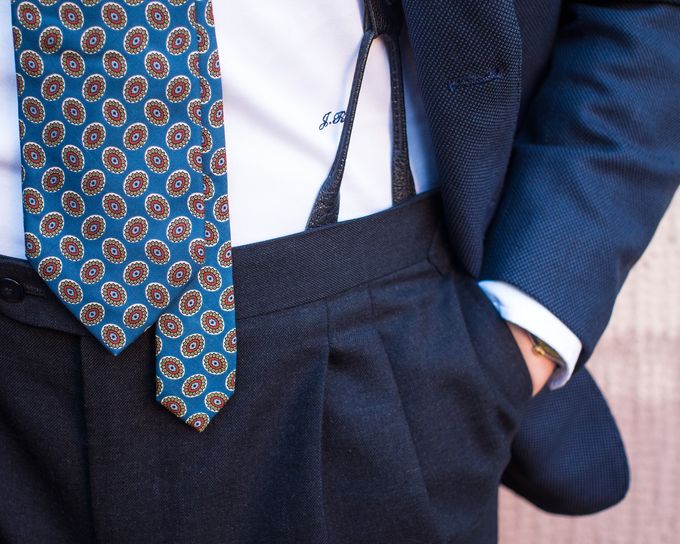 What shoes to wear with a winter sport coat look
Finally, you'll think which shoes fit your sportcoat look the best. I have chosen my pair of black Cordovan leather Aldens for this outfit, mostly as there is not really any snow left and loafers are starting to be quite acceptable again. With this look, I feel a pair of black or oxblood full wingtip brogue Oxfords or perhaps semi brogue Oxfords with a round last would be great as well. One could also wear something like a pair of black split toe derby shoes or some type of black single or double monks. For me, these Aldens are actually my only more casual pair of black shoes, but luckily I have a pair of black Vass penny loafers now in the making.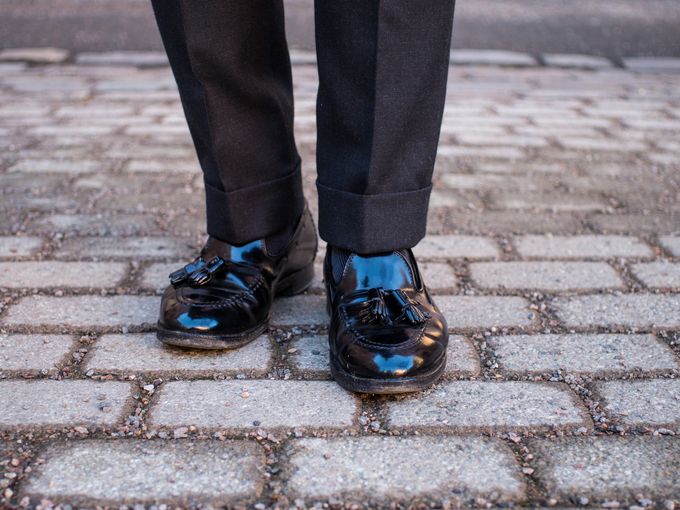 Final words
So, when you buy smart and invest in versatility, chances are the jackets of your more casual suits will do perfectly fine as sport coats. When you do wear one separately though, make sure it's in harmony with the rest of your outfit though. With accessories and shoes, do as you would do with any sport coat look.