Vintage is the New Black - Shifting Winds in the Menswear Scene
If you're a regular on The Nordic Fit, you've probably noticed me starting to go on and on about vintage this and vintage that for quite some time now. And here's the thing, for some years now I think the next cool thing in the classic menswear scene has increasingly been to work a little bit of vintage into your looks. Also don't get me wrong, I'm not talking about dressing like the average gangster in Boardwalk Empire, more about making little changes in the fabrics you wear and the colors you choose to combine. Going for a dusty ancient madder tie instead of a fashionable shantung silk tie, for example. A touch of vintage will go a long way in adding some elegant charm to your outfit without making you look like a lost actor from a 1920s theatre play.
In some ways I see that the late developments have come with the rapid proliferation and increased visibility of proper bespoke suiting, especially Neapolitan bespoke suiting that tends to have that sort of vintage esq look to it. In my eyes, the flashy Lardini and Tagliatore fabrics and tight cuts are starting to look pretty dated, being symbols of the past time when every blogger (me included) was wearing a tight mid blue Lubiam cotton jacket, slim khaki pants and suede double monks. Going deeper, you could see that many of the new generation bloggers and influencers are starting to come to the age where they are starting to have the capital to invest in more luxurious and expensive clothing, precious handmade items crafted by the popularized artisans of (mostly) Italy. The results of this are easily visible when you browse the popular menswear Instagrams today - there's a whole lot of less-striking crazy sport coats and a whole lot more of quite reasonable bespoke suits.
For me the change has been a slow one (you don't adjust your wardrobe in a day) but I'd say my purchases have definitely been reflecting the change in my taste over the last year or two. I can definitely see that I've started favoring certain colors for quite a while now, and in general moved to a more classical and loose fit in all my clothing. A good example for this whole "trend" I've been discussing here is the outfit in this post. A dark green Crispaire suit that is made with a fairly fitted cut and an unconstructed shoulder giving it a comtemporary feel, but with a color and texture that certainly has at least 5% vintage feel to it. The suit combined with accessories in colors that work quite beautifully together, but also ones that aren't something you'll find in the next GQ Top Five list.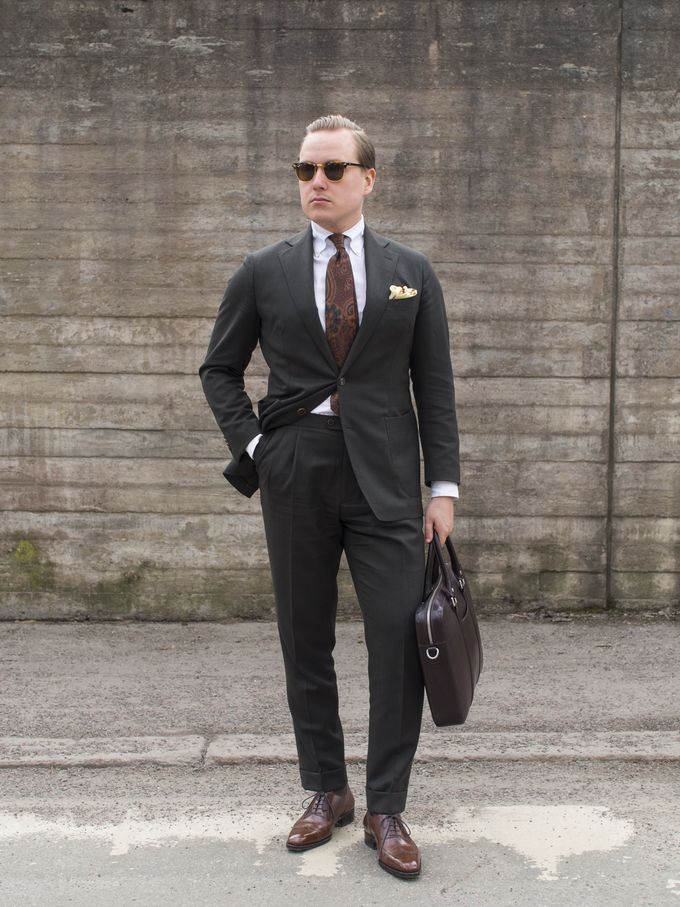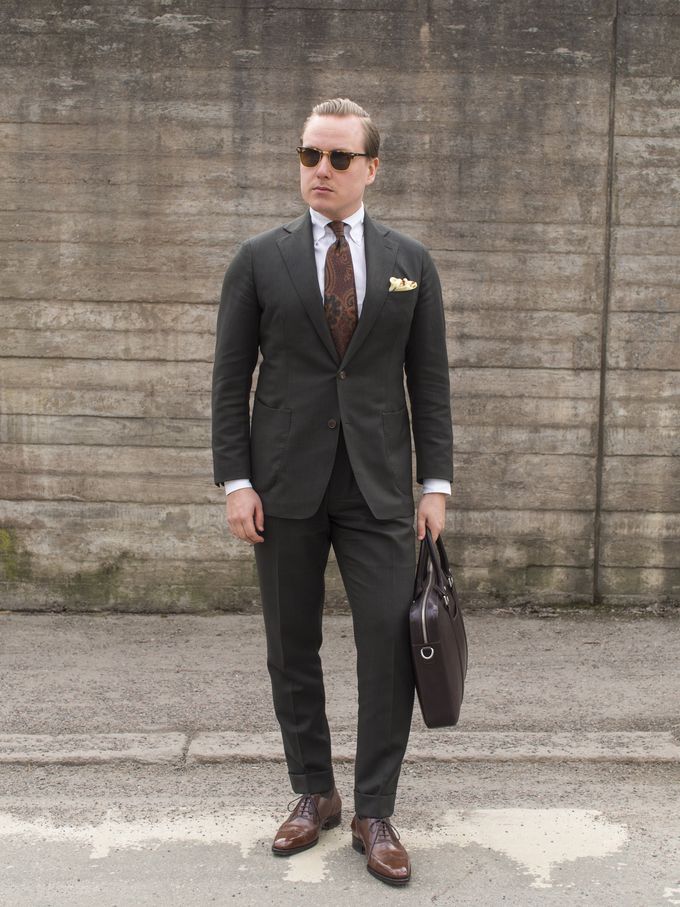 So, the items worn in this look include a mtm suit by Vaatturiliike Sauma, button-down shirt by Berg & Berg, ancient madder 6-fold tie by Berg & Berg, wool silk pocket square by Drake's London, braces by Viola Milano, socks by Pantherella, mtm austerity brogue Oxfords by Vass, briefcase by Linjer and glasses by Ray Ban.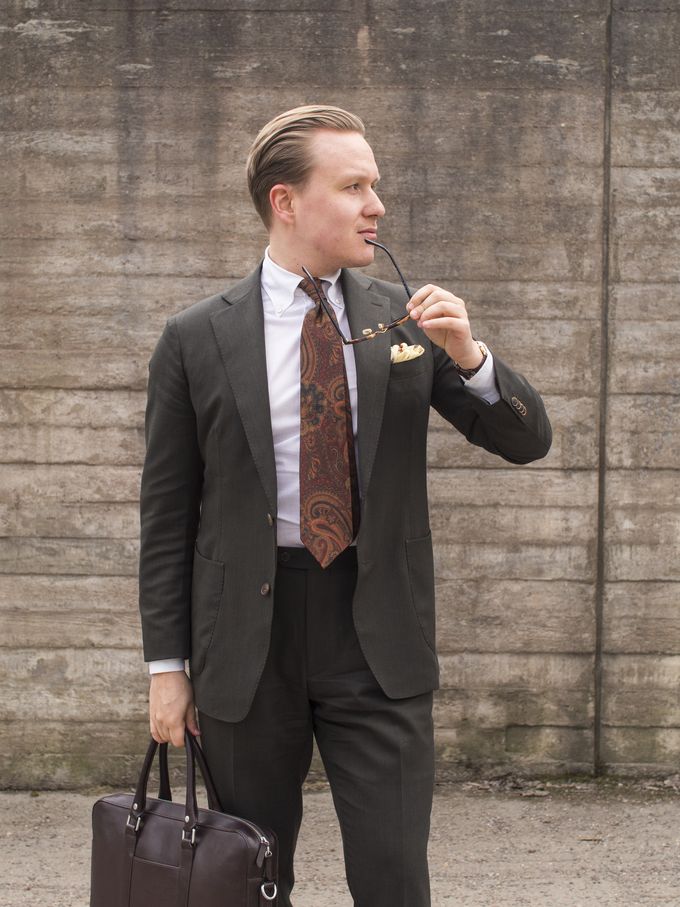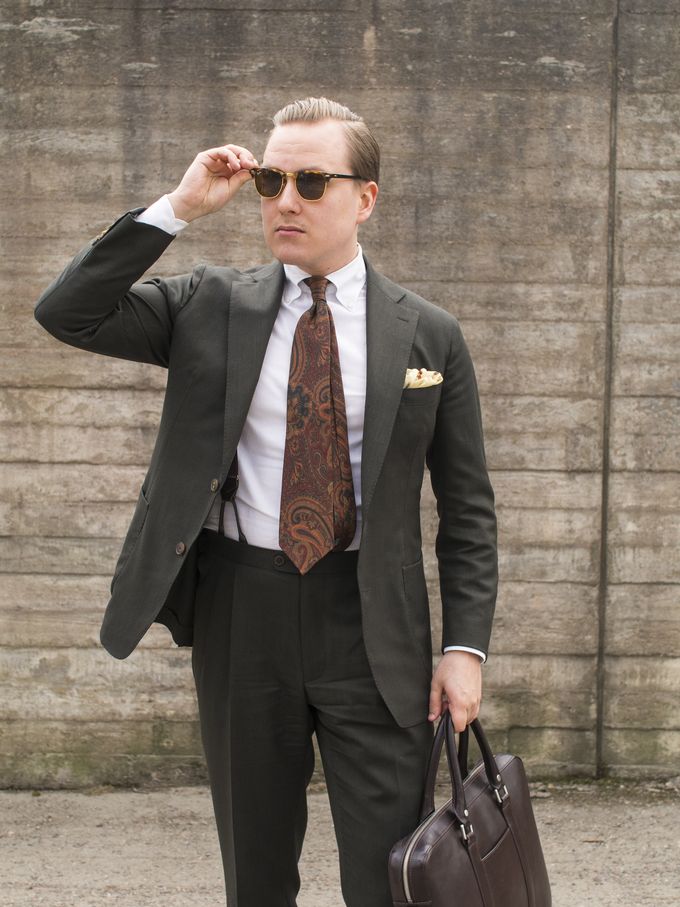 I'm a huge fan of this Berg & Berg shirt, and it has become one of my favorite shirts over the winter. It's also basically the only rtw shirt that actually fits me well and I simply love the collar and the fabric on it. A highly versatile shirt, too.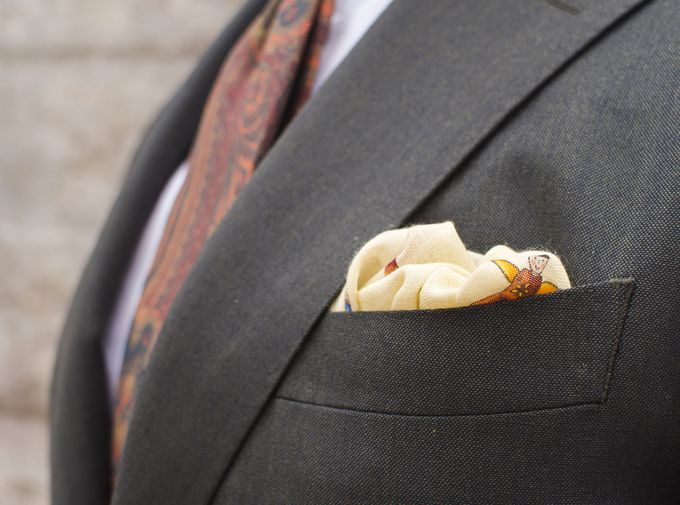 Dark green, ecru, burgundy, orange etc. This kind of a color palette has become one fo my favorites and I've been experimenting with it quite a lot. The key to pulling this stuff off in a modest work environment is to make sure your overall outfit still looks fairly modern.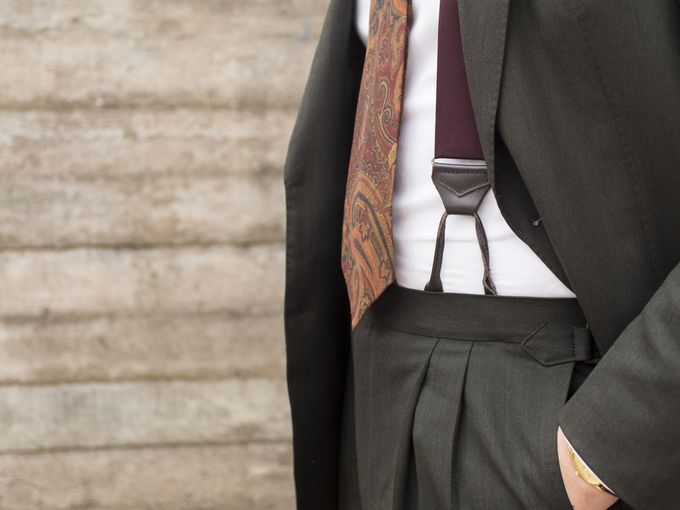 Double reverse pleat is a great feature for adding a little bit of comfort to your work outfit, but it also makes a great tailoring detail that stays mostly hidden when wearing a jacket.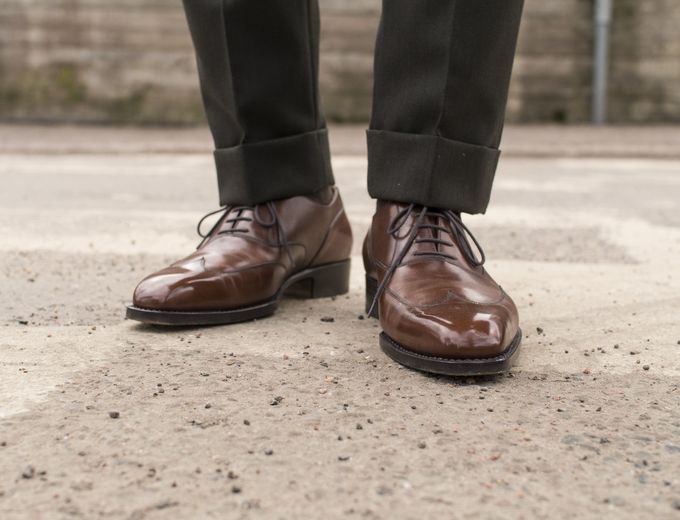 This picture is just pure shoe porn, the antique cognac looks quite amazing no matter how you wear it.
To sum it up then, this turned out to be another post on the subject I've discussed a few times now over the last year. Let me know if you agree with my thoughts, I'm interested to hear how the classic menswear trends look from a "layman's perspective".