Wearing a White Tie with a Navy Suit - OK or No?
What is a white tie?
I feel the best way to begin this topic is define what we mean by a white tie, and for the sake of this article I would call anything that has a white or off-white base color a white tie. This means printed floral ties, jacquard ties with a pattern or perhaps even a white block stripe tie is now considered a white tie. Material wise a white tie can be anything from silk to linen or cotton, even wool. Also note that in this article I am mostly NOT talking about just plain white ties, but ties that have a base color of white. In fact, I'm not too interested in just plain white ties or pretty much any kind, as these are almost always quite far from the classic menswear ideals I personally strive for.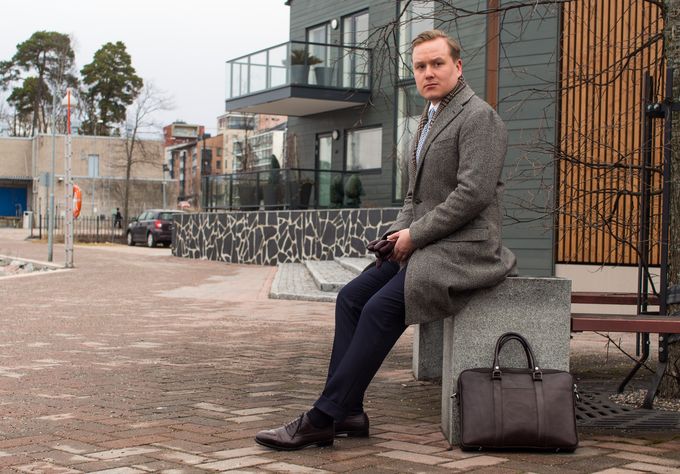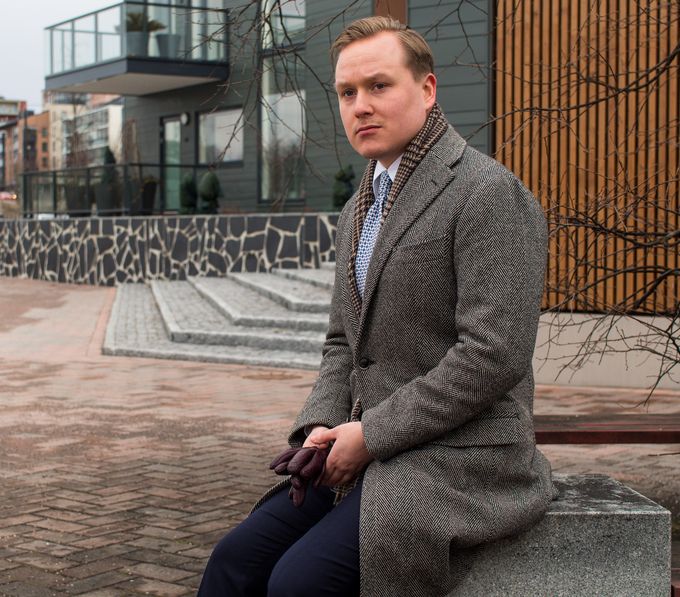 What are acceptable tie colors for business?
In general it looks good if your tie has a contrasting color to your shirt. A lack of contrast between these two pieces can be a little bit irritating to the eye and often looks a bit off. Then, the classic choices for mens' business ties and formal ties in general have always included darker and fairly muted colors such as burgundy, navy or perhaps dark grey. The further you go from such basic colors, the bigger the chance that your tie color can be a bit off. And then we have the case of the white tie which is definitely in the unconventional end of tie colors. Should you ever wear one and if yes, how?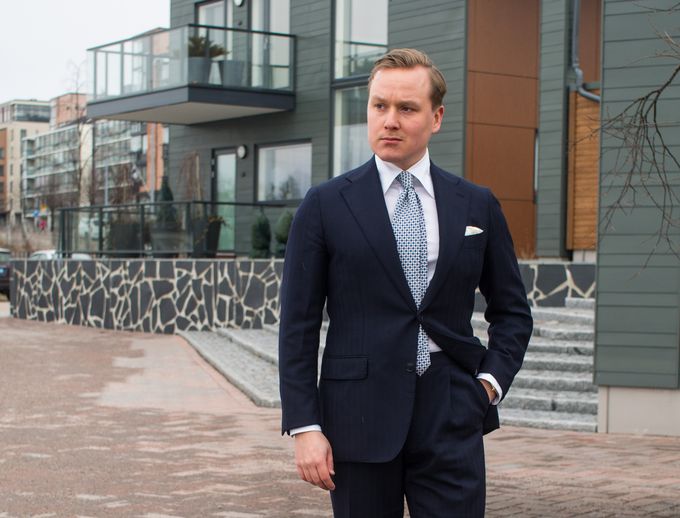 White ties with a pattern
First of all, I think a white tie such as the one in these pictures is actually quite an elegant piece even for formal use when combined correctly. Regardless of its clean white base color, the blue and burgundy printed pattern actually makes the tie distinctive and avoids any associations with those tacky white satin silk wedding ties. Furthermore, the color scheme is actually very classic blue-red-white, just with a little bit of a twist as unlike one might expect as now white is the dominant color. In my opinion, this makes the tie quite interesting and also quite elegant, therefore making it a stellar choice for a formal suit look. In this case I've decided to wear it with my classic navy wool suit and a clean white pocket square, further emphasizing the look I wanted to achieve.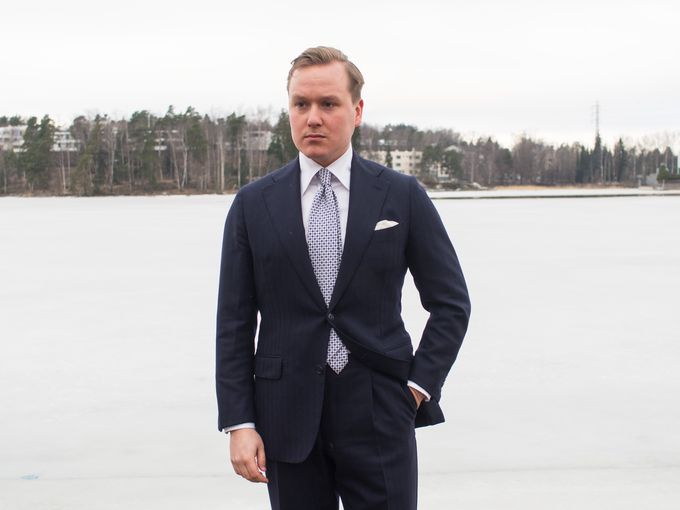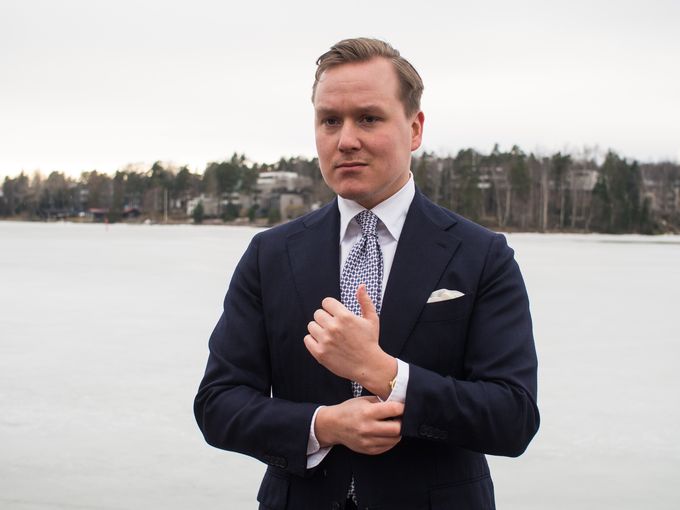 How to combine a white tie
So, a white floral silk tie with a classic printed pattern is in my opinion a great option to be used with a navy suit, or basically any dark suit as long as the colors work well together. When considering other possibilities, I could very well see a white linen tie printed with something like brown flowers worn with a cigar brown linen suit or a brown sport coat. A white jacquard tie with some navy motifs could also be something to be worn with a navy business suit. So all in all, I would say white base color ties are actually quite flexible as long as the ties have a distinctive pattern or texture that makes them more like just regular ties or similar style. Finally, I do think wearing a tie like this is more like a nice, slightly unconventional, change to the routine and it will quickly lose its appeal if done too often.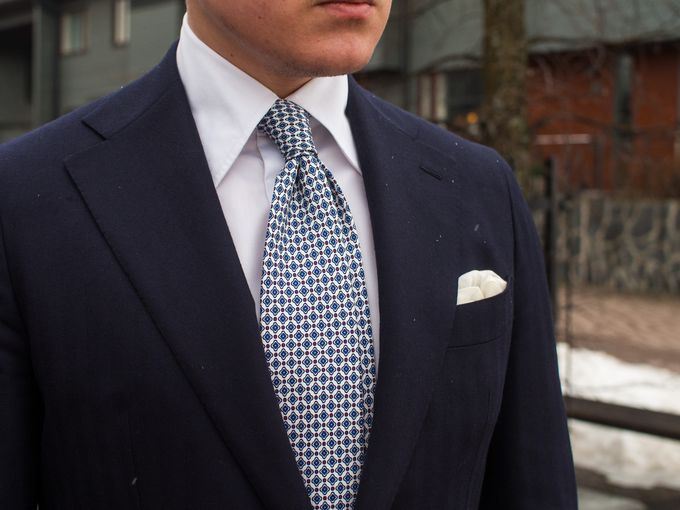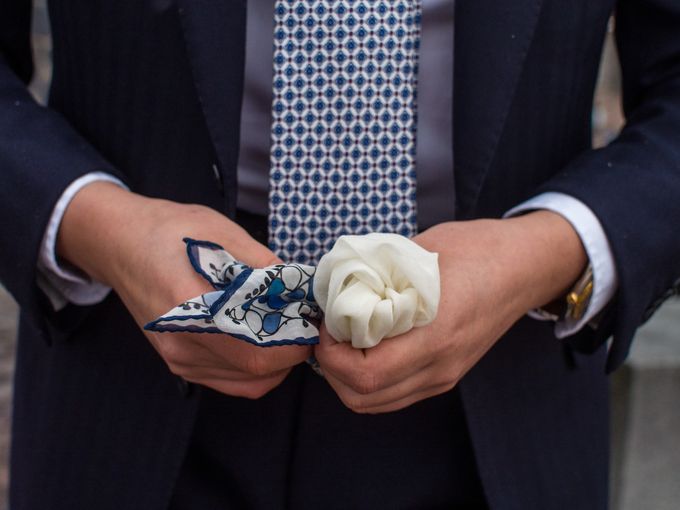 What accessories to use with a white tie
So, in this photo shoot I chose to wear a very unique pocket square from Drake's, made form their cotton silk material and one with a completely plain center area. This makes is possible to create really nice crisp white puff folds that you cannot do with a linen square. Being cotton silk, it's still very matte color so despite creating somewhat similar folds to a white silk pocket square, it's a completely different look.
In general, I feel that if you aim to go for "the elegant look" I've aimed for in these pictures, a white base color tie will almost only look good when worn with a plain white pocket square. A part of the charm is the cleanliness of the colors, and if you add a very colorful pocket square I feel this is lost. The same thing tends to apply with more casual looks where a white tie is used, and I must say I cannot right now think of an example of someone pulling off a white tie in a more casual setting and with a colorful square.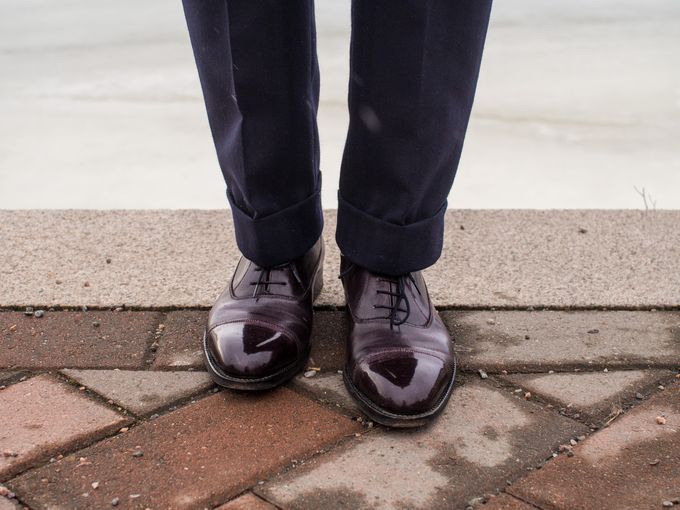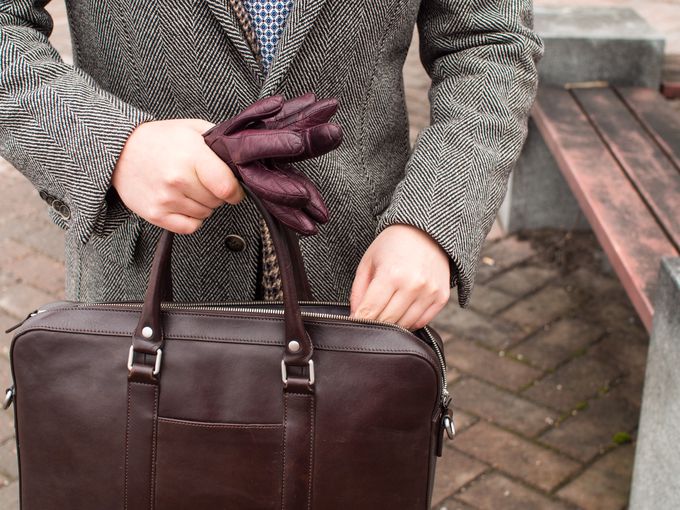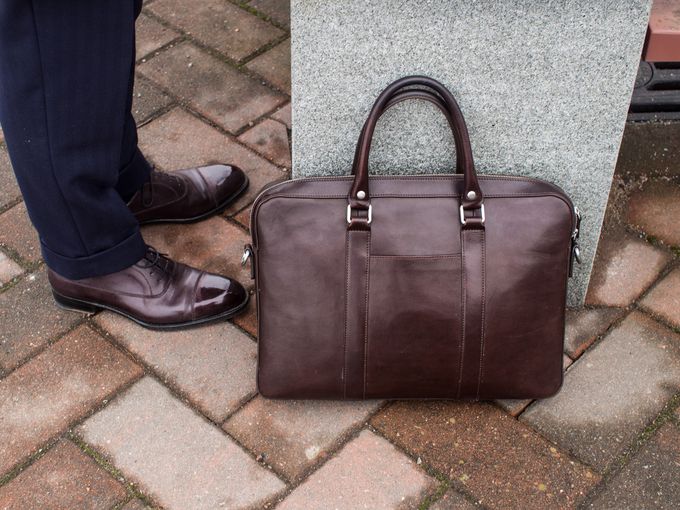 Other details to note
While black Oxford shoes might be the most obvious selection of shoes for this type of business outfit, I've decided to wear oxblood calf Oxfords from Vass shoes. The reason behind this was that I felt they actually looked quite perfect with the overal look and complimented the minor burgundy details on the tie really well. Furthermore when properly polished, they are actually quite close to a black Oxford shoe when it comes to usability. The dark burgundy leather gloves from Madova Firenze in turn compliment the shoes rather beautifully.
Finally, my Linjer soft briefcase has aged beautifully, I love the patina the leather has already developed. Treatment wise I've been giving it a fresh coat of Saphir's wax about every two months which has worked quite well to hide all the minor scuffs and scratches that seem unavoidable in my busy work life.