Clothes You Need to Be Stylish - A Comprehensive Beginner's Guide to Menswear and Style
Author: Juho Rehakka & Aki Kopra
So, as promised, this week I'll be listing the pieces you need in order to look like the smartest guy in the room. I've decided to make three lists, each for a different state of this "addiction". First, we have the beginner's guide, aimed for someone who has just started thinking about a wardrobe overhaul and might be wondering what are the very essentials to buy. Second, we have the intermediate level list that will hopefully give you ideas on what to get next. If succesful, it may also keep you from buying the most unsual items before all the cornerstones are in place. Lastly, I've written down my list of the sartorial endgame pieces, the things you could never justify owning to your wife.
The people I see benefiting from the "level 1" list are graduates, young professionals or just people that want to invest into a stylish, versatile and a sustainable wardrobe. The items on this list are timeless, the kind of clothes that show you don't need bright red pants or a white silk suit to look stylish - quality materials, restrained colors and good fit  are enough.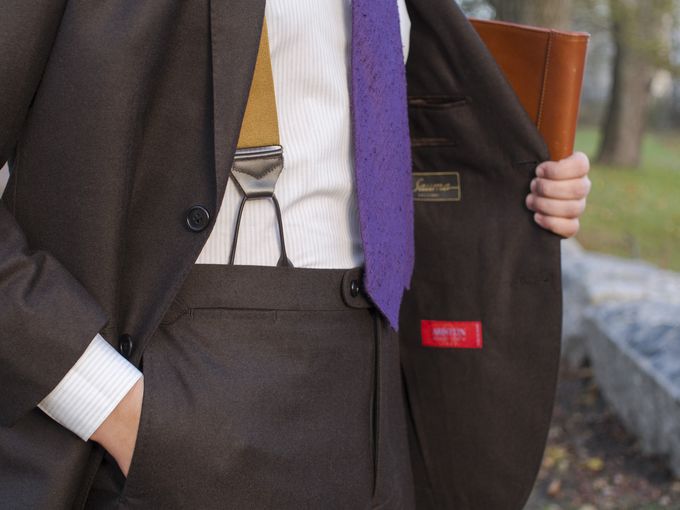 Navy wool suit
Navy wool suit with two buttons, notch lapels, flap pockets and a soft shoulder. Basically go for something like this, although you might want a tad darker color for the suit to better fit all four seasons (also avoid shiny fabrics, shiny is just bad). Fabric wise I'd suggest a wool twill fabric of roughly 240-260 g/m2. I'd suggest you either go for a budget option from SuitSupply (Napoli fit) or consider making a true investment and get a fully-canvassed made-to-order piece if your local store offers one. I can't really recommend any in-between models, either go for the best cheap option or the best you can get. Good MTO models with a quality fabric will usually go for some 800-1200 Euros when fully-canvassed, and in my opinion offer the best bang for the buck when it comes to men's suits. If you like the more soft-lined and tailored look, it can be hard to get (pretty much impossible) with cheaper fused options.
This is the item every man needs, regardless of what they do and where they live. A navy suit will get you through work, interviews, public events, various formal occasions or even weddings. If you wear a suit to work often, I'd strongly suggest you go for quality and get a fully-canvassed option. Why wear something that's uncomfortable when there's a better option?
Oh, and if you don't wear a suit often and think you only need one? Get a navy suit like this.
Grey wool suit
Grey wool suit with the same details as above. Especially if you dress formally at work, it's good to have some rotation in what you wear. This also to lets your clothes rest a little bit between wears. Concerning the color, I personally prefer a sort of dark grey that isn't too dark. My grey suit's this one.
Navy sport coat
Even though this is a rather casual item, it can still be worn as a fairly formal piece, especially in today's ever more casually-dressed world. If you only have one, I'd suggest getting it in medium heavy wool fabric with a little bit of a rougher texture. I personally have one for summer (cotton) and one for winter (wool flannel). Other features you're looking for are patch pockets and a very soft construction, preferably totally unstructured shoulders as this will get you a considerably softer and more natural look that's perfect for more casual looks.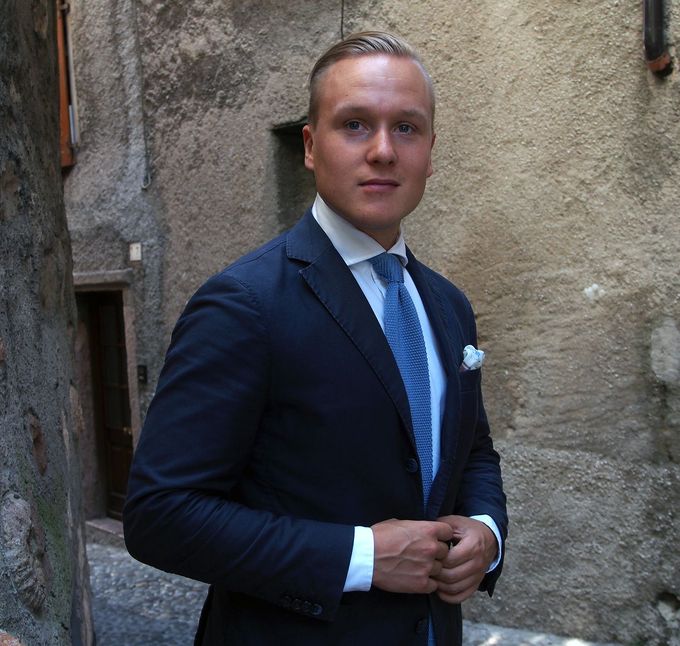 Rain coat, navy, beige or olive
Most will need a rain coat or simply a coat for the warmer seasons. This is the item that protects you from wind, rain and keeps you warm enough during spring and fall. In my opinion there's really only one design to go for. There are many manufacturers that make good coats like this, Sealup and Aspesi to name a few. Uniqlo also tends to carry this kind of a model during spring, one that will only set you back some 100 Euros. Materials vary from pure cotton to pure poly with the optimal often being a mix of them.
As with outerwear in general, picking the color can be a little bit tricky at times. Optimally, you want to wear a coat with enough contrast to your trousers. Navy might not be the most versatile coat color if you wear a lot of navy suits, but it does work best with pretty much anything else. Therefore, I'd still recommend getting a navy one first.
Winter coat
Go for either a single-breasted or a double-breasted model with regular flap pockets. A double-breasted model also works well with patch pockets (with flaps). When it comes to color, you have a bit more options with winter coats. Herringbone pattern or even a subtle Prince of Wales check is perfectly alright, and various colors from different browns to shades of grey and blue all do the job. The key here is that you get a coat with the best fit possible, warm fabric and a subtle fresh color. I would avoid heavily padded shoulders - this shoulder type and a non-optimal fit in general are great if you're going for the box-shaped look.
If you tend to wear very casual clothing, consider picking a navy wool peacoat as your primary winter coat. An example here. A proper peacoat is double-breasted and side vent pockets. It is made from a wool fabrics and is shorter than the more formal overcoats. So, if you really wear formal clothing a peacoat might be the way to go (if you run into more formal occasion you always just wing it with a peacoat or some other coat).
Casual outerwear
For casual outerwear you're going to want at least one piece, perhaps two. I would personally start with an olive field jacket like mine (also works well in cold and very cold weather if you layer properly, I use mine up to -20C) and then continue with a Barbour you like (I'd prefer a Bedale). Both of these pieces work well with all kinds of casual shirts, denim, chinos or corduroy trousers and can be used in multiple different situations. An original design M-65 field jacket in olive is a truely timeless piece that's going to look badass for decades to come, and classic-coloured Barbour will do the same. If you're a casual dresser, get these two and a peacoat and you're set for the next 15 years.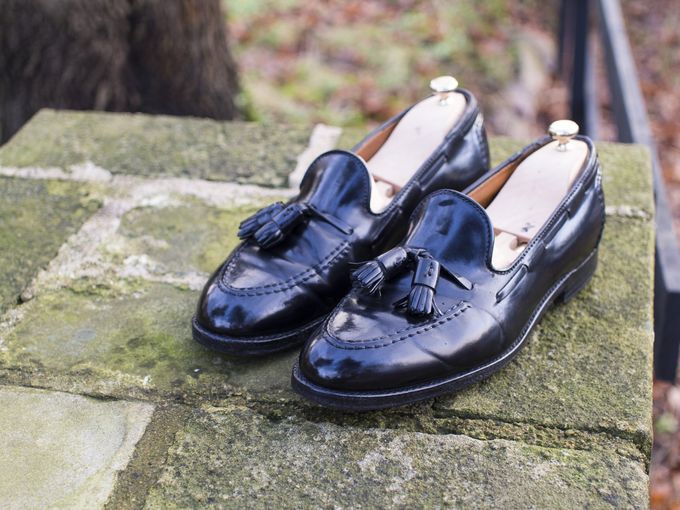 Knitwear and sweaters
As knitwear and sweaters you should start by getting at least one wool crew neck for winter and one cotton sweater for all year round use. For the wool piece go for at least a semi heavy weight and color that will work well with denim and your other casual trousers. Simple grey is often the best option for your first piece. Good manufacturers include Berg & Berg, Howlin', Scaglione and American brands such as Gant Rugger (normal Gant is shit though, remember that). For home use, gym trips or just casual outfits you're also going to want a classic cotton sweater. The best color to get is the classic light grey, but other Ivy-inspired colors are as approved. I personally own a grey, navy, salmon and a heather yellow one.
Formal shirts
Formal shirts then. At first, you're going to need at least two - more if you wear formal clothing often. Also, as a professional management consultant I have to say that people do not focus on their shirts enough. Most men wear a shirt that has two to three sizes too big of a collar or a shirt with some aweful fashion gimmicks. No formal outfit looks good with the wrong kind of a shirt. Please get decent shirts.
First and the most obvious piece is a regular white shirt with a classic collar style, button cuffs and a fitted but not overly tight fit. I'd suggest getting two of these, but as a start get one with a semi lightweight poplin fabric that is 100% cotton and has a soft touch. Later on, with your second white shirt go for heavier twill fabric for a bit more casual look - this shirt will be more suitable to wear with sport coats. To get some rotation, the second most important formal shirt to get is a light blue one and the third most imporant is a white/blue striped one. Examples of good soft collar styles can be found here (Barba Napoli), here (Sonrisa) and here (Barba Napoli). My personal preferred brands include Sonrisa from Vaatturiliike Sauma, Barba Napoli, Borrelli and Luxire (the only online MTO service I can recommend). SuitSupply's shirts (Curved Cutaway style) can also be very good if their fit works for you.
Casual shirts
Casual shirts are one of the most important parts of a modern man's wardrobe. As a stylish man will basically always have a shirt on, casual shirts are things you'll be wearing a lot in your free time. If you don't wear suits, you're basically wearing casual shirts all the time. Depending on your needs, I'd suggest buying at least two, more if you're a casual dresser. Get at least two button-down Oxford shirts (OCBD), a white and a blue one. Again, don't go for the minimal (ridiculous) fashion style button-down collar but for a classic design instead. A new Finnish brand Lean Garments has collected several commendations and Luxire can make a shirt like this very well for a reasonable budget. Trashness also deserves a mention, as their cutaway collar Oxford cotton shirt has been a real hit over the last few years. More on that here and here as well many multiple outfit posts.
Some might find it tempting to get one chambray or denim shirt for summer as well, and these two brands will also help you with that.
Summer trousers
Everyone needs a a pair of khaki or beige cotton trousers, this is simply non-arguable. Fit wise remember that too tight is not good, you're going to want your trousers fitted and slim, but not tight. Furthermore, low rise trousers look bad so get ones with higher rise. Luxire makes trousers quite well, but can be a bit challenging if you're not that comfortable with a measuring tape. I personally get an amazing fit if I size up (for higher rise and more room for thighs) with SuitSupply and then slim the trousers down from the waist and knee down. The best trousers come from Incotex and PT01.
Winter trousers
Heavier pieces such as corduroy or moleskin trousers are great for variety during winter. I'd suggest buying a pair of brown or navy corduroy trousers, same fit tips apply. Same brands as above as well, and check Polo Ralph Lauren if you're shopping for corduroy pants.
Denim
One of the most important parts of a versatile modern wardrobe is a pair of denim. These come in a million shapes and sizes, but there really only one option - a pair a dark blue raw denim. Get these in a good fit and some 13-15 oz weight and simply wear them to death. Some denim-related articles can be found here (how to wear), here (fit) and here (washing and care). Avoid low rise jeans and check out brands like Norse Projects, APC or Levi's Vintage Clothing.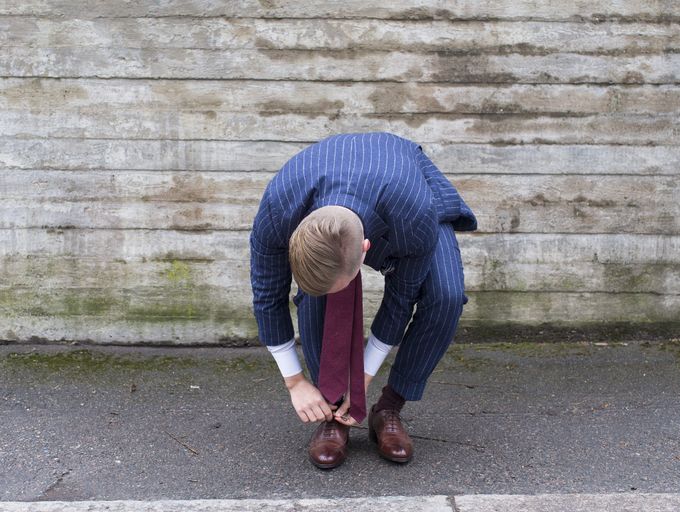 That's pretty much the basic clothes gone through so let's continue to accessories. If your style is very casual and you only wear suits in special occasions (most probably quite festive/formal ones), you're going to survive with a simple navy or grey grenadine tie of eight centimeter width (Berg & Berg offers great ones at the moment) and a white linen pocket square. That's pretty much it. If you're a starting consultant or banker though, it's probably a good idea to get a couple more.
Ties
So, the starter tie kit for a young professional include? I would personally suggest buying at least four different formal ties and one or two knit ties. For the formal ties I'd recommend Berg & Berg or Exquisite Trimmings (their own line) as their quality is good and the prices more reasonable than you'll find elsewhere. Other good brands include Drake's London, Viola Milano and Shibumi Berlin (Shibumi offers great value with their zig zag knit ties and contrast border pocket squares). I'g suggest buying the kind of accessories that you like the most, but a safe way to go at first is getting a few printed floral silk ties and one or two grenadines in versatile colors (like navy and burgundy). Finally, you might want one plain or herringbone pattern wool tie for your winter outfits and one plain linen tie for your summer outfits. With knit ties go for at least seven centimeter (I prefer 7.5cm) width and stay in plain colors. Striped knit ties are no good, trust me.
Pocket squares
When it comes to pocket squares, the best way to start is to stay in restrained colors and keep away from shiny silk. Buy the white linen pocket square, a couple of versatile contrast border pocket squares (more on them here) and if you feel like it, one more colorful wool pocket square for winter (some inspiration here). That's all you need, really.
Other accessories
Other accessories then? Well, you're going to want good gloves (Dents, Madova), socks (Pantherella or pretty much any accessory maker), scarves (Berg & Berg, Drake's), belts (Equus Leather for indestructable casual belts), possibly braces (Albert Thurston, Viola Milano, Shibumi Berlin) and probably even an umbrella (London Undercover). The list of accessories is long and in my opinion these items can really be bought at any point. For example, when you simply need a sturdy belt, go and get one. Again, I'd suggest avoiding all fashion crap and investing into timeless and well-crafted pieces of the best materials. To keep this paragraph in reasonable length I wrote a couple of good brands after each accessory type.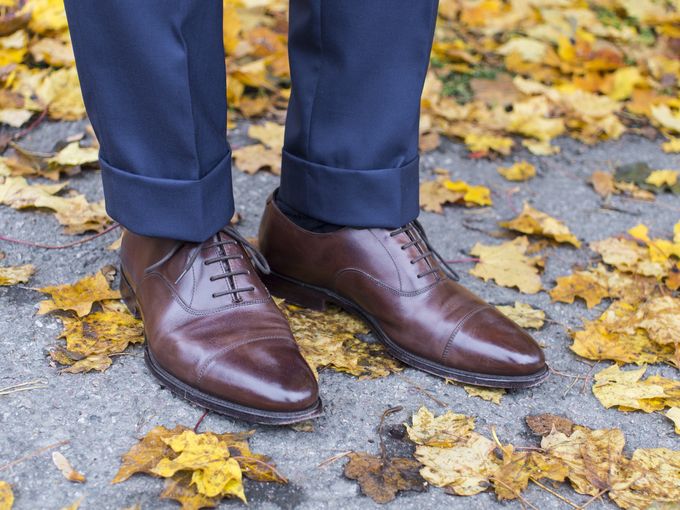 Formal shoes
This is a tricky one as it's easy to go a little bit mad over shoes. I personally have "a few" pairs, but all you really need to start with is a pair of black and dark brown cap toe Oxfords. You're going to want to buy pairs that are of at least certain quality and that are GoodYear-welted (basically if they are not GY-welted they aren't of that quality). You don't want polished leather (it means it's chemically grind polished which means it's sh*t), you simply want full-grain leather. The entry level shoes start at Meermin's 160 Euros and I would definitely recommend their basic Hiro last Oxford in both black and brown despite the brands occasional delivery times and quality issues (search this site and you'll find a lot of information on Meermin). Loake (1880 series, the rest can't be recommended) offers pretty good quality for about 220-250 Euros and Septieme Largeur has some fantastic models starting at 240 Euros.
I personally find the best balance between price and quality in the sort of mid-tier shoes such as Crockett & Jones, Alfred Sargent, Carmina, Wildsmith, Alden and Cheaney. The best-looking cap toe Oxford models in this price range are the AS Armfield and C&J Radstock, although Skoaktiebolaget has some terrific Carminas every now and then.
Finally on the subject of more formal shoes. If you want to, a quarter brogue, semi brogue or an Adelaide Oxford is also a perfectly fine choice for your primary brown Oxford shoe. These are all very much formal designs and are totally good for any business environment. Just get your black pair as a normal cap toe and you can use it everywhere even in the most formal occasions.
Casual shoes
And finally, let's talk casual shoes. First of all, there's really no right answer when it comes to this. While formal shoe options are more limited and there's less "play", casual shoes should be bought to suit your needs and preferences. Interesting designs to think about include double monks, loafers, chukka boots, plain toe bluchers, different kind of brogue boots, work boots, single monks and so on. My shoe collection mostly consists of variations of these models, and loafers especially have a special place in my heart. As a start, I'd suggest considering a pair of brown suede penny loafers, brown calf double monks and a pair of suede or grained calf derby boots for winter. See what the above-listed shoe brands offer and get what inspires you the most. If you're the street style type, it's better check Frans Boone's Alden collection, Viberg and Red Wing.

And that's it. As this thing took 13 years to write I hope you'll find it useful and appreciate it. If you have any questions, disagree or think I missed something essential post a comment. I'm currently very busy and try to answer my emails about every two weeks, but I'm struggling even in that so bear with me if I haven't answered you yet.
Next week we'll continue with the subject of ready-to-wear vs made-to-measure vs bespoke, a subject I personally find very interesting at the moment. Lastly, remember to follow The Nordic Fit on Facebook and Instagram for notifications on new publications as well as tons of unique daily content.