Vass Antique Cognac Austerity Brogue in the U Last
I've finally received my second made-to-order pair from Vass, a couple of weeks ago to be precise, polished them a little bit and had the opportunity to take a few pictures for this article. This text will go through the Vass ordering process, material and technical options as well as the final product. We will also discuss how the U last is fit wise and how you should use a pair like the austerity brogue Oxford.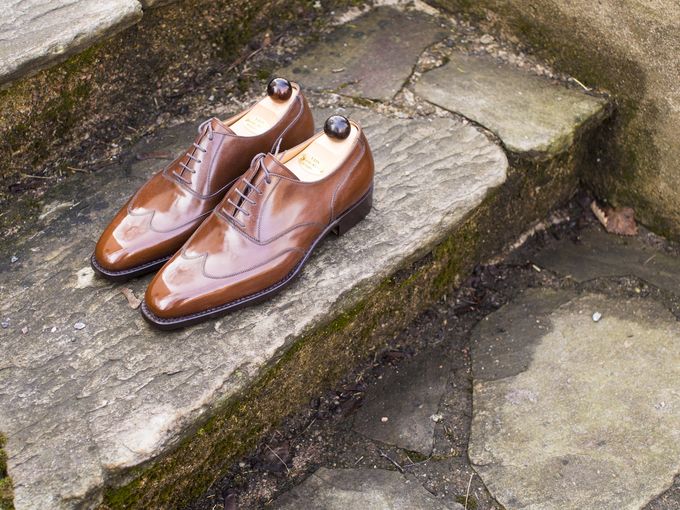 Ordering a made-to-order pair
The thought process that ended up me ordering this exact model was a little bit trickier this time, as I wasn't quite sure if I wanted a dark oxblood calf model or something a tad more casual. Being very close to ordering an oxblood toe cap model, I finally ended up with this one: an austerity brogue in the U last and in the antique cognac calf leather. The reasoning behind the choice was really that I wanted an Oxford I could wear during spring and summer time. I also wanted to test out the U last and see how it both fit me and looked in my feet. The austerity brogue was a model I had been eyeing for some time now and I especially like it for the long cuts of the leather that form beautiful longitudinal shapes. I feel the result is an especially sleek one, clean and elegant.
To be honest, the pair that arrived to my office some weeks ago was perhaps my new favorite one. The antique cognac looks stunning, sort of candy like in its color. In a way the shade reminds me of slightly under baked gingerbread cookies and I just love the way it looks. It's also important to note that it isn't anywhere near a regular tan shoe, it's still a very distinctively a medium brown shoe, just with a unique twist to it. The color combined with the classy austerity brogue makes this a real contender for your summer business shoe in my opinion. I'll be using them a lot with my upcoming navy cotton suit and my existing dark blue suits.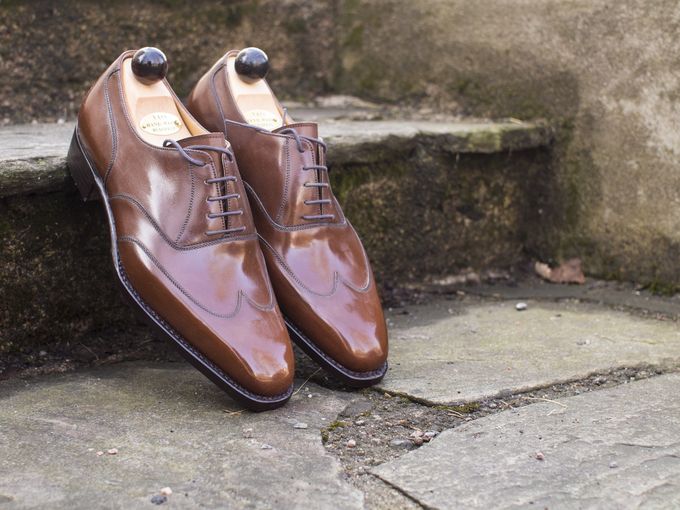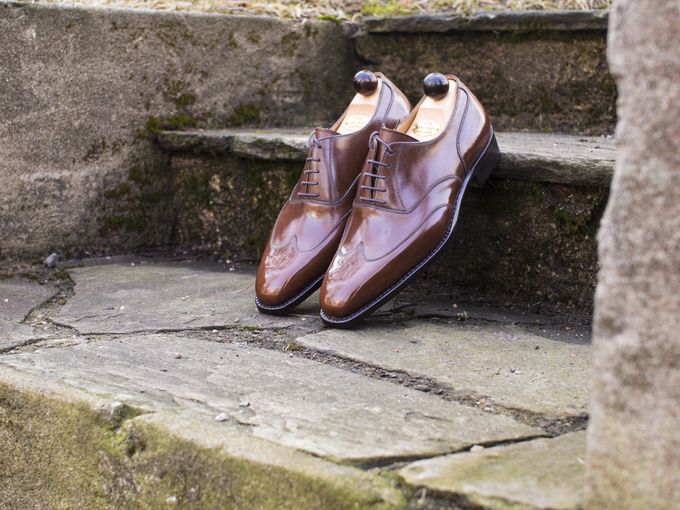 Vass shoe quality
Quality wise the shoe has been finished with extreme care, once again. I've already been positively surprised with my last Vass pair for the quality of the leather, so I hope these kickers will age as well. While writing this I've worn them twice now and the initial feeling is positive. They've formed the distinctive creases that you always get with the wingtip leather piece found in all full brogue and austerity brogue models, but the creasing looks normal and I would expect the shoes to age really well. This is further backed up by the softness of the leather. All in all, I have pretty big expectations on how the leather in this color will form patina in the upcoming years.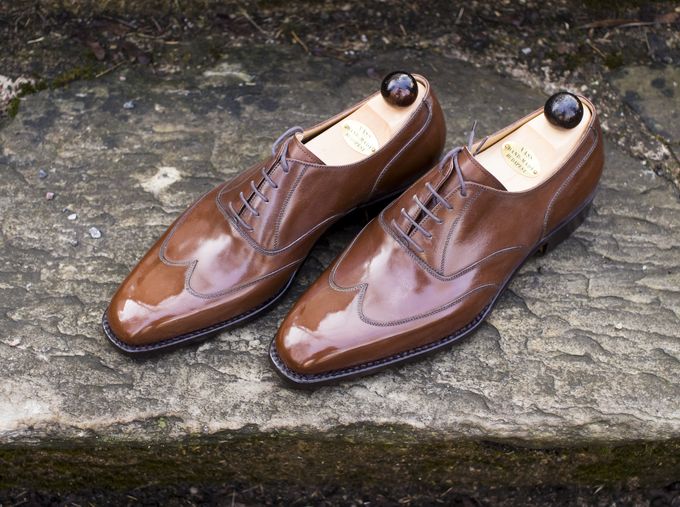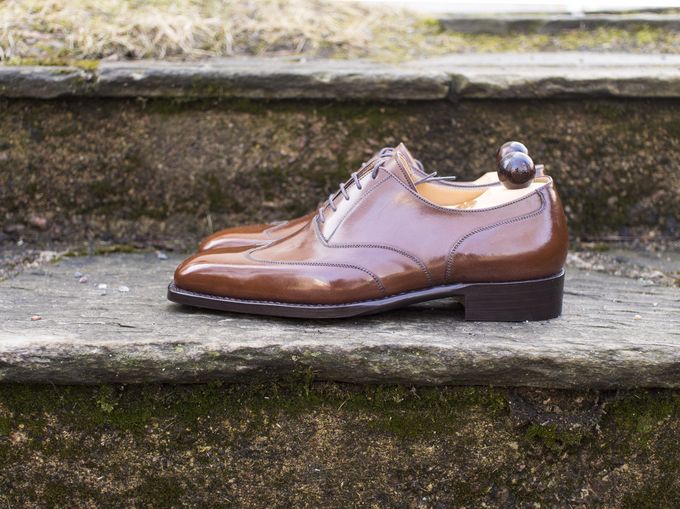 Vass U last fit
How is the U last fit wise then? If you've read my previous Vass article you'll know I stated that the F last felt a little bit large to size when compared to my usual size. The U last feels very true-to-size, and my usual size feels great. The fit is actually one of the best ones I've ever experienced right out of the box. The area around the ankles, the place where I usually have problems due to my very narrow ankles, is also very comfortable and ergonomically shaped in the austerity brogue model. The single leather sole (which I opted for to get the lightest shoe possible) feels very comfortable and my feet were super happy after the first days of wear. The lesson to be learned? Size down half a size in the F last and go for your normal size in the U.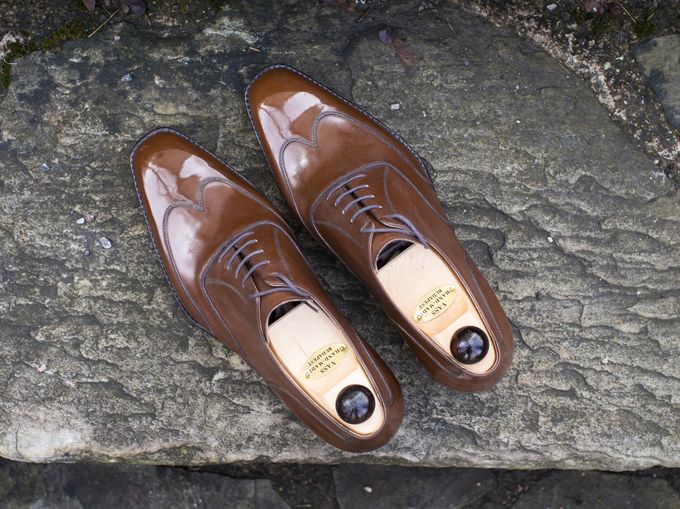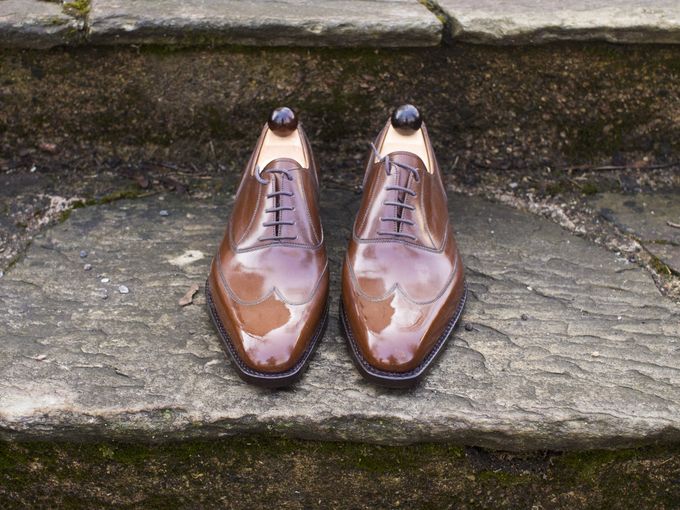 Vass shoe review summary
In all honesty, I can't stop looking at the shoes. Even as I'm writing this text, the unique shade of cognac brown feels almost hypnotizingly beautiful. The austerity brogue model is one of the best designs to allow for such a great material to prosper and I'm quite happy I went with this design. The austerity brogue also looks amazing on the U last, giving the shoe the sleekness it deserves. I will say as well, this model is just made to be polished thoroughly to a nice high shine. The lighter color needs more polish (=more work) to look properly shiny than a dark one, but it will thank you in the end.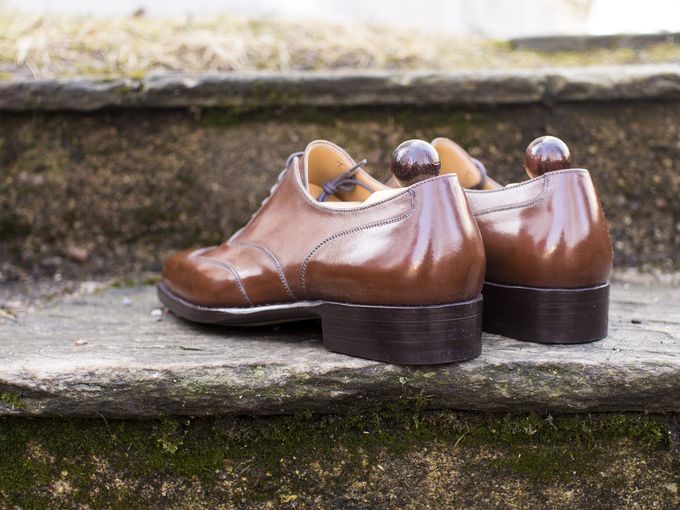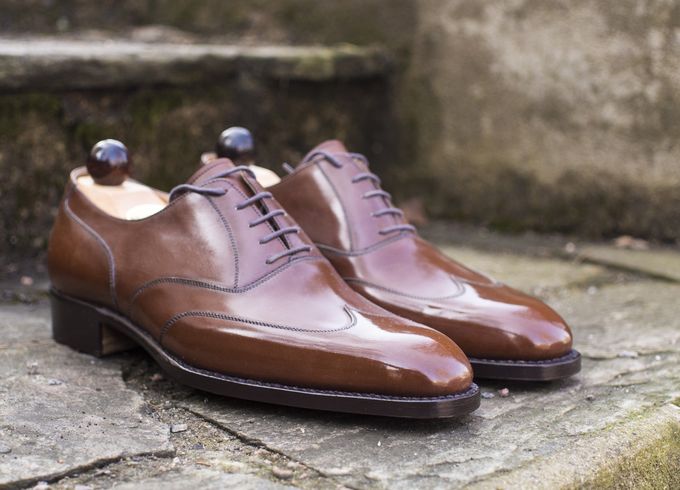 All in all then, I'm very happy with my purchase. I must say I also love the feeling of owning pairs that have been made according to my wishes. I also love the fact that Vass' shos are all handmade as it certainly gives them a touch of extra charm. In general I'm currently in a sort of state that as it is now, most if not all of my upcoming pairs will be bought from Vass. This is basically as I simply think they are offering the right value for money in my situation, and I really like their F and U lasts. The only minus I see with Vass is really that I'm not too sold on their lasts for loafers, none of them really seem to offer the shape I like. That said, I'm currently finding our friends in Budapest to be quite unbeatable when it comes to boots and Oxfords.
5/5 would recommend.